VW Golf SV SE 1.6-litre TDI 110 PS road test report and review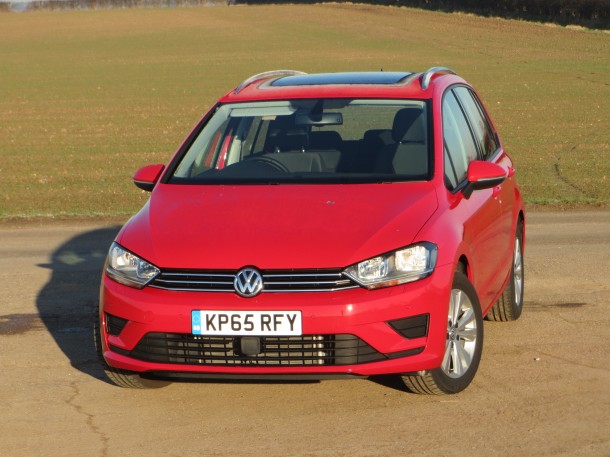 VW Golf SV SE 1.6-litre TDI 110 PS road test report and review: The Golf SV has replaced the Golf Plus. It has more room and more kit. DAVID HOOPER has a look at one of the new models.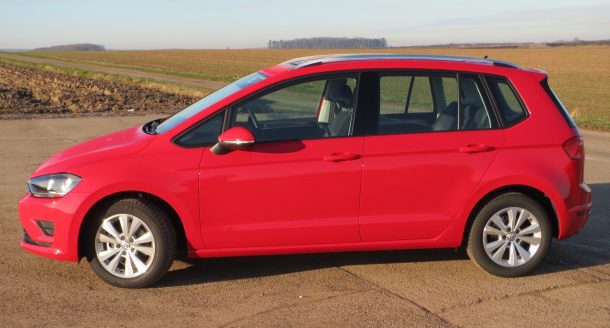 THE VW Golf SV is a smart looking mini-MPV with seats for five, plus a good sized boot, and I loved this smart Tornado Red colour which reminded me of my MkII Golf GTi which was finished in Mars Red way back in the 1980's – I'm showing my age!
The latest Golfs have clean, uncluttered lines, and the clear lenses on the light units give the car a modern, clean look. The SV is the third version of the current Mk VII Golf range and has replaced the Golf Plus. Like the Golf Estate, there are three trim levels from which to choose, S, SE and GT.
Inside, it's the usual VW fare of firm but comfortable seats clad in Titan Black cloth, quality plastics and a smart dashboard fascia which looked like a brushed aluminium effect, but with a grey tint to it.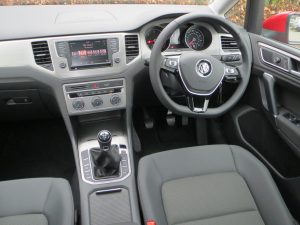 There is plenty of storage space in this car, ideal for the family on the move. The little monsters in the back get their own aircraft-style trays complete with cupholders and a 12V socket to power games consoles or MP3 players to keep the little darlings occupied during a long journey.
Each of the four doors have large pockets which are capable of holding a bottle of wine, or water if you're on a health binge, and all the other clutter that goes with family life.
Between the two front seats are other large cupholders with adjustable grips to accommodate a cup of any size, and there is another 12V socket and USB and 3mm jack connectors for phones and other gadgets thoughtfully located in a concealed compartment at the front of the centre console.
I also liked the panoramic glass roof, which could be screened off with an electric blind and can be retracted with the press of a button on overhead panel by the rear view mirror. Once rolled back, it allows light to flood into the car even on the greyest of days, and allows the kids to play eye-spy with any passing aircraft, which is actually quite good fun – you should try it. It's worth the £995 it adds to the invoice.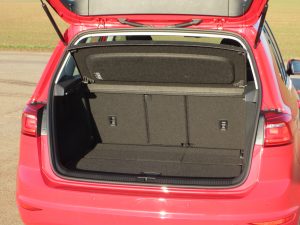 The rear seats also fold down easily to provide a large, flat load area  giving you a lot more space than you find in the ordinary hatchback version of the Golf, or even the estate. The rear bench will slide fore and aft to adjust boot space or legroom.
The clever VW Park Assist is another boon for the spacially-challenged, and another cost option, (£615) although I unwittingly managed to terrorise my mum with it! This latest system will not only do parallel parking, but it will also manoeuvre the car into the type of space you find in a supermarket car park for you. All the driver has to do is press a button which brings up a screen on the dashboard. When the car's parking sensors detect a big enough space, it puts a squiggly arrow on the screen and tells you to select reverse gear. So far so good, but once the steering wheel started to turn all by itself, my poor old mum started having a duck fit! "Oooh David, it's driving itself . . . I don't like it," she protested from the passenger seat! Of course it wasn't, as the driver, I was always in full control of the car, and was working the pedals and the gear lever to select forward and reverse. The car reversed perfectly into the selected space and even if mum wasn't impressed, I certainly was!
Our test car was powered by VW's 1.6-litre 110PS diesel engine with a five-speed gearbox, although as you would expect there is ample choice of other power outputs and petrol alternatives. During my test of 430 miles, the car returned an average of 50.4 miles per gallon, which saw off most of its 50 litres of fuel, so it's range isn't the best if you don't like petrol forecourts, but if you spend most of your time on the school run, it shouldn't be an issue. The C02 emissions figure is quoted as 101 g/km, but VW say this and its fuel consumption values are "provisional and under review". Enough said about that!
The car drives very well and there are no complaints about its ride and handling which are more than up to the job in hand. As you would expect, it's firm but comfortable.
The Golf SV an easy car to live with, spacious and practical it does everything it should do with great efficiency – I just didn't find it very engaging – until I tried the Park Assist system with mum in the car!
Rating: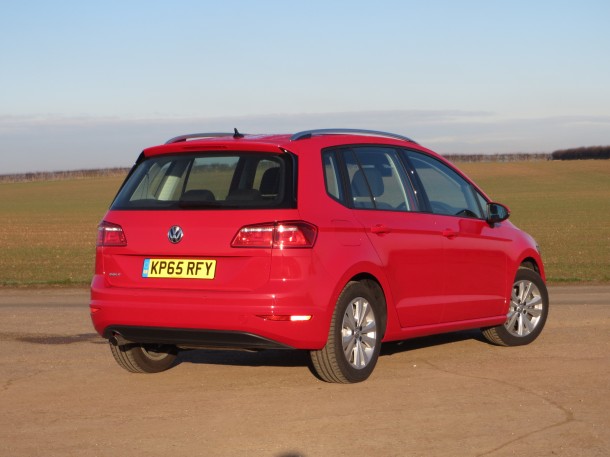 If you like this, read our review on the hybrid electric Golf GTE
THE VITAL STATISTICS
MODEL: Golf SV SE 1.6 TDI 110PS Manual.
ENGINE: 1598cc, 110PS four-cylinder diesel engine, driving front wheels through 5-speed manual gearbox.
PERFORMANCE: Top speed 119mph. 0-62mph in 11.3 secs.
ECONOMY: City: 62.8*mpg.
Country: 80.7*mpg.
Combined: 72.4*mpg.
Wheel World test average: 50.4mpg
CO2 EMISSIONS: 101*g/km.
FUEL TANK: 50 litres.
INSURANCE: Group 11.
PRICE: £23,175.
WARRANTY: 3 years/60,000 miles.
WEBSITE: www.volkswagen.co.uk
*Please note: CO2 and consumption values are provisional and are currently under review.
• All data correct at time of publication.