Volvo XC60 D4 AWD Geartronic SE Lux Nav road test review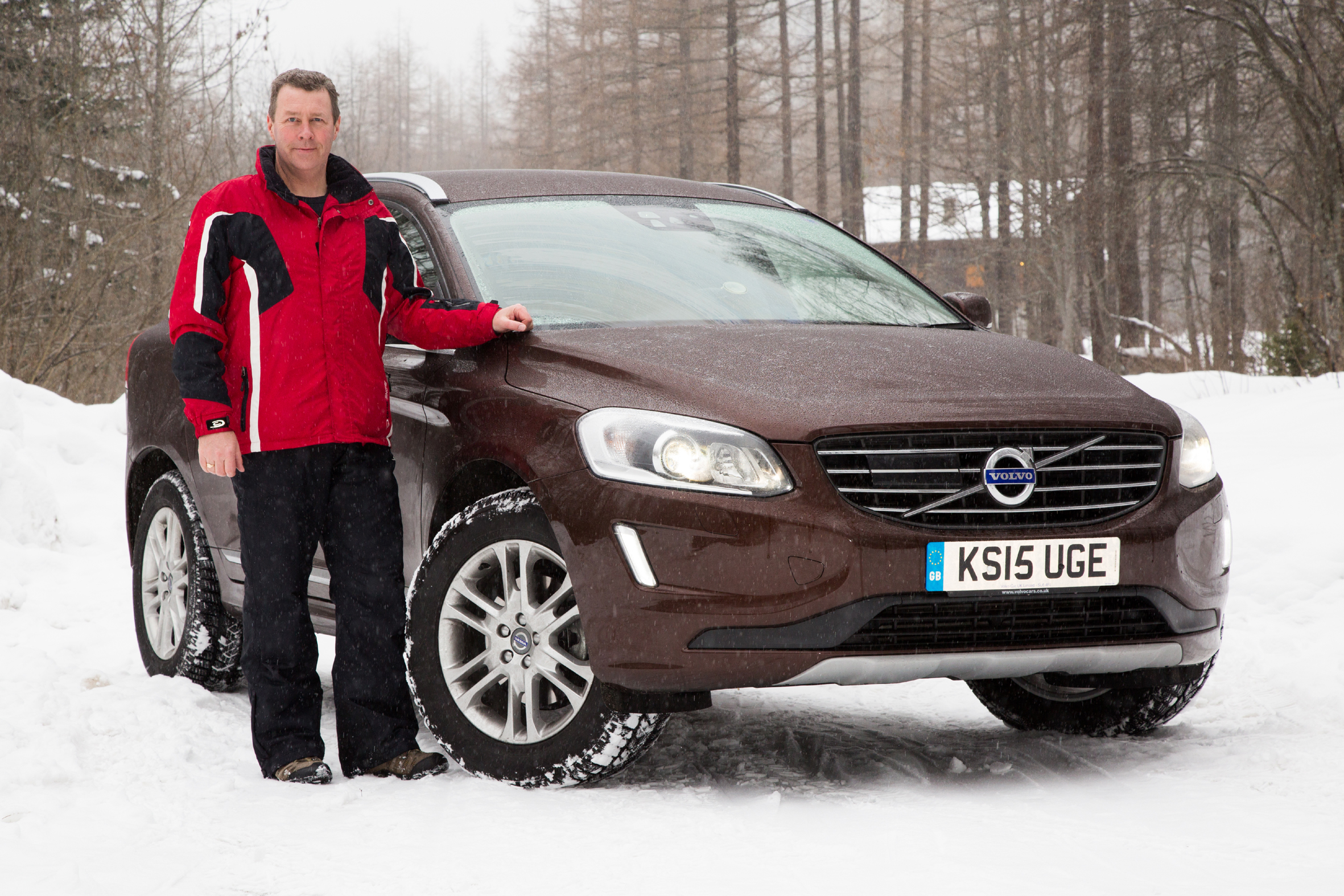 Volvo XC60 D4 AWD Geartronic SE Lux Nav road test review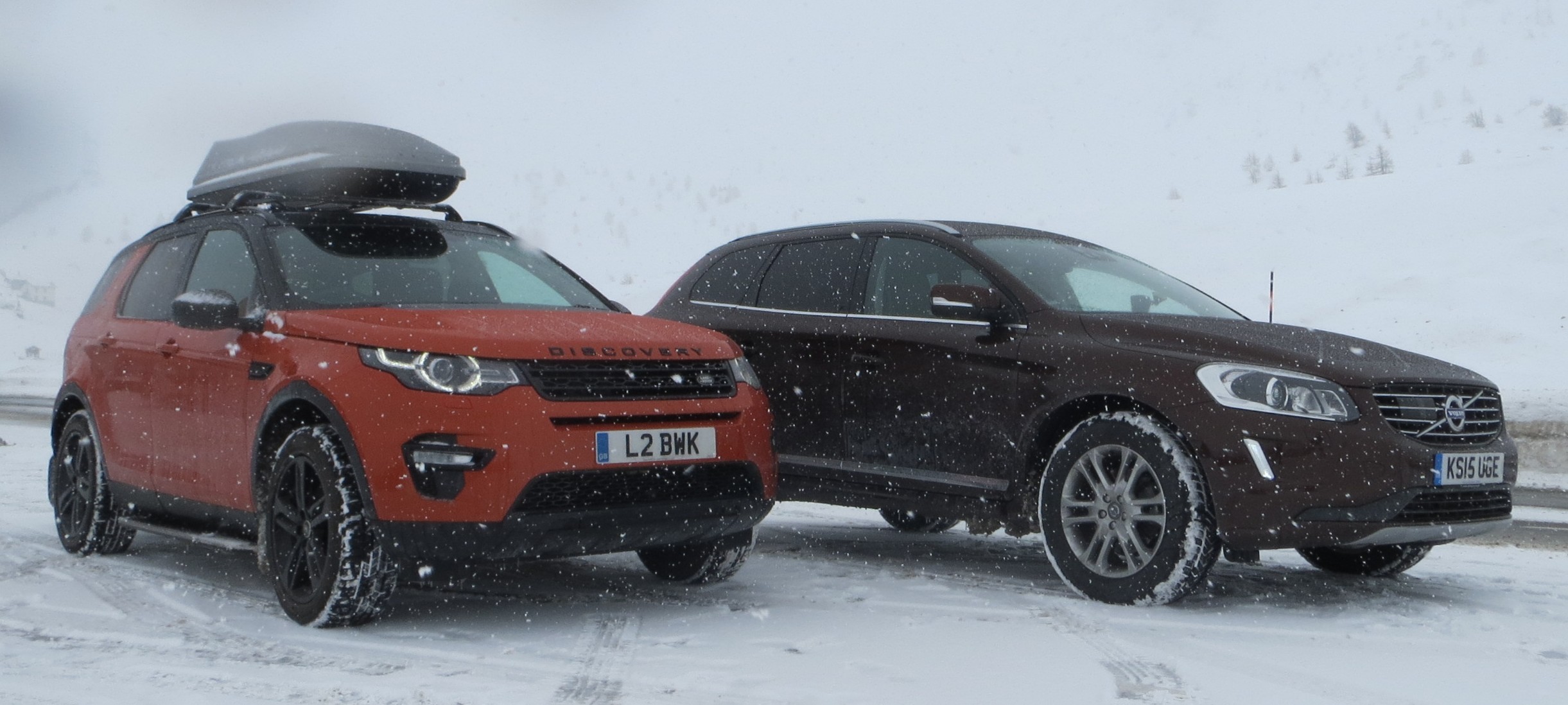 Crossing Europe in winter may not be everybody's cup of tea, but with a skiing holiday beckoning and a luxurious Volvo XC60 to travel in, DAVID HOOPER recounts an epic drive to the Italian Alps.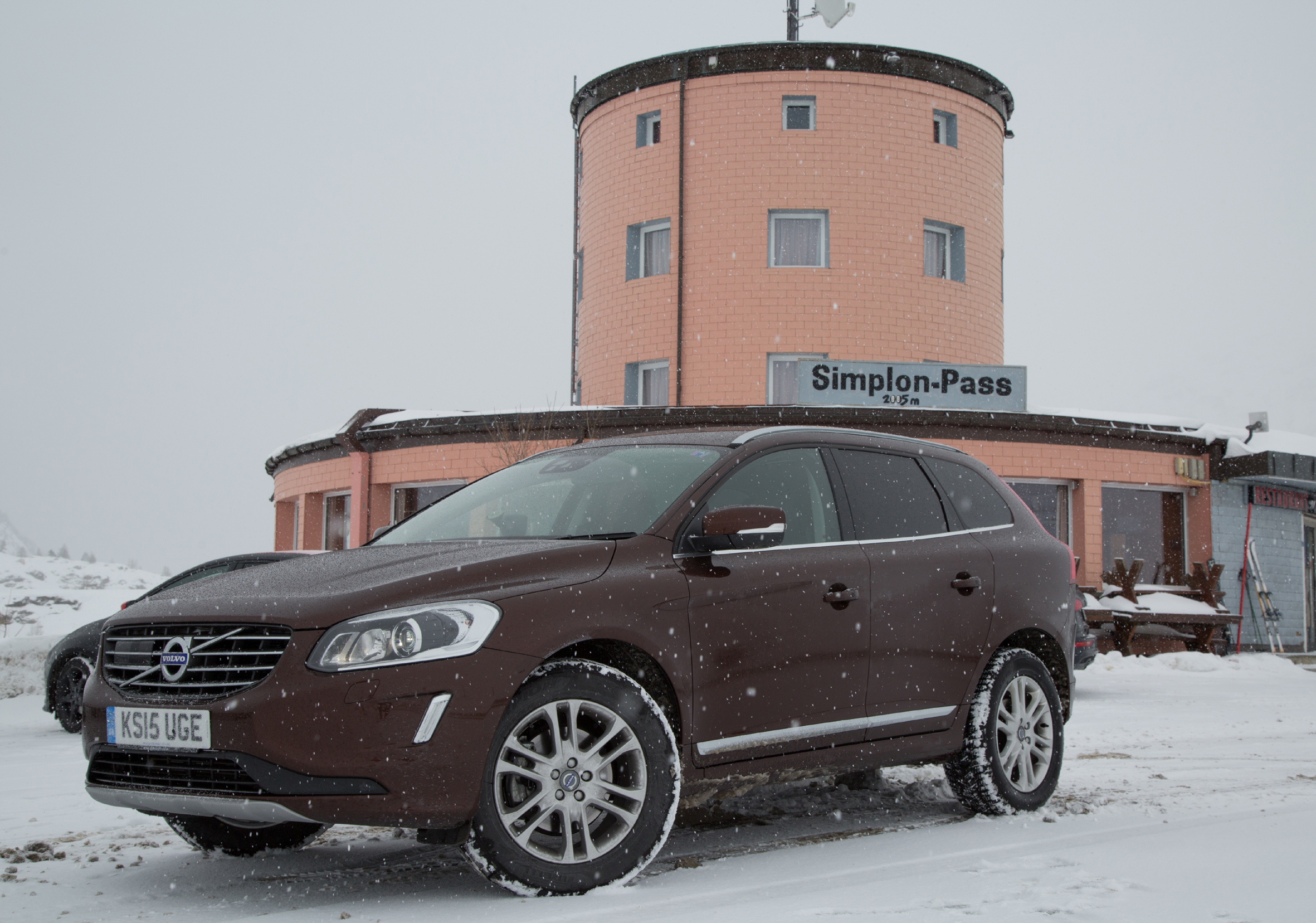 WHEN a group of friends started to plan their next skiing trip and the decision to drive across Europe in winter was made, for me, this All Wheel Drive Volvo XC60 was the weapon of choice.
Having driven Volvos in the Finnish Arctic Circle on frozen lakes, I know how good they are in their native conditions – conditions we were likely to encounter during our trip south to Italy in February.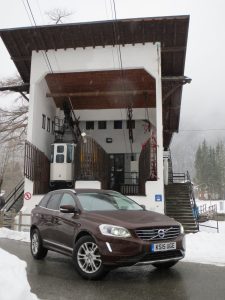 Volvo fitted our four-wheel-drive XC60 with a set of Pirelli Scorpion 235/60 R18 winter tyres. With their bigger block pattern and softer rubber compound, winter tyres are becoming increasingly popular across Europe and are now mandatory for Germans between October and March when the temperature drops.
Our trip would take us from Rotterdam in the Netherlands, into Belgium, Luxembourg, France, Switzerland and eventually into northern Italy via an overnight ferry crossing from Hull and a couple of car trains through the icy Alps before the final climb up to our ski resort in Italy.
So with the tyre pressures set to their maximum, our hi-vis jackets readily to hand, our breathalysers for France, bulb and first aid kits, a warning triangle and even a set of snow chains and a shovel, just in case, we met all the legal requirements of the countries we would be travelling through. The XC60 was packed to the gunnels with ski gear, clothes, boots, food a few bottles of water and a huge box of fruit pastilles. We were ready for the off.
We chose the overnight crossing from Hull to Rotterdam with P&O's North Sea Ferries nightly service, which allowed us to unwind after the traumas of packing everything we needed and a few more things besides, into every available space in the Volvo XC60.
We boarded the ferry up a tight, winding ramp and were marshalled into a prime spot thanks to opting for priority boarding to ensure we could make a quick getaway in the morning. We soon found our cabins, which were compact, but have everything you need, and then enjoyed a glass of champagne with our friends to celebrate the start of our adventure – a trip were all looking forward to.
We opted for the buffet dinner on the Pride of Hull, with ample choice for all tastes before an early night, ready for a prompt start the next morning. With 650 miles to cover in questionable wintery conditions, we wanted to be fresh – at least at the start of the day!
Next morning, after a good breakfast, we were off the ferry, had cleared customs and on the road by 9.30am, picking our way through Rotterdam's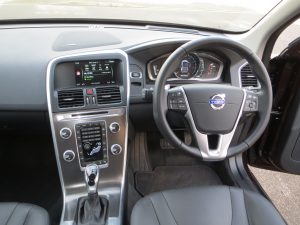 Europort, the sprawling size of which is quite staggering. We headed initially for Liege in Belgium, having decided to avoid busy Brussels, travelling in convoy with our friends in their brand new bright orange Land Rover Discovery Sport which they had seen coming off the production line at Halewood only two weeks before we set off! At least we'd be able to keep track of it as we crossed Europe.
We planned our first stop for loos and fuel at Luxembourg, where fuel is traditionally cheaper, but with the recent plummeting oil prices, topping up the tank wasn't going to be an issue, although the Volvo XC60's 2.4-litre 190bhp engine and automatic gearbox combo, although a pleasure to drive, were only registering around 34mpg on the car's trip computer which was slightly alarming bearing in mind the distance we had to cover, but with a 70-litre fuel tank, we had a good range (around 600 miles).
With a full load and 130kmh (around 85mph) travelling speed on European motorways, we soon started to eat up the miles, and with favourable weather conditions, we settled into some easy driving for the first few hours and began to fully appreciate the car, especially the radar cruise control which worked more smoothly and progressively than other systems I have experienced, and kept us the perfect distance from our friends in front, adjusting the car's speed with the ebb and flow of the traffic.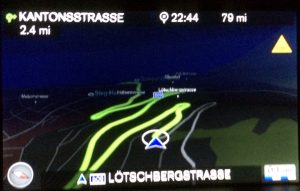 Our XC60 was equipped with the £1,500 Driver Support Pack which includes useful things like Collision Warning with Auto Braking, pedestrian and cyclist detection, road sign recognition and Blind Sport Information System, which puts an orange light on near the mirror when another vehicle is in the mirror's blindspot which was particularly useful when driving on the "wrong" side of the road. The XC60's big mirrors make light work of changing lanes, but the Blis system was a real boon on foreign motorways.
The Winter Pack, at a reasonable £375 was also the perfect addition to the XC60 for winter motoring, and added active bending headlights, heated from seats, a heated windscreen and a headlight cleaning system with heated washer nozzles.
The smooth six-speed automatic gearbox, only available on the AWD models, was a £1,485 option, but certainly made life less stressful and complicated during our trip, which included a traffic jam or two, especially around Bern in Switzerland. It was great to let the car do the work, crawling along, stopping and moving along again, all by itself – but I never completely trusted it!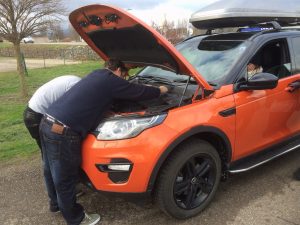 As the miles rolled on we enjoyed listening to the superb Harmon Kardon surround sound system. The Volvo XC60 was comfortable, quiet and effortless to drive. It was my son's first experience of driving in Europe, but he soon settled into the way of things and did an excellent job, although roundabouts can demand your full attention at first. We swopped over every two or three hours and by late afternoon, as darkness fell, we were well into Switzerland and the snow we had been expecting started to fall, which meant we had to up the concentration levels as the blizzard like conditions and slushy road surfaces made things a bit trickier. Our radar cruise control also stopped working temporarily as the build-up of snow on the front of the car blocked the sensor.
We had been particularly looking forward to the last part of the journey, which didn't actually involve any driving – we hitched a lift on a couple of car trains to cut off some miles and avoid driving over icy mountain passes at night. The first was at Kandersteg, in Switzerland. You buy your ticket and simply drive onto the train. When it's full, it trundles off into the mountainside, no strapping the car down as you might expect, you just put your handbrake on. It's a very strange sensation travelling at 50 or 60mph in a car, with your seatbelt on, but only a foot or so away from the car in front. It just doesn't seem right and I found it slightly unnerving.
A short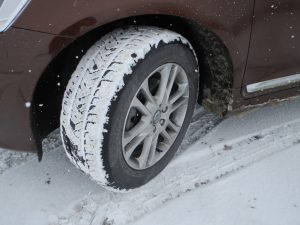 drive took us to the second car train at Brig which delivered us to Isella, in Italy. We had to show the border guard our passports as we drove off the train, but then once clear of the station, we only had about an hour's drive left, mostly up a mountain, to reach our destination in Macugnaga.
We finally arrived at our ski lodge at about 11.30pm at night, tired, but glad to be there and ready for a week's skiing, which was fantastic. It really is the best holiday, especially if you have a good bunch of friends to share it with and pull each others' legs about the exploits on the pistes! Ours included bumping into each other, dropping ski poles off chair lifts, recovering ski poles from under chair lifts, and face planting the snow through a combination of tired legs and lack of concentration!
After a brilliant week, it was time to make the return journey. Instead of using the car trains, we drove over the Simplon Pass. We left Macugnaga in bright sunshine with clear blue skies, but by the time we tackled the Simplon, which climbs to 2000m the weather had changed – it was snowing heavily and the snow ploughs were out keeping the roads clear – ish! The views we had been so looking forward to were hidden in low, grey cloud with only the occasional tantalising glimpse of the magnificent scenery which lay within.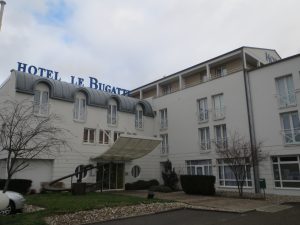 By the time we reached the summit of the Simplon, it was snowing heavily and I was glad of the winter tyres on the car. They make a big difference to grip levels, and the Volvo never felt anything but surefooted and stable. My friends in their Land Rover were having a rather different experience we found out later, with the car slithering around rather more than he would have liked, but perhaps that was down to his choice of Continental Cross Contact winter tyres, rather than the my Volvo's Pirellis, which proved to be gripping to stuff, even in the snow!
There's a cafe at the top of the Simplon, where we had one of the strongest – and most expensive coffees – of the trip, but then headed down the mountains, through lots of tunnels to the exclusive Montreaux, home of the famous film festival on the shores of Lake Geneva for lunch and a leg-stretch along the seat front, where we found lots of sculptures and statues, including one of Freddie Mercury. The poignant plaque on the pedestal read "Lover of Life, Singer of Songs".
Then it was back into t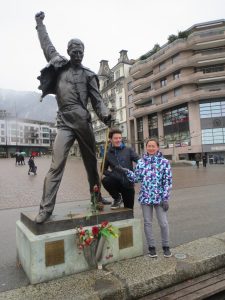 he cars for a couple of hours' drive up to Mullhouse, in France, just over the Swiss border. We drove to the hotel where I thought we were staying for the night, when my friends sprung a complete surprise on me. This was just the tea stop, we were driving on another hour to the Hotel le Bugatti, not far from Strasbourg, on the site of the famous Bugatti factory in Molsheim, and a stone's throw from the where the Bugatti Veyron is assembled today.
After a comfortable overnight stay and a browse at some of the historic pictures on the walls, we headed back up towards the North Sea coast and the P&O Ferry at Zeebrugge, slightly less distance, and an earlier crossing than the Rotterdam option, which meant more time to relax and recount our stories of a fun-filled week of snowbound adventures.
It had been a brilliant trip, the Volvo XC60 had been faultless, unlike my friend's Land Rover which developed an electrical fault, which eventually cleared itself after a call to Land Rover Assistance, but caused a raised bonnet, eyebrows and concerned faces for a while until it was resolved. In true Top Gear style, we were sympathising and about to leave when the fault light went out!
In all, we covered around 1,400 miles at an average speed of 44mph and the car returned an average miles per gallon figure of 34.8 overall, which when you consider how the car was used, isn't too bad at all. I've always been a fan of the big Volvos and after this trip, I wouldn't hesitate to recommend one to anyone.
Rating: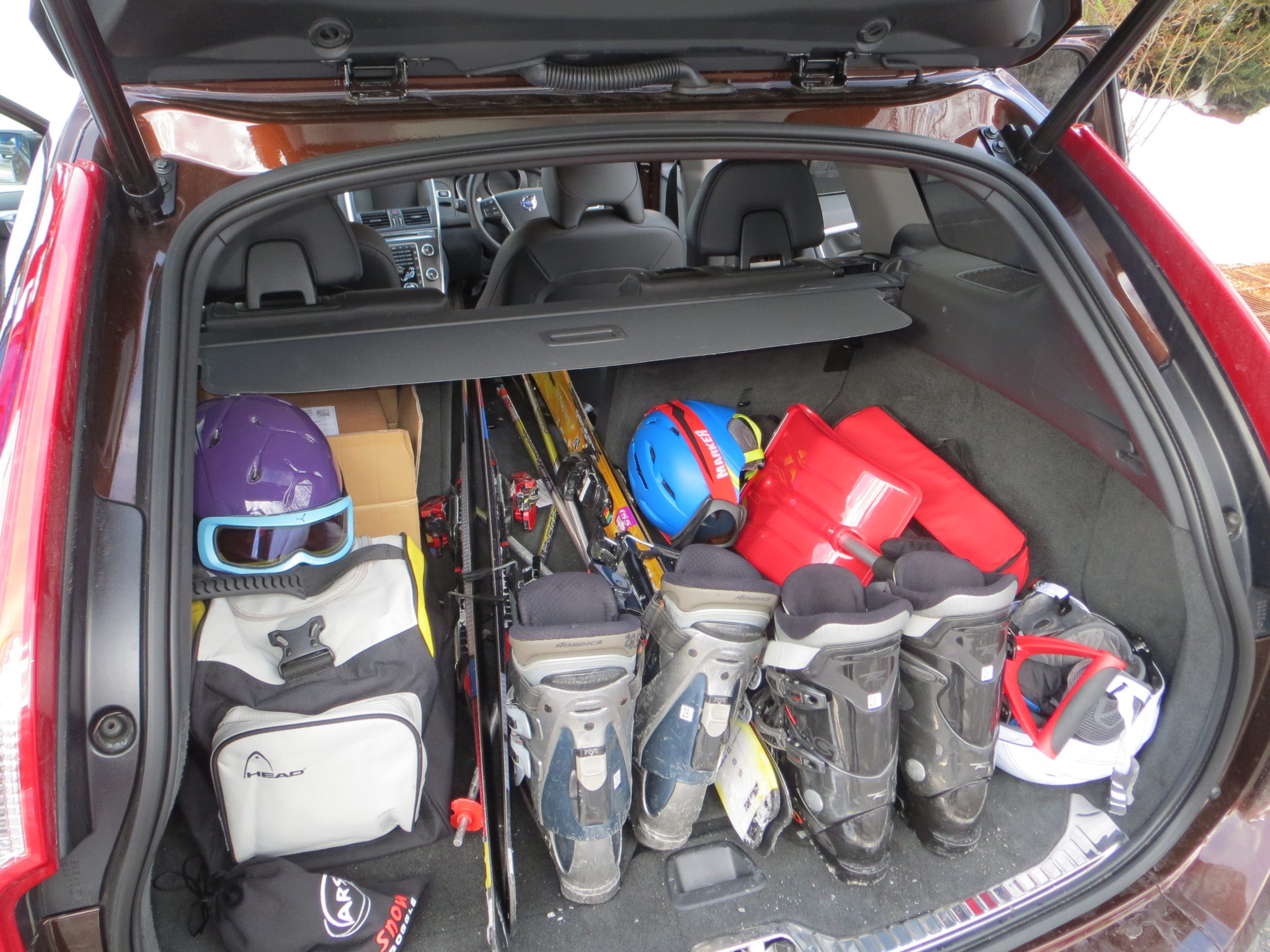 If you like this, read our review on the Volvo V40 R-Design
THE VITAL STATISTICS
MODEL: Volvo XC60 D4 AWD Geartronic SE Lux Nav road test report review
ENGINE: 2,400cc, 190bhp five-cylinder diesel engine, driving four wheels through 6-speed automatic gearbox.
PERFORMANCE: Top speed 127mph. 0-62mph in 9.6 secs.
ECONOMY: City: 47.9mpg.
Country: 58.9mpg.
Combined: 54.3mpg.
Wheel World test average: 34.8mpg
CO2 EMISSIONS: 137g/km.
FUEL TANK: 70 litres.
INSURANCE: Group 30.
PRICE: £36,690 (£45,060 as tested).
WARRANTY: 3 years/60,000 miles.
WEBSITE: www.volvocars.co.uk
• All data correct at time of publication.