VW Golf GTE plug-in hybrid review, road test report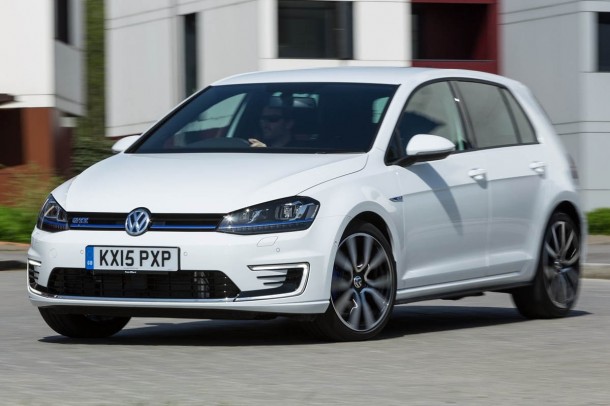 What if . . . the Romans had invented electricity – KEITH WARD has been finding out!
IN a remote area of Northumberland, not far from Hadrian's Roman Wall, the car park of our recent overnight hostelry offered the surprise of a very 21st century facility – a charging point for electric vehicles.
It was evidence of how far, however slowly, we are progressing towards a national infrastructure to back a growing, if still small, population of e-vehicles.
Latest industry figures show UK purchases of ultra low emission vehicles (ULEV's) – including pure electric as well as hybrid combinations – were up by 64.5 per cent in the first quarter of 2015, albeit accounting for fewer than three in 100 new sales.
The Society of Motor Manufacturers and Traders, quoting a "remarkable surge", reports a choice now of more than 20 hatchbacks, SUV's and coupes for British motorists and that each of the 10 best-selling brands in the UK now includes a ULEV in its range.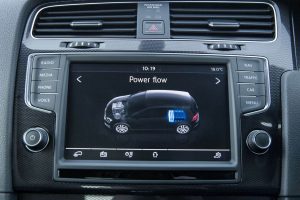 Enter VW with a plug-in hybrid version of their best-selling Golf, now entering its entire showroom network here. Previous purely electric models, the e-up! and e-Golf, have been sold only through 25 appointed EV specialists.
Forget all images of a dawdling dodgem. The sparky Golf GTE (E for electricity) takes a macho podium place alongside the petrol-powered GTI and diesel GTD, being capable of 138 mph flat out and a sprint to 62 mph in 7.6 seconds.
Its power sources are a 150PS version of VW's peppy four-cylinder 1.4-litre turbocharged petrol engine and a respectable 105PS electric motor, charged by a high-voltage lithium-iron 8.7 kWh auxiliary battery. They can be called upon separately or in combination, at the whim of the driver via the familiar type of central dashboard touch screen.
The combined power actually works out at 204PS, so less than the theoretical total but still impressive, while overall torque maximum is a hefty 258 lb ft .
On the road, as usual with e-power, you need to adjust to the eerie near-silence at switch-on which is by default in e-mode. The swing of instrument needles and a "ready" message give you the nod to start.
There are five operating modes, shown on a central colour touchscreen, to choose from in a display less garish than some. E-designers have been tempted to slosh colours too liberally. Too much information can become a distraction.
In pure "E-mode", activated at the press of a button, this Golf can travel up to 31 miles on a full charge – enough, say VW, for a typical commuter journey – and reach 81 mph.
On a mixed road circuit based on Harrogate, our GTE started with an indicated range of 20 miles. Driving in hybrid mode but not sparing the horses, enjoying the customary dynamic attributes of a Golf, we spurned the option of feathering the accelerator to see via another graphic the battery regenerating. So the advised range had reduced to 10 miles on reaching the outskirts of Knaresborough.
To protect those good citizens from pollution, time to switch to environment-friendly pure electric. By the time we got through the inevitable congestion, the range had reduced to just four miles. With my passenger showing high anxiety, we switched the Golf to "battery charge" mode and it had quickly built back up to a 10-mile potential by the time we got back to base. We could also have switched to a "battery hold" mode to preserve any remaining charge.
The relatively compact auxiliary lithium-ion battery is around a third of the size of that in the electric-only Golf E, and is tucked under the rear seats of the GTE, accessible through the near full-sized boot. It contributes just 120 kg to the car's 1,599 kg total unladen weight.
Charging is through a plug-in point hidden behind the VW badge on the front grille and takes 3 hours 45 minutes from a domestic mains outlet or 2 hours 15 minutes from a specially installed domestic wallbox.
It comes with an eight-year or 100,000-mile warranty. Assuming an annual driving distance of 9,000 miles, VW reckon it should retain as much as 80 per cent of its power after 10 years, when it might "still be suitable for domestic use" – perhaps to drive your central heating, if no longer meeting strenuous in-car demands.
At least in a hybrid you always have an engine for comfort. In an all-electric Nissan Leaf I have watched the range needle visibly fall, enough to jangle the nerves as I consumed energy in the climb up to my Pennine home. A colleague plugged a Leaf into the socket of a posh York hotel and blew the building's whole electrical circuit overnight. So a hybrid is pretty user-friendly by comparison.
The GTE also has an "e-manager" allowing the driver to pre-set the charging process, as well as interior cooling or heating. This can be operated remotely via a smartphone app.
Other tekky features of the GTE are a specially developed six-speed DSG automatic gearbox, with the electric motor integrated into it, as standard. And optional navigation with bespoke EV features such as locating charging points as well as destinations within electric range.
The GTE is available here only in five-door body style and in one level of spec which includes dual zone climate, front sports seats, stainless steel pedals, lowered sports suspension, adaptive cruise control, eight-speaker audio and multi-device interface, driver alert and city emergency braking system. There are bespoke GTE design touches outside and in.
There are options: Our car had a high-grade navigation system (£1,765) with bigger eight-inch screen, keyless entry with stop-start button (£360), a winter pack including heated front seats (£360) and self-park assist (£150).
So the bottom line? After deducting the £5,000 government grant for ULEV's, the GTE comes down to £28,035. That compares with £27,235 for a 220PS petrol five-door Golf GTI and £26,670 for a 184PS diesel five-door GTD. The GTE's stiffest competition comes from the admired Audi A3 e-tron and BMW i3, which also enjoy a superior snob image.
VW are confident of selling their strict UK allocation of 2,000 GTE's in 2015, based partly on the strong appeal of ULEV's to business users for tax perks. And the newcomer joins a VW stable whose UK sales are running at a record high in the first quarter of this year to top 60,000, led by the Golf at number four in the top 10 chart and the Polo three notches below it.
Rating: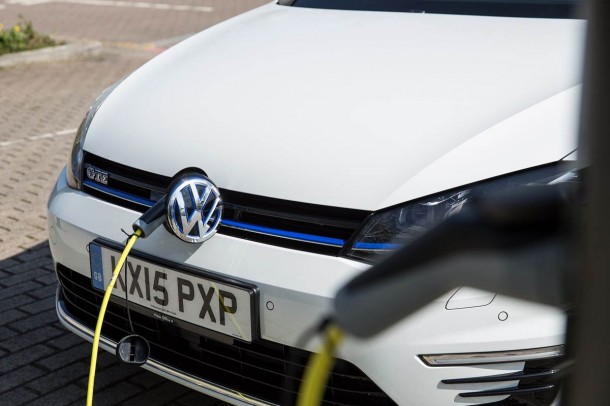 THE VITAL STATISTICS
Model VW Golf GTE plug-in hybrid
Engine 1.4 petrol plus electric motor and 8.7 kWh battery; 6-speed DSG auto; stop-start
Power 150PS (petrol); 105PS (electric); effective combined 204PS; torque 258 lb ft Pace 138 mph; (81 mph electric only); 0-62 in 7.6 secs
Fuel On long term test 55.5 mpg; 9.1 mpkWh; official combined 166 mpg
Range (est) Electric 31 miles; total 580 miles
CO2 39 g/km; exempt from VED and congestion charge; BIK 5%
Insurance Group 26E
Warranty 36 mths/60,000 miles; paint 36 mths; body 12 yrs; battery 8 yrs/100,000 miles
PRICE £28,035; as tested with optional extras £31,210; both after deduction of £5,000 government grant.