Suzuki Vitara 1.6 DDiS ALLGRIP SZ5 road test report and review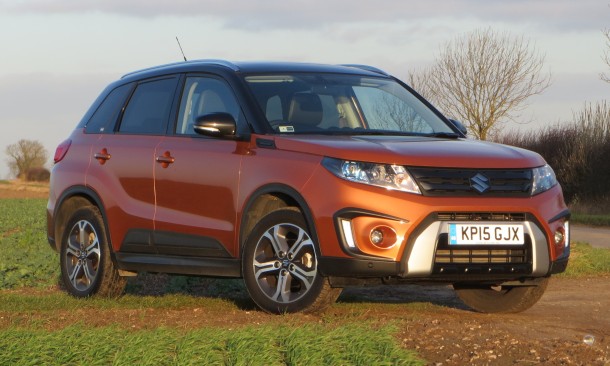 Suzuki Vitara 1.6 DDiS ALLGRIP SZ5 road test report and review: This new model takes a big leap upmarket and impresses with its good looks and equipment levels, but what's it like to drive? DAVID HOOPER has been finding out.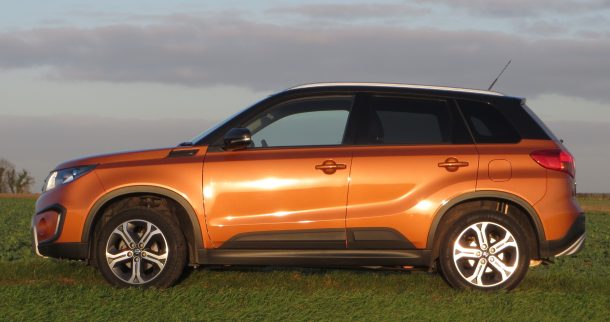 THE Suzuki Vitara has always been a trusty workhorse with a loyal following, but it's now on track to attract plenty of new fans to the brand as the model takes a leap upmarket in terms of quality and equipment levels.
Our test car featured some of the latest toys to embellish its equipment inventory, like radar cruise control, collision warning systems and the latest Apple Play software.
But, park a Suzuki Vitara with this spec on your drive and you will have to sign an invoice for more than £23,000 which pitches it against some high quality competitors which feel more substantial than the Vitara, but admittedly don't come with all the toys that this model can boast at this price point.
So you pays your money, and takes your choice. After a few days behind the wheel, I found myself really liking this car. It drives better than I expected it to, it handles nicely, and its 1.6-litre diesel engine with its 120bhp and a 0-62mph time of 12.4 seconds complements the car perfectly.
Externally, I think the Suzuki Vitara bears quite a strong resemblance to the Range Rover Evoque at the front, with the profile of its headlights looking slightly more than vaguely familiar.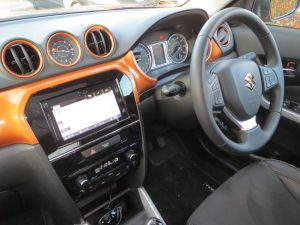 The rear end is more functional, but the whole effect of the car, finished in this lovely Horizon Orange Metallic paintwork which contrasts with Cosmic Black Pearl Metallic worth every penny of the £800 it costs. The whole look is finished off with a set of smart alloy wheels, making the Vitara perfectly presentable. Our example also had the intriguingly-named Rugged Pack fitted, which adds a skid plate under the car, body side mouldings, a loading edge protector which is always worth having, and front fog lamp bezels.
Inside, our test car featured a body-coloured dash which I thought worked really well, and an intriguingly designed analogue clock, that makes you look at it and is positioned centrally on the dash so everyone can see it.
The main instrumentation ahead of the driver is clear to read, but the central display which is home to the trip computer does look a bit cluttered, which is a shame, because there is room for it to be bigger.
The seats are reasonably comfortable, but feel as though they would benefit from being a bit more supportive, but were comfortable enough after an hour or so at the wheel.
I also liked the simplicity of the central screen which is home to the controls for the radio, sat nav, entertainment systems and telephone. It is split simply into four sections which are called Listen, Call, Drive and Connect, which includes the latest Apple Play technology so that when you connect your iPhone to the car the key functions on your phone are displayed on the car's screen. It's all clever stuff.
The Suzuki Vitara, despite its compact dimensions, is a proper 4×4 and comes with a well-deserved reputation for reliability and durability. It features a permanent four-wheel-drive AllGrip system and even comes with a hill descent control, but it is on the road where the Suzuki Vitara will spend most of its time, and I enjoyed driving it more than I expected to.
The body control is impressive and the ride quality good for this type of vehicle. It is surprisingly agile through the twisties and thanks to its permanent four-wheel-drive, has impressive grip levels, providing day-to-day security and safety on wintery roads.
The diesel engine in our test car works well, and pulls strongly through the gears, although with the 320Nm of torque coming in at 1750rpm means it is prone to "bogging down" slightly pulling out of low speed corners if you thought third would do when you should have chosen second gear, but that's largely part of getting used to the car.
Economy is excellent, I covered more than 400 miles in a wide variety of driving conditions, and the car returned an average of 51.8mpg according to its trip computer, which I was impressed with.
It also has radar cruise control which maintains a preset distance between your car and the vehicle in front. That distance can be adjusted by one of three settings, and is another useful safety aid on long trips, but it can be a bit disconcerting when the car starts to brake all by itself!
The Suzuki Vitara is a compact 4×4 which is fun to drive, reliable and economical, and with good levels of equipment it's a definitely worthy of consideration.
Rating: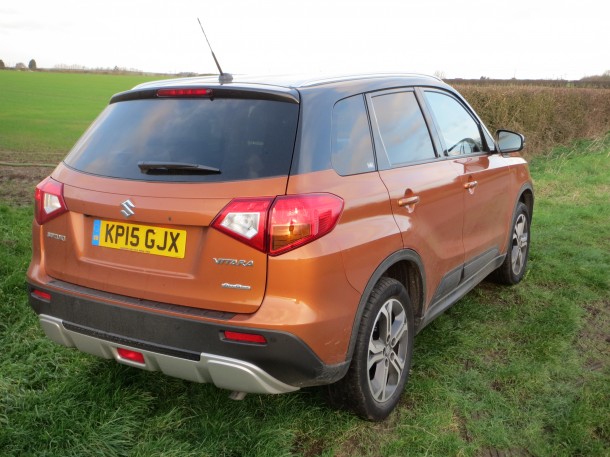 If you like this, read our review on the Suzuki Celerio
THE VITAL STATISTICS
MODEL: Suzuki Vitara 1.6 DDiS ALLGRIP SZ5.
ENGINE: 1598cc, 120PS four-cylinder diesel engine, driving four wheels through 6-speed manual gearbox.
PERFORMANCE: Top speed 112mph. 0-62mph in 12.4 secs.
ECONOMY: City: 60.1mpg.
Country: 70.6mpg.
Combined: 67.2mpg.
Wheel World test average: 51.8mpg
CO2 EMISSIONS: 106g/km.
INSURANCE: Group 17.
PRICE: £23,349 including paint £800 and Rugged Pack £750.
WARRANTY: 3 years/60,000 miles
WEBSITE: www.suzuki.co.uk
• All data correct at time of publication.