Suzuki Celerio first drive road test report review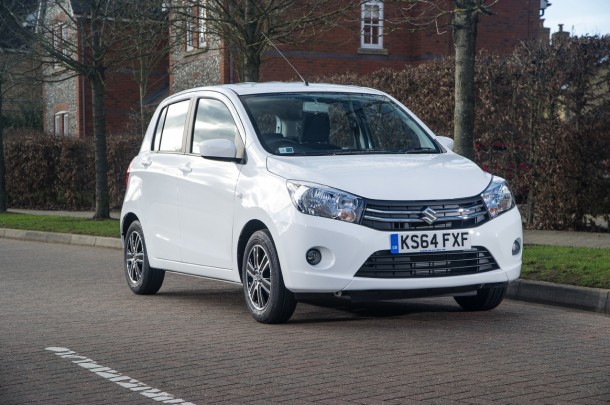 Suzuki Celerio first drive road test report review By KEITH WARD
WITH a record UK sales year behind them, Suzuki start 2015 brightly with a price challenge. Their well-equipped new little Celerio city is in the showrooms now with a sub-£8,000 starting tag.
In a fast-growing sector of the market, that means it immediately undercuts pint-sized rivals such as the Kia Picanto, Hyundai i10 and Skoda Citigo in what is the automotive equivalent of the Pound Shop.
The Celerio is a Thailand-built, five-door compact hatchback, just 3.6 metres long, claiming best-in-class interior space, with two levels of trim, six body colours  and offered initially only with a three-cylinder, 1.0-litre petrol engine rated at zero annual duty.
Features of the basic £7,999 SZ3 not found on its named competitors include air conditioning, alloys, DAB digital radio and Bluetooth. They join remote locking, a split-fold rear seat, six airbags, tyre pressure monitoring, ESP to counter slippery conditions, an info display on the dash and height-adjustable driver's seat.
The upper-trim SZ4 at £8,999 adds such as chrome front grille, electric body-coloured mirrors, front fogs, electric rear windows as well as front, four audio speakers instead of two and smarter black alloys.
In appearance the Celerio is identifiably Suzuki, with a family resemblance to the Splash and Alto it replaces. The cabin is expectedly practical rather than plush and its restricted width means you can be rubbing elbows with your passenger, while the door pockets are little more than slots. Boot space behind the seats we measured at just 530 mm, but a generous 1,020 mm across.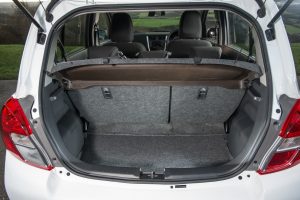 However, leg and head  room is adequate for four average adults, if not the five Suzuki claim. More, an experienced journalist colleague six feet six inches tall and of gargantuan girth even pronounced it "absolutely comfortable" in terms of interior space and suspension. His passenger was not available for comment. Possibly submerged under his partner's bulk.
A tight turning circle of 9.4 metres makes the Celerio city-friendly, although our allocated preview route was 80 miles of the flattish East Midlands, where the Celerio, stirred easily by a revised five-speed box, bowled along willingly.  At 70 in top the three-pot engine was pulling 3,000 rpm, so halfway to the red line, and busy but allowing normal conversation.
Also briefly tried was an impressive new automatic, claiming notably to avoid the usual penalties in fuel consumption and CO2 emissions, which will not be available until April.  The "Auto Gear Shift" – AGS – incorporates a compact electro-hydraulic unit which piggy-backs directly on to the top of the transmission without need for additional linkages. Guide price for the Celerio automatic option is around £800.
It gave smooth changes, includes a switch to manual when desired and has a low-speed "creep" facility, up to around 5mph, so that in slow traffic or when parking you don't need to touch the accelerator. It is credited with exactly the same combined 65.7 mpg rating and 99 g/km CO2 as the manual.
And sure enough it clocked 52.1 mpg in our hands, virtually matching the 53.1 measured in the manual. AGS will be an option with SZ4 trim only, price to be confirmed.
Also in April will come a newly developed, dual injection version of the 68PS 1.0-litre engine, giving a "class-leading" CO2 figure of 84 g/km. Only with lower SZ3 trim. Again, price to be announced.
In a revamped Suzuki stable, out go the SX4 and Grand Vitara, as well as the Alto and Splash. The Swift, S-Cross and Jimny continue and a new Vitara is on its way this year to join the Celerio. Suzuki UK Products Manager Ed Norman sees the Celerio selling 6,000 a year, 70 per cent of them Z3 and equally split between male and female customers.
Making a major contribution to maintaining in 2015 last year's record UK total of 37,000-plus will be dealers in Yorkshire and the North East , says Norman.  "It's our strongest region – Leeds, Huddersfield, Keighley, Shipley –  some of them have been with us over 30 years. Their region accounts for 30 per cent of our national sales."
Rating: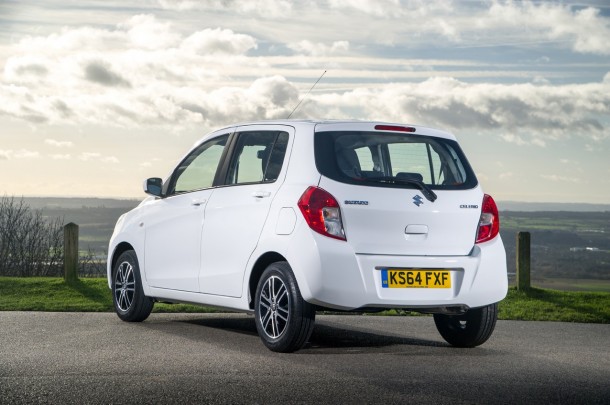 THE VITAL STATISTICS
Model: Suzuki Celerio 1.0 SZ3
Type:  City car; five-door hatch; five seats
Body: Length 3,600 mm; width 1,600; ht 1,540; boot 254 to 726 litres; wt 835kg
Engine: Petrol; 3-cyl; 12v; 998 cc;   5-speed manual
Power:  68 PS@ 6,000 rpm; max torque 66 lb ft @ 3,500 rpm
Pace: 96 mph; 0-62 in 13.5 secs
MPG: On test 53.1; official combined 65.7; tank 35 litres
CO2: 99 g/km; band A; VED nil
Insurance: Group 7E
Service: 12,500 miles
PRICE: £7,999
On sale: Now