Ford Transit Courier Trend road test report and review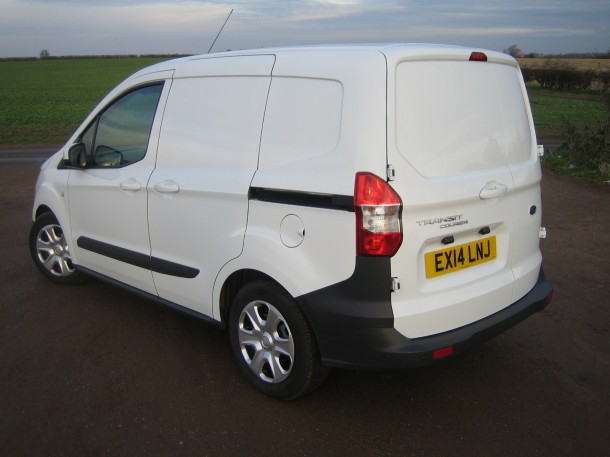 Ford Transit Courier Trend road test report and review: A compact van which is big on space, easy to drive and offers good economy DAVID HOOPER has been putting one through its paces.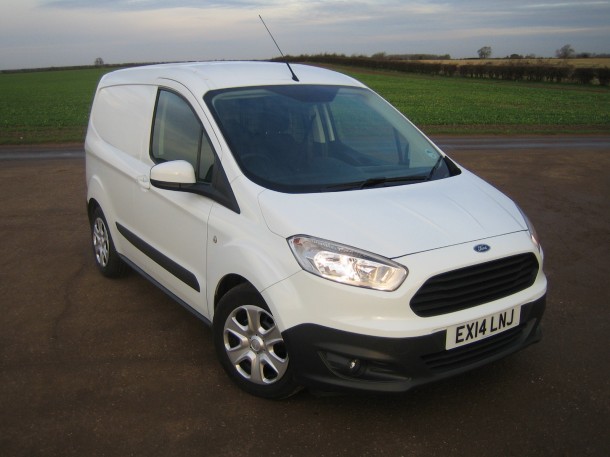 IN the world of vans, Ford's Transit has reached iconic status and therefore needs little introduction, but this is a new addition to the range and it's called the Courier.
Once upon a time, there was only one Transit van, but today Ford's range of commercials has grown and now includes the Fiesta, Ranger, Tourneo Custom, Transit, Transit Connect, Transit Courier and Transit Custom.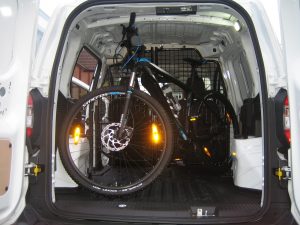 This little newcomer may look like it has shrunk in the wash, but some say, all good things come in little packages, and having just spent a week ferrying mostly me and mostly my mountain bike around, I have to say I'm hugely impressed.
Most of these Transit Courier vans will find homes with businesses which need to Courier "stuff" from A to B, but with prices starting from £14,249 +VAT for the 1.0-litre Ecoboost, Ford's excellent little three-cylinder engine, it does offer an alternative for some car buyers who need a "lifestyle" vehicle for hobbies like kite surfing, climbing or mountain biking when lots of kit is a necessity. My bike was a perfect fit in the back of the Courier and I didn't even need to drop my saddle to get it inside, and there was plenty of room left for tools, bike pumps and a change of clothing.
The Ford Courier is a compact van, and is easy to drive and to live with and I was actually quite impressed with the way it drove, handling as well as a similar sized car. Once you get out of the habit of looking in the rear view mirror (there isn't one) and get used to relying on the two large door mirrors, driving the van is easy. As well as the 1.0T Ecoboost, and the 1.6 litre diesel engine I tested, a 75PS 1.5-litre diesel is another option.
A good turning circle means the Ford Courier is easy to park and manoeuvre, and rear parking sensors make getting in and out of tight parking spaces easy.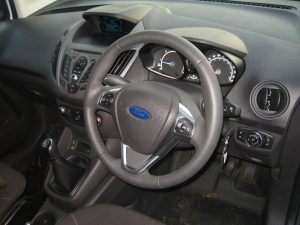 As you might expect for a working vehicle, the interior is functional, with lots of hard-wearing black plastic, but you do get some luxuries – electric windows and mirrors and even cruise control are all part of the Courier's inventory. Bluetooth phone connectivity is also standard, a must for a busy delivery driver on his rounds these days so he can keep in touch with his HQ.
The Ford Courier is powered by Ford's 1.6-litre diesel engine, which during my test of over 400 miles, returned an average of 48.8mpg during a week of mixed driving which took in most types of roads and driving conditions.
The engine pulls well through its five gears, and is actually surprisingly nippy, which combined with the Courier's sharp handling characteristics and comfortable ride, makes for an amiable travelling companion. Covering big distances in this little van would be no hardship at all.
Remote central locking system is well thought out. You can open just the cab, leaving the cargo area securely locked, or vice-versa and have access to the cargo area while leaving the cab, with your personal bits and pieces – and your sandwiches – securely locked while you're loading.
The Ford Courier has one sliding door on the pavement side of the vehicle, and two rear doors, split in a one-third/two-thirds format, and once inside, the load area floor is covered in a hard-wearing black plastic which is easy to sweep out and wipe clean between loads if necessary.
My test vehicle was fitted with an LED Box Light which literally flooded the load area with light – if only some cars had such a good boot light! It was worth the £40 additional cost, as were the rear parking sensors at £150, and for any vehicle which is spending a lot of time in town, the Auto Stop-Start system at £150 is surely a worthwhile investment.
The Ford Courier is a smart little van which is easy to drive and to live with and while it's perfectly at home weaving its way around the town or city, it's also a very capable mile muncher which is capable of impressive economy if treated reasonably gently.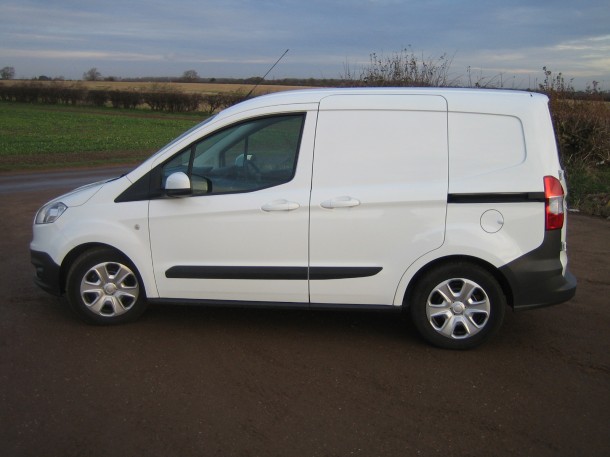 Rating:





THE VITAL STATISTICS
MODEL: Ford Transit Courier Trend.
FORD TRANSIT COURIER RANGE: From 1.0T Ecoboost 100PS (£14,249) to Trend 1.6CDTi 95PS (£16,169).
ENGINE: 1562cc, 95PS four-cylinder diesel engine, driving front wheels through 5-speed manual gearbox.
ECONOMY: City: 64.2mpg.
Country: 80.7mpg.
Combined: 74.3mpg.
WHEEL WORLD REVIEWS AVERAGE: 48.8mpg
CO2 EMISSIONS: 100g/km.
FUEL TANK: 47 litres.
PRICE: £13,761 ex VAT.
WARRANTY: 3 years/100,000 miles.
WEBSITE: www.ford.co.uk
• All data correct at time of publication.