Audi Q3 TDI quattro S line 140 PS S Tronic road test report and review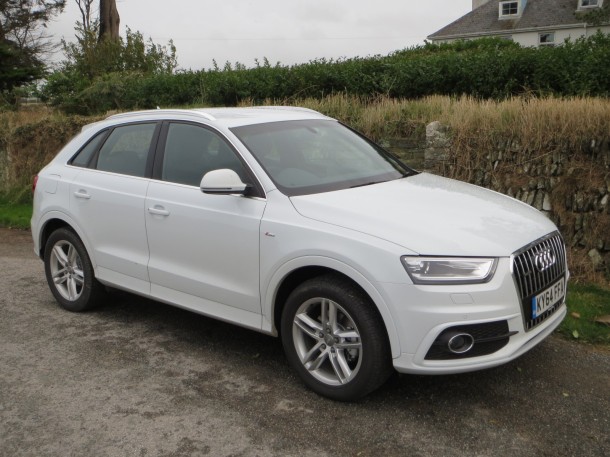 Audi Q3 TDI quattro S line 140 PS S Tronic road test report and review proved itself to be a comfortable mile muncher and practical family transport. DAVID HOOPER reports on this facelifted SUV from Audi.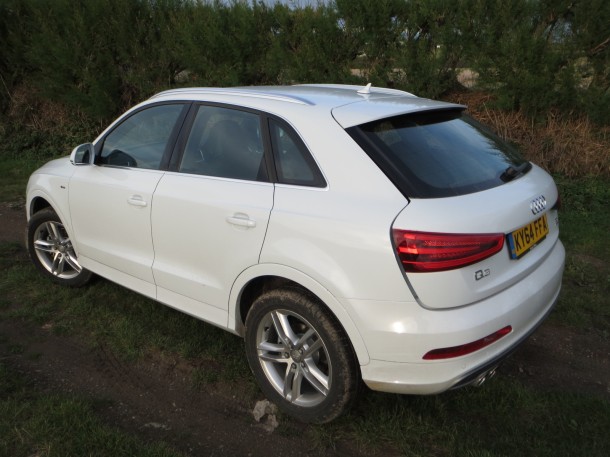 THE Audi Q3 has recently had its mid-life facelift and now features the latest, deeper company grille and revised signature lighting which are the most noticeable external differences from the popular original model.
The interior has also benefited from a freshen up and now has a tidier, cleaner look, with the high quality black plastics of our test car being punctuated by brushed aluminium trimmings around the air vents, door handles, and on the major control surfaces. The multimedia control panel sits just below the central air vents. The screen sits on top of the dash and can be closed when not in use, or if it's too much of a distraction at night.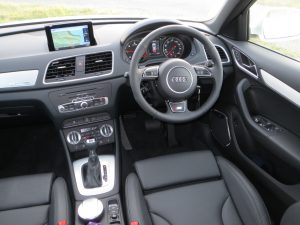 Most of the screen's information, however, can be relayed to the little panel in front of the driver between the speedometer on the right and rev counter on the left, relaying important info like sat nav directions or hands-free telephone controls, and can be selected and operated by an array of buttons on the multi-function steering wheel.
The S Line model we tested came with the cruise control system, and climate control, and of course, the almost obligatory heated seats in a car as luxurious as this one. It also came with a superb Bose sound system, and I particularly liked the ability to be able to adjust the amount of surround sound  effect you could have, which really made my favourite music sound like it was being performed live – a concert on the move!
Power was supplied by Audi's proven 2.0-litre TDI engine, in this trim developing 140PS, transmitted to the quattro all-wheel-drive system by a seven-speed S-Tronic gearbox which is a smooth operator most of the time, but can be a little snatchy at times, particularly when you pull away from a standstill, or are moving at low speeds and demand acceleration.
It also comes with a Sport mode setting which sharpens up the throttle response and holds onto the gears a bit longer than in its normal drive mode, which does make the car feel that little bit more engaging. The Q3 will still look after the gear changes all by itself if you let it, or if you feel like getting more involved, you have the option of paddles behind the steering wheel, or nudging the gear selector yourself to keep things on the boil.
Rear seat accommodation is generous enough for the size of car, and the Q3's boot is large enough to take a family's clobber, and can be extended by folding down one or both of the rear seats. The boot glides open and shut automatically, either by pressing a button on the key fob, or a release button on the driver's door.
The Q3 is enjoyably agile on A and B roads with good poise and body control through the twisty bits, and proved itself to be a superbly comfortable long-distance travelling companion, aided and abetted by its S Line sports seats which provide just the right amount of support in all the right places.
During our test, the car returned an average of around 42.7mpg over a distance of around 800 miles, which included all manner of roads and driving conditions, and while that figure may be a little lower than I expected, is still perfectly acceptable.
The Q3, now sporting the latest Audi styling inside and out, is set fair for a few more years of strong sales, and if you don't want quattro, two-wheel drive versions are available, as is the fire-breathing  RS Q3 quattro version.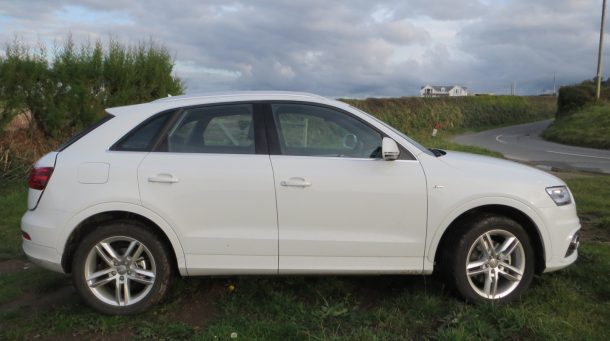 Rating:





THE VITAL STATISTICS
MODEL: Audi Q3 2.0 TDI quattro S line (140 PS) S Tronic.
AUDI Q3 RANGE: From Audi Q3 1.4 TFSI SE 150PS (£23,875) to Audi RS Q3 (£45,495).
ENGINE: 1968cc, 140PS four-cylinder diesel engine, driving four wheels through 7-speed Auto manual gearbox.
PERFORMANCE: Top speed 123mph. 0-62mph in 9.9 secs.
ECONOMY: City: 41.5mpg.
Country: 54.3mpg.
Combined: 48.7mpg.
Wheel World test average: 42.7mpg
CO2 EMISSIONS: 152g/km.
FUEL TANK: 64 litres.
INSURANCE: Group 18.
PRICE: £30,485 (£37,165 as tested)
WARRANTY: 3 years/60,000 miles
WEBSITE: www.audi.co.uk
• All data correct at time of publication.