Peugeot 308 SW Allure BlueHDi 120 road test report and review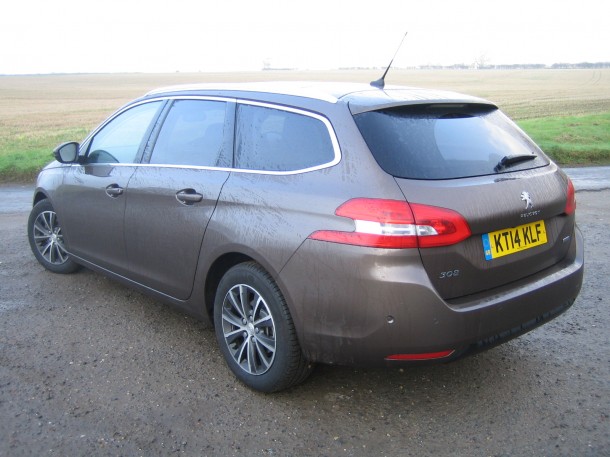 Peugeot 308 SW Allure BlueHDi 120 looks superb and is adept at carry lots of luggage.  DAVID HOOPER reports on this stylish new estate from Peugeot.
IF you like Peugeot's svelte 508 SW, but find it a tad on the tardis size, then this new 308SW will virtually sell itself to you.
Peugeot have done it again with the design of this car – it looks superb. The Peugeot range, in my opinion, is among the best of any manufacturer at the moment, and if you haven't had a close look at it recently, then it's certainly time you did.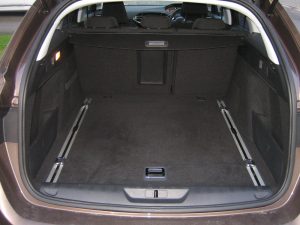 The SW is the estate bodystyle, but with a sloping, streamlined rear end, it's far more rounded than a traditional load lugging estate car – but don't think for one minute that you'll be short on space – you won't be.
There's a huge 610-litre boot with the rear seats in place, but fold them down, by pulling a lever on either side of the load area, and the seatbacks flop forward to create a large, flat load space, complete with various and now almost obligatory lashing points, extending to a massive 1660 litres of space.
With clever external detailing, plenty of silver trim work and all finished off with a smart set of alloys 17in on this particular upmarket Allure model, the car looks superb.
It's comfortable too. I covered lots of miles during my few days with this motor, and it was never anything but cosseting – and I liked the panoramic glass roof panel, a £500 option, which stretched most of the length of the roof, allowing lots of light into the car as the days shortened towards the end of summer. An electric screen can be employed to block out the light or let more in, depending on the mood of the day.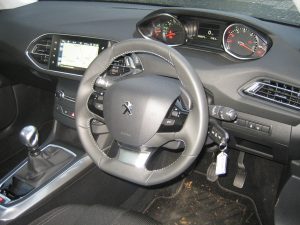 Being the BlueHDi model, it was capable of impressive economy too, achieving figures of around 60mpg on average when driven very gently, but during my week, which included the full spectrum of driving styles, roads and conditions, the car returned a respectable average of 53.2mpg, helped by a high sixth gear ratio and a stop start system which saves fuel and reduces emissions when the car is stationary in traffic jams or waiting at lights.
The 0-62mph sprint is completed in a steady 12.1secs on its way to a top speed of 121mph, but that is the trade-off between performance and economy, yet there is still ample power and torque in fourth gear for overtaking sedentary A-road snails.
The interior of the new 308SW follows the design of the hatch, adopting the French carmaker's latest styling, having moved the instrument binnacle to the top of the dashboard so it sits higher, in the driver's eyeline.
The now much smaller, sportier feeling steering wheel sits almost in your lap so you are not having to stretch your arms to find a comfortable driving position, but it's worth taking a minute or two to adjust your seat and steering column to a position that suits your size and shape before venturing out onto the road.
The 308SW is a great looking car, feels well made and is a delight to drive. I'm a fan – it looks a lot more stylish than many of its competitors, and is certainly one very classy contender!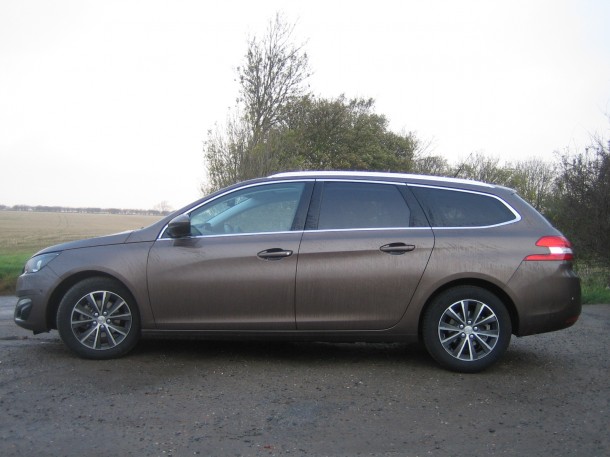 Rating:






THE VITAL STATISTICS
MODEL: Peugeot 308 SW Allure BlueHDi 120.
PEUGEOT 308 SW RANGE: From Peugeot 308 SW Access e-THP 110 (£16,845) to Peugeot 308 SW GT BlueHDi 180 Stop-Start auto (£26,845).
ENGINE: 1560cc, 120bhp four-cylinder diesel engine, driving front wheels through 6-speed manual gearbox.
PERFORMANCE: Top speed 121mph. 0-62mph in 12.1 secs.
ECONOMY: City: 78.5mpg.
Country: 88.3mpg.
Combined: 85.6mpg.
Wheel World test average: 53.2mpg
CO2 EMISSIONS: 88g/km.
FUEL TANK: 53 litres.
INSURANCE: Group 21.
PRICE: £21,645.
WARRANTY: 3 years/60,000 miles.
WEBSITE: www.peugeot.co.uk
• All data correct at time of publication.