New VW Passat range road test report and review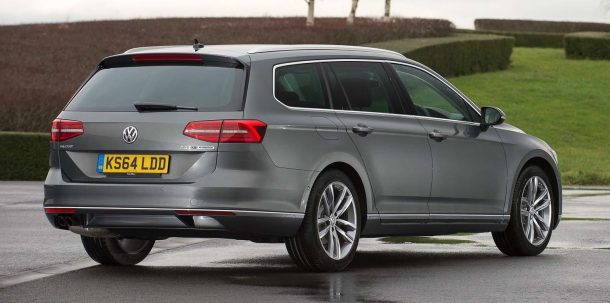 First Drive New VW Passat range road test report and review by KEITH WARD.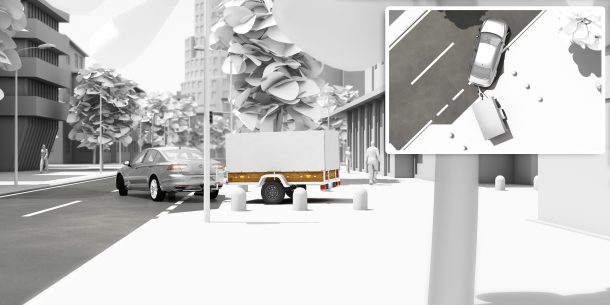 IN 41 years, 22m Passats have been sold worldwide, around 442,000 of them in the UK.
Not only is the latest Mk VIII "all-new", say VW, but it marks the "biggest-ever jump in changes and features" of a model from them "or any other" car brand.
Big claim, especially when even experienced Passat owners may need more than one glance to pick out the newcomer from an identity parade of recent versions of what has become something of a quietly classic design in four-door family saloons and a five-door estate (which marginally outsells the saloon in the UK).
The truth lies in the detail and huge advances in onboard technology.
Get down to the nitty-gritty and you find this Passat is marginally lower, shorter and wider than its immediate predecessor, yet roomier thanks to an extended wheelbase for both passengers and luggage. And markedly lighter by up to 85 kg, or the weight of one average adult male passenger, which helps account for fuel savings claimed at up to 14 per cent.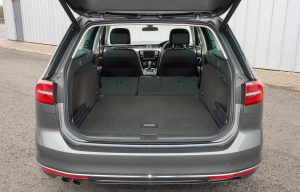 In a 48-strong range priced from £22,215 to just over £37,000, five trim levels include variously as standard such as post-collision braking, adaptive cruise control and multi-choice ride and handling settings which are increasingly common.
(VW point out that a higher trim with more safety features can save you money on insurance).
Heedful that mileage-chomping, outside lane fleet customers account for around 80 per cent of Passat sales, a new trim we tried among the five is SE Business (upwards of £24,010 and £700 above the SE) with a superb multi-adjustable "ergoComfort" driver's seat and an upgraded "Discover Navigation" system with 6.5-inch colour touchscreen, dash-mounted MP3 compatible CD player, eight-speaker audio and three years' online access to traffic, weather and navigation updates.
The Passat will initially be diesel-only: a 120PS 1.6, a 2.0-litre with 150 or 190 PS and a top-of-the-range 2.0 bi-turbo with 240 PS, DSG auto and 4MOTION four-wheel-drive, which installed in a Golf would outpace a petrol GTI.
The 1.6 tried in an estate (see details below) tended to growl under acceleration before settling into smooth open-road progress through an excellent six-speed manual gearbox. It was recording a long-term average of 36.5 mpg against an official combined rating of nearly 70. Slightly disappointing was to find the lowered rear seatbacks sloping upward, so not giving the level, slide-in extended cargo platform remembered from earlier Passat estates.
However, boot volume is given as 650 (previously 603), expanding to 1,780 litres (against 1,731).
Next up, a £28,755 GT saloon with a 190PS version of the 2.0-litre, mated to VW's six-speed auto DSG transmission (146 mph, 0-62 in 7.7 seconds) loped happily at 70 while pulling only 1,800 rpm. On a nippy winter's day, extras such as a heated windscreen (£150) and a heated steering wheel with a paddle gearshift (£135) were welcome. Add the £675 luxury pack of leather upholstery and sound insulating windows and it felt like you could drive pleasurably all day, but it was showing just 31.7 mpg long-term.
New (to the Passat) optional features include in-car screen connection to the internet via a smartphone wi-fi hotspot, also radar detection of pedestrians to prompt a full emergency stop, failing intervention by the driver. Traffic Jam Assist will brake, accelerate and steer automatically in stop-go traffic, so advancing some way towards the driverless car. New Front Park Assist self-steers the car forward into what seem to be increasingly narrow supermarket bays to give you easier loading of shopping into the boot.
And as one who has managed in his time to jack-knife even a small trailer, I marvelled at Trailer Assist, claimed to be offered uniquely (among cars) by the Passat. Another development of Park Assist, this enabled me with both hands off the wheel to reverse first time a towed trailer smoothly through 90 degrees into a parking bay. It will be even more impressive when a reversing camera is incorporated.
More to come in the Passat pipeline: June will see a diesel BlueMotion claiming 78 mpg on the official combined cycle; in July an Alltrack estate; then a plug-in petrol-electric hybrid GTE in October, with a range of up to 620 miles (or 31 in pure electric mode); also later in the year an Active Info Display with 12.3-inch screen and a head-up facility (first in a VW) to replace the traditional instrument cluster.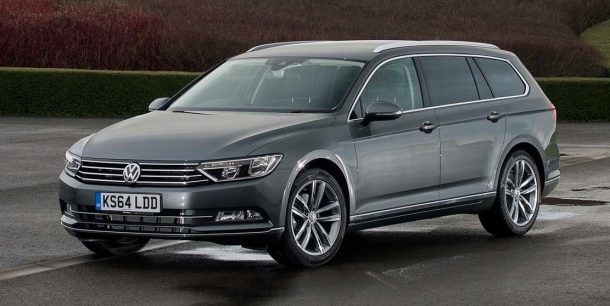 Rating:





THE VITAL STATISTICS
Model: New VW Passat Estate SE Business 1.6
Body: Five-door estate; length 2,791 mm; boot 650 ext to 1,780 litres
Engine: Diesel; 1,598 cc; 6-speed manual; front wheel drive
Power: 120 PS @ 3,600-4,000 rpm; max torque 185 lb ft @ 1750-3,500 rpm
Pace: 127 mph; 0-62 in 11.0 secs
MPG: On test 36.5; official combined 68.9; tank 59 litres
CO2: 107 g/km; tax band B; Annual VED Nil then £20; BIK 17%
Towing: Braked trailer max 1,500 kg
Insurance: Group 12E
Warranty: 3 yrs/60,000 mile; paint 3 yrs; body 12 yrs; breakdown 12 mths
PRICE: £24,915; as tested with options £30,030