Audi A3 Sportback e-tron road test report and review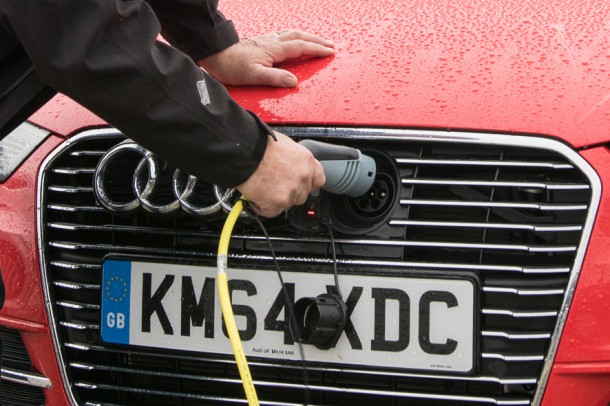 New Audi A3 Sportback e-tron road test report and review by KEITH WARD
AS premium class back-markers in the modern race to introduce electric models – great rivals BMW and Mercedes are already switched on – Audi will start to catch up in the New Year with the addition of this peppy plug-in hybrid version to their top-selling A3 range.
It marries the brand's existing 150 PS 1.4 turbo petrol engine to a new 102 PS electric motor, sitting alongside it under the bonnet and energised remotely from a special high-voltage, lithium-ion battery pack in the floor under the rear bench seat. Housing that, plus the car's normal 12v battery in that area has reduced boot volume by 100 litres, while adding 125 kg to the kerb weight, without drastically affecting the handling.
The impressive combined power of the hybrid system is 204 PS and 350 Nm or 258 lb-ft of torque, producing a claimed 138 mph and 0-62 in 7.6 seconds. The electric plug-in socket is in the front grille and revealed by sliding aside the four-ring Audi badge. Charging times quoted are between 2 hrs 15 minutes from a dedicated charge point, either public or installed at home, to four hours from a domestic power socket.
The driver can choose from four operating modes: EV electric only for near-silent town use with a limited claimed range of up to 31 miles; then petrol only to preserve battery strength; a hybrid auto mode, principally petrol but calling on the electric motor wherever possible to reduce fuel consumption or to boost acceleration on kickdown; and lastly a charge mode where the petrol engine turns generator to actually boost the battery.
In EV mode emissions are zero of course, otherwise the electric input reduces the overall CO2 rating to a VED-beating, congestion charge-avoiding and eco-friendly 32 g/km, as well as producing an artifical official combined mpg figure of 176.6. Our overall "real time" mpg was 37.7. A low BIK rating of 5% should attract business users.
Media preview drives were based in and around Newcastle-upon-Tyne, where another 200 street charging points are promised over the next two years, in what has nationally been a slow build-up of plug-in facilities.
Coloured gauges on the dash of the e-tron advise your range. We started out on a brisk 120-mile circuit of the North Pennines and Durham Dales, taking in Darlington and up through hill fog and rain to Alston in Cumbria, highest market town in England, then back down the Tyne Valley.
We started out with 320 miles credit on petrol and 24 on electric, the latter gradually reducing in hybrid auto mode calling on the motor's help for hearty hill climbing and spirited B-roading which are in the eager A3's nature. With battery reserves down to a single figure and all-electric city driving on the horizon we switched in mild panic to charge mode and the battery built back impressively quickly to its original 24-mile potential.
Available only in the five-door Sportback body, a semi-estate, with six-speed S tronic automatic transmission to the front wheels, the e-tron sparks a significant price rise, to nearly £35,000. That is reduced to £29,950 by the standard £5,000 government grant for electric cars. Audi equate the e-tron with its high-grade trim (HDD-based satnav, seven-inch colour touch-screen, dual-zone climate, sports seats) to the A3 Sportback S-line at £26,375. So on that basis the net premium for e-tron power is £3,575. Calculate how you might recoup that in e-savings.
In the last 10 years, Audi UK annual sales have doubled, from just under 71,000 to over 142,000, taking 6.3 per cent of the market, ahead of premium rivals BMW and Mercedes, against 2.7 per cent a decade ago. Global annual sales hit a record 1.5m-plus, with big leaps in the Far East.
Expect e-tron versions of the A4 and A6 to follow soon. UK sales of electric cars, either pure or hybrid, are running 50 per cent up this year, but still account for only 2.6 per cent of the total. On that basis the e-tron effect could be a slight tingle rather than a shock, but Audi expect demand to double year-on-year.
Rating:





THE VITAL STATISTICS
Model: Audi A3 Sportback e-tron 1.4 TFSI plug-in hybrid
Body: 5-door hatch; length 4,312 mm; width 1,785; kerb wt 1,540 kg
Boot: 280 to 1,120 litres
Engine: Petrol; 1,395cc; 4-cyl; turbo; 6-speed auto; 150 PS; 250 Nm (184 lb-ft)
Elec Motor: 102 PS (75 kW); torque 330 Nm (243 lb-ft); storage battery 8.8 kWh
Power: Total 204 PS (150 kW); torque total 350 Nm (258 lb-ft)
Pace: 137 mph; 0-62 in 7.6 secs (hybrid mode); electric 80 mph; 0-37 in 4.9
Range: 31 miles (electric only); 584 miles (combined petrol-electric)
MPG: On test 37.7; official combined 176.6; tank 40 litres
CO2: 37 g/km; tax band A; VED Nil; BIK 5%
Tyres: 225/45 R17
Insurance: Group 29E
Warranty: 36 mths/60,000 miles; 8 yrs/100,000 miles on lithium-ion battery system
Service: As indicated; up to 24 mths/19,000 miles
Audi A3 Sportback e-tron: From £29,950 (after £5,000 grant); version as tested £34,305
On sale: Now
Rivals: BMW i3 Range Extender auto (£28,830); Volvo V60 D6 PHEV SE Lux (£44,275) both after £5,000 grant reduction