Fiat 500 Lounge 0.9 TwinAir 105hp road test report and review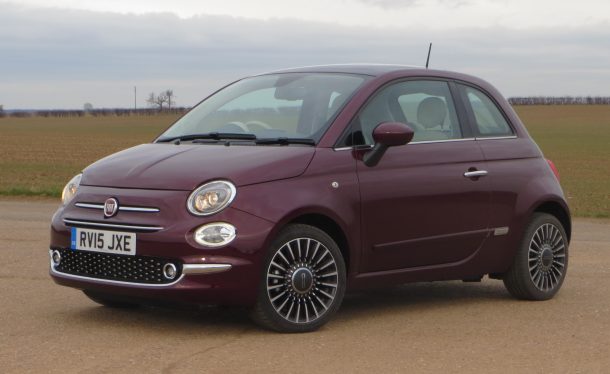 Fiat 500 Lounge 0.9 TwinAir 105hp road test report and review: Fiat has updated its ever popular 500, but can you spot the differences? DAVID HOOPER has been having a look at one of the latest models.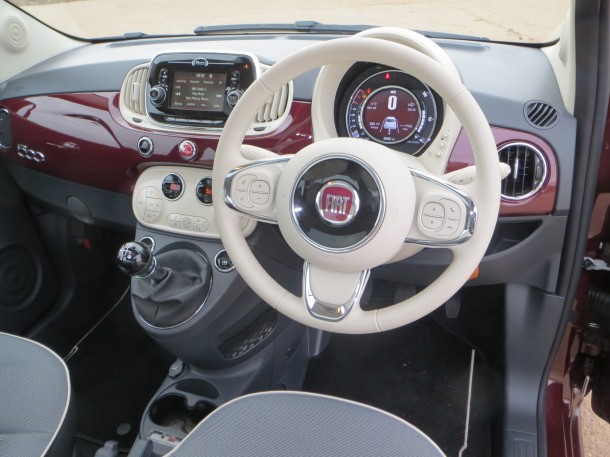 EVERYBODY loves the Fiat 500, so when it came to updating an old favourite, Fiat faced something of a dilemma when it came to deciding how much to change.
As someone once said, if it ain't broke don't fix it, so when you stand back and admire this latest updated model, the updates are hard to spot. Fiat reckon there are 1,800 changes, but apart from the lights and bumpers, they're hard to spot for a casual observer, or even an enthusiast!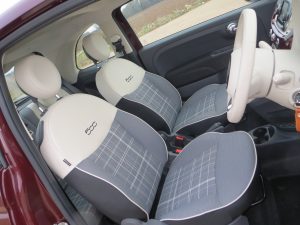 On the outside, the biggest noticeable change are the lighting units front and rear. At the back, there is now a body-coloured insert in the centre of the light unit, while at the front a new bulb design is in evidence, but the friendly face of the Fiat 500 is one thing that hasn't changed. The car almost smiles at you when you open the door in the morning as you set off to work.
I loved the Avantgarde Bordeaux colour of the car too. It almost looks purple, which combined with a bit of chromework and some smart black spoked 16in alloy wheels it is a trendy, smart little car.
It is a similar story inside, the biggest change being new graphics on the main dial in front of the driver. Turn on the ignition and a 500 graphic appears first, followed by a digital speedometer and a display which shows the range and instant mpg readouts, but can also display the trip computer information.
Mounted on the centre of the dash is a 7in TFT screen which controls all the car's main functions including the sat nav, radio, media player and an apps button which brings up a trip computer, a compass and Uconnect live.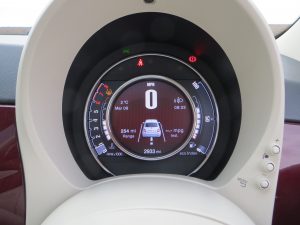 Below that are the heating controls which include air-conditioning and climate control. The electric window switches are next to the gearlever which resembles to me a pool table eight ball – it's smooth finish is very tactile.
On the central tray by the handbrake there are also two cupholders, a 12V socket, a 3mm jack and a USB socket to allow you to connect your phone or MP3 player to the car.
The steering wheel is also home to the multitude of buttons which control the telephone volume and speech buttons.
This Lounge trim on our test car provides a nice mix of materials and creates an attractively designed interior. It is dominated by a body coloured panel that runs across the centre of the dashboard, while the plastic trimming and leather on the steering wheel is cream, matching the top half of the seats, while the seat cushions and back rest are upholstered in an attractive chequered pattern cloth.
A sunroof, something of a rarity these days, especially when air-conditioning is included on the specification, was a lovely addition to this little car and made it feel light and airy, but was a £260 option.
Our Fiat 500 test car was powered by Fiat's popular TwinAir Engine, which despite only having two cylinders, is capable of punching well above its weight and makes the Fiat 500 and entertaining car to drive, and one with a character all of its own thanks to its burbly engine note.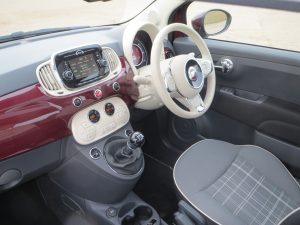 In this guise with its tiny engine, the Fiat 500 is a nippy little car in the town or city, but can also cruise comfortably at motorway speeds and is impressively refined once on the move.
A sport button on the dash may seem a bit surplus to requirements in such a low powered car (105bhp) but pressing it does certainly move things up a level, sharpening the throttle response and stiffening the steering noticeably.
This slightly more alert and reactive drive mode adds to the fun, and the short wheelbase and its inherently bouncy ride over anything but a billiard table smooth road surface actually becomes quite endearing and never fails to put a smile on your face. Speaking of smiles, the parking sensors put a grin on my face, they worked perfectly, but parking sensors on a Fiat 500, really? Well they help, then why not, but if you can't park a Fiat 500 which will slot into the tiniest of spaces with ease thanks to its tight turning circle and very short overhangs, you have to wonder whether that driver should have a licence in the first place.
The stats for this car claim ridiculously high mpg figures 80.7mpg on the extra urban cycle, but during my few days with the car I covered 415 miles on all types of roads and in all kinds of driving conditions, and averaged 46.3 miles to the gallon over the week, which isn't bad at all, but the TwinAir engine is probably not optimised for motorway work which is where I spent quite a bit of time, so less of that and more moderate town and country driving would probably see that improve a bit.
The Fiat 500 is massively popular, mostly with younger buyers, but the some older ones too and it is not hard to see why. It looks great, it's friendly, cute, fun to drive, is easy to live with – and who could resist that lovely smiley face welcoming you in the morning!
Rating: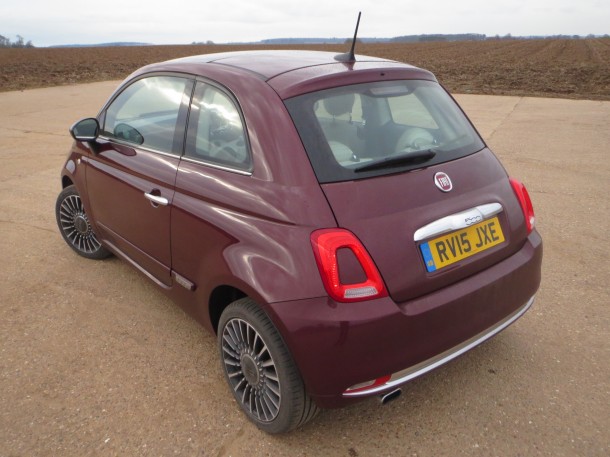 If you like this, read our review on the Fiat 500X
THE VITAL STATISTICS
MODEL: Fiat 500 Lounge 0.9 TwinAir 105hp.
ENGINE: 875cc, 105bhp two-cylinder petrol engine, driving front wheels through 6-speed manual gearbox.
PERFORMANCE: Top speed 117mph. 0-62mph in 10.0 secs.
ECONOMY: City: 51.4mpg.
Country: 80.7mpg.
Combined: 67.3mpg.
Wheel World test average: 46.3mpg
CO2 EMISSIONS: 99g/km.
FUEL TANK: 35 litres.
PRICE: £14,420 Price as tested £16,410.
WARRANTY: 3 years/60,000 miles
WEBSITE: www.fiat.co.uk
• All data correct at time of publication.