Volvo XC90 D5 AWD Power Pulse Momentum road test report and review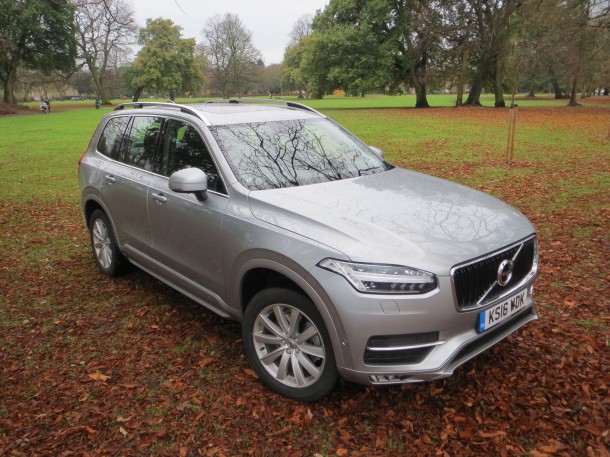 Volvo XC90 D5 AWD Power Pulse Momentum road test report and review: DAVID HOOPER drives the new Volvo XC90 – a car packed with technology and one which can drive itself… almost!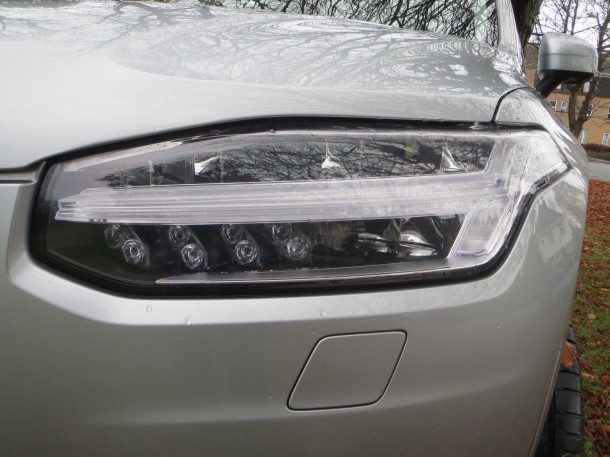 IF you were asked to name a manufacturer of safe motor cars, I bet one of the first names to come to mind would be that of Volvo. Well, this new Volvo XC90 is claimed to be the safest in a long line of increasingly safe cars produced the Swedish carmaker.

It is beautifully built and oozes quality from the minute you first set eyes on it. Since it replaced the original Volvo XC90 which originally went on sale in 2002, this large and imposing SUV has scooped most Car of the Year, or Best in Class gongs the motor industry has to offer, standing it toe-to-toe with the BMW X5, Audi Q7 and Jaguar F-Pace. I tested the latter recently, and I know which one I would buy if it were a choice between the two – the Volvo.
Prices for the new XC90 range start from £45,750. There are nine models and five choices of engine, with a T8 hybrid model sitting at the top of the pile with a £54,955 price tag.
To put some meat on the bone of its safety credentials, all models come with cyclist and pedestrian detection systems, driver alert with lane departure warning. Our test car also featured radar cruise control and two firsts, run-off-road protection designed to safeguard against spinal injuries and auto-brake which stops the car if the driver turns across an oncoming vehicle.
The standard kit list is impressive and includes sat nav, electric front seats, leather-faced upholstery, dual-zone climate, cruise control, hill start and descent, rear park assist, a superb 10-speaker sound system and 19in alloys. All three rows of seats in this giant of a seven-seater now also get curtain airbags.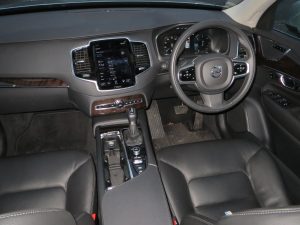 The excellent Sensus system comprises of a large central screen which looks like a vertical tablet and operates like one, with a simple and intuitive touch and swipe style which operates on an eight button or less system of operation for all its functions. The XC90 is also compatible with Apple CarPlay and Google's Android Auto.
The Sensus system can also be used to operate the car's all-round cameras, activate the parking system which prepares the car to park itself, and the corresponding switch which will then manoeuvre the car out of said space as well as reverse it into it. The driver can then select various systems on the car and control everything from road sign recognition, speed limit adaptation, cruise control and reduce the level of interior protection from the alarm system.
The Sensus system is comprehensive, looks good and is intuitive to use.
On a more practical level you can also switch on the heated steering wheel which is a boon on cold winter's mornings.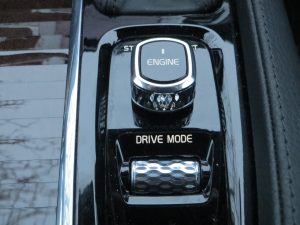 The start button and drive mode selector also deserve special mention as they are finished in what looks like a machined and knurled finish which reminded me of my old metalwork classes – but Volvo has done a fantastic job and the resulting look and feel is very tactile and a pleasure to work with.
The steering wheel is comprehensively equipped with buttons to control the cruise control and the radar system which keeps the car at a safe distance from the vehicle in front.
The beauty of this system is that you can actually separate out the cruise control from the radar system and have then work separately which is something most similar systems don't permit. There is much talk about driverless cars in the news these days and people often question whether it is really possible for cars to drive themselves. Well let me tell you that it is – and this Volvo just about does it – right here, right now. It features a lane departure warning system, adaptive cruise control and something called Pilot Assist which effectively means the car will steer itself and regulate its own speed, brake, accelerate and even steer to maintain its direction within whichever lane it is in. Combine that with all-round cameras and a self-parking system and it's only a relatively small step to the next stage. However, the system is designed for motorway use, although it can do A roads to a point, but when it encounters anything more than a slight curve you have to be ready to steer yourself – or you will end up in a field!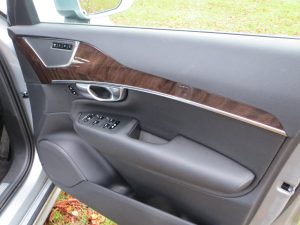 The car is a pleasure to drive, smooth, quiet, cosseting and relaxing, and despite its size, it is easy to live with – especially if you remember to wipe the reversing camera from time to time in the dirty months of winter.
The new XC90 is the sort of car in which you can cover long distances and arrive at your destination feeling almost as fresh as when you set off. During my week with the car, I covered around 450 miles of mixed driving and saw a return of 30.9mpg on its trip computer – considerably less than even the lowest of the official figures, but a real world result nonetheless.
The new XC90 stands comparison to any of its main rivals, and as is usually the case, the purchasing decision will largely come down to personal preference, but anyone opting for this much improved and arguably class-leading contender, is unlikely to regret their purchase for one minute.
I loved it and would have no hesitation in recommending anyone who thinks that they know what Volvo are all about, to have another look with a fresh pair of eyes – especially at this new XC90 line-up.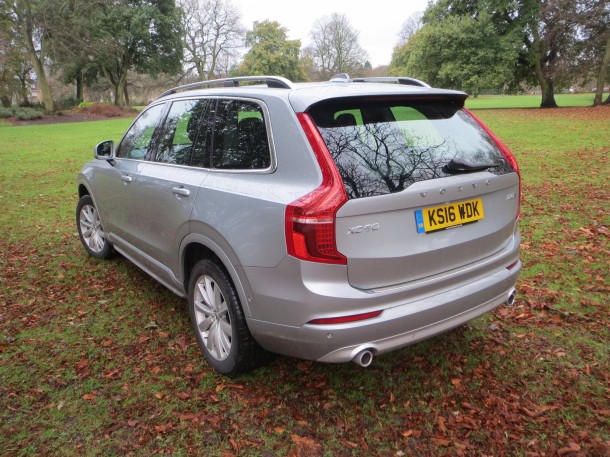 Rating:







THE VITAL STATISTICS
MODEL: Volvo XC90 D5 AWD Power Pulse Momentum
ENGINE: 1969cc, 235bhp four-cylinder diesel engine, driving four wheels through 8-speed automatic gearbox.
PERFORMANCE: Top speed 137mph. 0-62mph in 7.8 secs.
ECONOMY: City: 45.6pg.
Country: 52.3mpg.
Combined: 49.6mpg.
Wheel World test average: 30.9mpg
CO2 EMISSIONS: 149g/km.
FUEL TANK: 71 litres.
PRICE: £46,850 (£55,575 as tested).
WARRANTY: 3 years/60,000 miles
WEBSITE: www.volvocars.co.uk
• All data correct at time of publication.