Subaru Forester 2.0D XC Premium manual road test report and review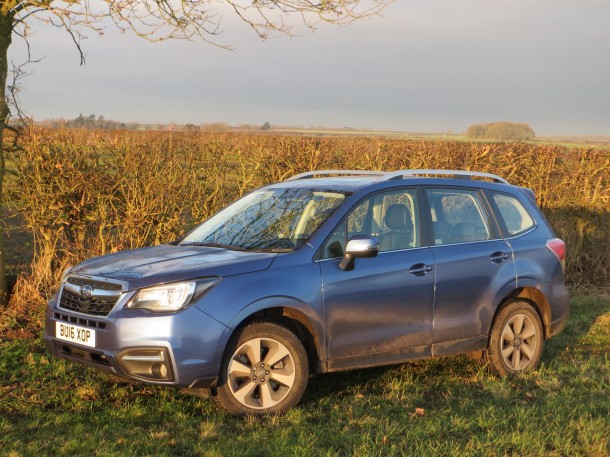 Subaru Forester 2.0D XC Premium manual road test report and review: Subaru's new Forester is impressively refined and capable in the cold weather – DAVID HOOPER has been putting one to the test.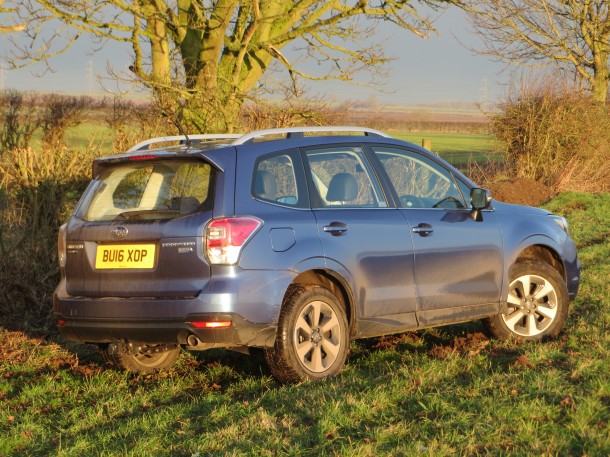 THE arrival of this smart Subaru Forester was very timely indeed as it coincided with the most prolonged period of frosty weather the country has seen for some time.
There are more variations on the 4×4 theme than I care to think about, with many being part-time systems which run in two-wheel-drive most of the time until the driving wheels lose traction bringing the other wheels into play, but there's none of that nonsense with Subaru.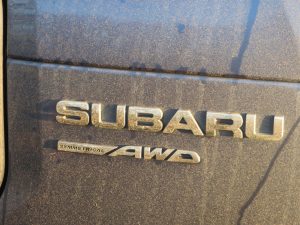 You get a Symetrical All Wheel Drive system which means that all four wheels are driving the car all of the time, and if you don't quite believe it, there's a very colourful diagram on the dash which shows you which wheels are driving, which are slipping and even which way the front two wheels are pointing. You might think that sounds a bit daft, but it's really not, because if you're dealing with snow, ice, or even muddy ruts, it's all too easy to lose track of the dead ahead steering position.
This new Subaru Forester has come a long way from its fairly rudimentary precedessors, and although still not selling in great numbers, does present a perfectly viable alternative to the mass market models – and you can be sure it will be reliable, too.
It looks great inside and out, with our test car featuring leather an all-leather interior which looked very smart. At the back there is a large, flat boot and the tailgate is even powered, so you don't have to get your hands dirty accessing your shopping in the back of the car, although it is worth remembering to give the lens of the camera a quick wipe in the mucky road conditions that were prevalent when I had this car for a few days as it soon becomes obscured with dirt, but that is the case with most of these systems.
When it's clean, it shows a sharp, clear image of what is lurking behind the car, the image appearing on the large central display screen mounted in the centre of the dash. The screen also controls various Apps, the trip computer radio, sat nav and so on, but I did particularly like the attractive blue them of the display.
The instrumentation is clear and the heated seats a real delight on frosty mornings.
Power comes from Subaru's excellent 2.0-litre Boxer diesel engine, which means that the cylinders are longitudinal rather than vertical, helping to lower the car's centre of gravity and improve handling. The engine is quiet and smooth, and during my test of 314 miles, it returned an average of 44.5mpg in mixed driving, which for a car with permanent four-wheel-drive, is fine.
On slippery backroads, the system proved its worth during my time with the car, providing reassuringly  surefooted progress and even with some provocation from my right foot and a quick turn of the wheel, the Forester responded as I expected… as did the traction control!
The six-speed gearbox can be a bit notchy, especially when cold, but it is very positive, and once on the move slots from gear to gear with precision. With a 0-62mph time of 9.9 and a top speed of 118mph, there is plenty of mid-range punch for overtaking, and the car cruises exceptionally quietly at motorway speeds, which I was impressed with.
The Forester is a practical, robust all-rounder which is easy to live with and a pleasure to drive. If you haven't had a look at one for a while, I would recommend that you do before you buy your next 4×4.
Rating: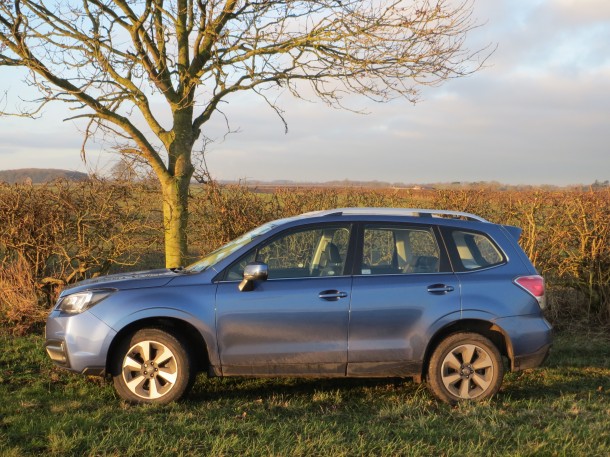 THE VITAL STATISTICS
MODEL: Subaru Forester 2.0D XC Premium manual
ENGINE: 1998cc, 147PS four-cylinder diesel engine, driving four wheels through 6-speed manual gearbox.
PERFORMANCE: Top speed 118mph. 0-62mph in 9.9 secs.
ECONOMY: City: 39.8mpg.
Country: 57.6mpg.
Combined: 49.6mpg.
Wheel World test average: 44.4mpg
CO2 EMISSIONS: 148g/km.
FUEL TANK: 60 litres.
INSURANCE: Group 25
PRICE: £31,940.
WARRANTY: 5 years/100,000 miles
WEBSITE: www.subaru.co.uk
• All data correct at time of publication.