Mazda3 2.0 120PS Sport Nav road test report and review
Mazda3 2.0 120PS Sport  Nav road test report and review :  The popular Mazda3 gets a midlife nip and tuck. DAVID HOOPER has been trying to spot the changes.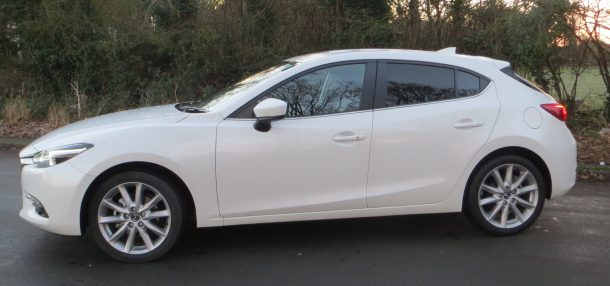 THE popular Mazda3 range has been updated for 2017 and although both the hatch and Fastback models have been tweaked, the differences are hard to spot – unless you know where to look.
Five million Mazda3s have been built, the car first going on sale in the UK in 2014. The changes outside include a revised grille, new front fog light bezels, revised door mirrors with wraparound indicators and a new rear bumper for the hatchback, but then, as the saying goes, if it ain't broke, why fix it?
The line-up features four specification levels and customers have the choice of eight colours including a new Machine Grey Mica and Eternal Blue Mica. Sport Nav models, like the one we've been testing, also get a new design of high-sheen 18in alloy wheels, which look smart.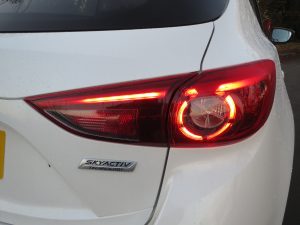 Inside the changes include a new leather steering wheel design which, if combined with leather seats, as mine was, is heated, which on the cold January mornings of our review was most welcome. An electric parking brake is now included to create space for a better centre console and handle bezels on the doors and a new trim insert on the dash are also included. Now do please try and contain your excitement!
Prices range from £17,595 to £24,195 on the road.
The clever Skyactiv technology engines are available in 1.5 or 2.2 diesel versions, or the 2.0-litre petrol engine I tried, which is the biggest seller in the range.
Mazda with its sporting ancestry is one of the more driver focused model ranges on the market. Of course, the MX-5 is the big name, being the world's favourite sports car, and this year, some exciting new additions to that model line are on the way. This updated Mazda3 illustrates the driver-focused point perfectly. The driving position is excellent with a large rev counter dominating the instrument cluster in front of the driver. The Skyactiv Engine is lively and willing and the gearbox is as slick as they come with precise changes which make it a delight to operate – it's surely one of the best gearboxes on the market in any car.
Dynamically, it also excels, with taut handling, accurate steering and a well balanced chassis, the Mazda3 is a sheer delight to drive relatively quickly, and the more you pick up the pace, the more the car responds and rewards the driver. It really is a delightful little car because of its light construction never feels anything but agile.
The 2.0-litre Skyactiv engine is perfectly suited to the Mazda3 for those who enjoy their driving, yet still wish to retain good fuel consumption. During my test, which included a mix of "enthusiastic" driving, motorway cruising and A-road commuting, the car returned an average of 42.4mpg over 400 miles.
When I first drove the new Mazda3 when it was launched in Scotland, I said then that I thought it was the new leader in its class. Having spent a few days with this revamped model, I would still make that claim. It is hard to fault, my only real criticism of it being rather more road noise in the cabin than I would like, but that just means you just have to crank up the superb Bose stereo system that was fitted in our test car and which sounds superb.
If I was looking to replace my own hatchback, the Mazda3 would be a strong contender . .  and I think that says it all!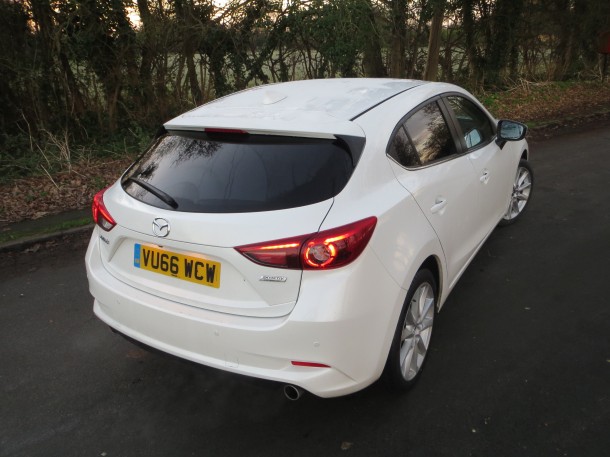 Rating:





If you like this, read our review on the
THE VITAL STATISTICS
MODEL: Mazda3 2.0 120ps Sport  Nav.
ENGINE: 1998cc, 120PS four-cylinder petrol engine, driving front wheels through 6-speed manual gearbox.
PERFORMANCE: Top speed 121mph. 0-62mph in 8.9 secs.
ECONOMY: City: 43.5mpg.
Country: 65.7mpg.
Combined: 55.4mpg.
Wheel World test average: 42.4mpg
CO2 EMISSIONS: 119g/km.
FUEL TANK: 51 litres.
INSURANCE: Group 18.
PRICE: £20,845 (£22,395 as tested)
WARRANTY: 3 years/60,000 miles
WEBSITE: www.mazda.co.uk
• All data correct at time of publication.