Track pack – Nissan GT-R and Juke R let loose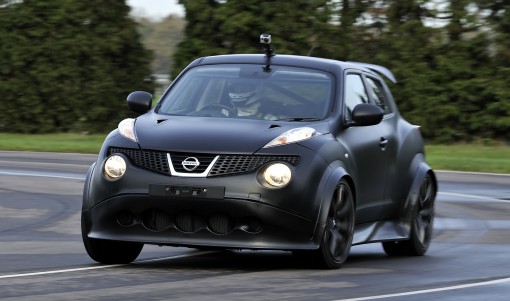 ROAD TEST REPORT AND REVIEW: Nissan GT-R and Juke R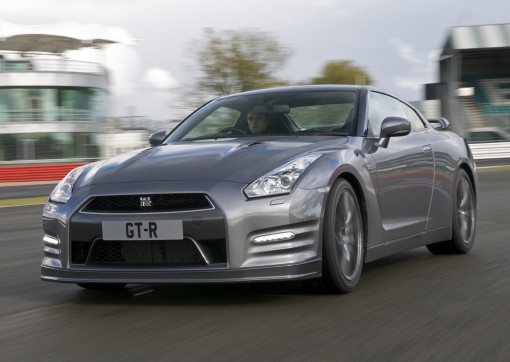 After test driving two of Nissan's fastest and rarest cars, the GT-R and Juke R, DAVID HOOPER enjoys a fascinating tour of the company's thriving factory in Sunderland where the Juke and Qashqai are built.
FOR a long time now, I've been waiting for a chance to test drive Nissan's GT-R supercar on a track, so when the opportunity to do just that at the company's test track at its Sunderland factory presented itself, it was one not to be missed.
As well as a guided tour of the booming factory, there were the latest versions of the Note, Juke and Qashqai to road test as well, all of which have undergone mainly cosmetic improvements for 2012.

While the GT-R is relatively rare sight on our roads, compared to the Juke R it is as common as a Nissan Micra – and I've now driven both.
Only two examples of the Juke R currently exist, one left hand drive, the other right hand drive – but since my visit, Nissan has announced that this crazy little car is going into production, something many believed would never happen. It was originally built as a one-off concept to test the public's reaction to a sporty version of the Juke. Needless to say, the public loved it.
To create the Juke R Nissan basically shoe-horned the mechanicals of the GT-R into the Juke's bodyshell. It was developed by Nissan Europe and RML, (Ray Mallock Ltd) founded in 1984 by the former racing driver and motorsport engineer who ran Nissan's team in the British Touring Car Championship.
I was accompanied in the Juke R by Nissan's 2011 GT Academy champion, 20-year-old Jann Mardenborough, who beat armchair racers from around the world to become the firm's trainee racing driver.
Nissan's young protégé demonstrated just what he and the car is capable of around a tight obstacle course. Jann recently won his first podium finish in the Dubai 24-hour endurance race.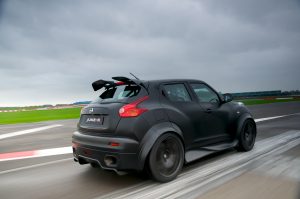 Under the bonnet is a 3.8-litre twin-turbo V6 engine from  the GT-R. The result is a 485bhp hot-shot which will do 0-62mph in 3.7 seconds, before hitting a top speed of 160mph.
In its menacing, stealthy black paintwork, the Juke R, felt very quick, especially with Jan at the wheel and it was impressively agile through a specially designed handling course, dodging carefully placed cones.
For me however, it was the GT-R which was the biggest treat. I recently drove one on public roads on a dark, wet night with standing water at the sides of the road – hardly ideal conditions for such a powerful and capable machine, where it was simply impossible to exploit the car's potential.
Updated for 2012, it's now available with a 'Track Pack' which offers a harder-edged version of the car which remains road legal and features lightweight six-spoke Rays alloys with gloss black painted centres.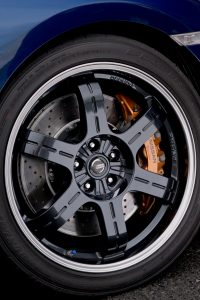 The GT-R is a complex bit of kit, and one of Nissan's test drivers was on hand to make sure I  got the best out of it. Unleashing the 3.8-litre V6 twin turbo-charged engine which packs 550PS down a long straight gave a real feel for the car's relentless acceleration, while 180 degree corners at either end of the track gave me a great appreciation of the phenomenal grip available, which thanks to the car's four-wheel-drive system and clever electronics, really makes it feel as though it's on rails. After a couple of laps, the speedo was quickly climbing to the other side of 140mph as I worked the car through the gears at the flick of a paddle on the steering column.
Another exercise, which demonstrated the launch control system, quite literally, took my breath away. By putting my left foot on the brake pedal and then pressing my right foot firmly into the carpet, the car went into launch mode. Releasing the brake saw the GT-R hunker down and head for the horizon, hitting the benchmark 62mph mark in a fraction over three seconds. My stomach, however, felt as though it was still on the start line!
A fascinating tour of Nissan's impressive and highly successful car plant was a real eye-opener. When you see how an entire dashboard assembly can be fitted in two seconds, the front end of the car, complete with lights, radiator and grille in a couple of seconds more, or a roof lining which attaches with just a handful of bolts in double-quick time, it makes you wonder what takes your local garage so long to complete a basic service!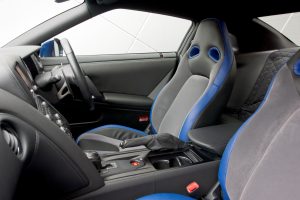 On the production line, each workstation has just 59 seconds to complete its set tasks. They do this time after time after time, as car after car, passes before them, with many of the parts arriving "just in time" to be fitted as the vehicles move along the line.
From start to finish, it takes just 28 hours to make a Nissan Qashqai. We were allowed to sit in a car when it was started and driven for the first time and watched in awe as a technician drove the car onto a rolling road in a chamber and then worked it up through every gear, while at the same time tested every button and control in the car's interior with a familiar efficiency that takes weeks of training to perfect. This is typical of the highly-skilled workforce.
Two other men we watched were fitting windscreens to cars by hand, slotting them into place with an accuracy of plus or minus 2mm, and it was all done by eye. Our guide explained that it takes three to four months' training to learn how to do that.
The pace at which the people work is frenetic and relentless. The average age of the men and women who work on the line is just 23 years old, such are the physical demands put upon them. Working in three shifts, 24 hours a day, they build around 500 cars a week, and any lost production time due to line stoppages has to be caught up by an extra shift on a Saturday.
The plant, which produces Juke and Qashqai models, is now one of the most efficient in Europe and is about to start building Nissan's electric car, the Leaf.
CLICK HERE and "Like" our Facebook page for regular updates and follow us on Twitter