More doors, but is there enough space in the back?
Audi A1 Sportback road test and review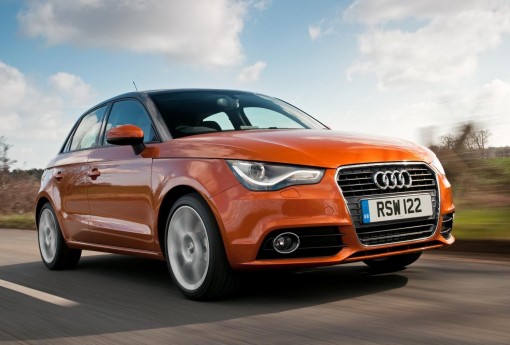 TOM SCANLAN says the Audi A1 Sportback says something about its owner…
The Sportback version of Audi's A1 has five doors, and a touch more head and shoulder room for passengers in the rear. This costs £560 more than otherwise equivalent 3-door A1s. New options include colours, with contrasting roof colours, and a whole range of variations on a theme.
Perhaps most importantly, the Sportback is more convenient for very young families: kids can get into the back more easily, and babies and toddlers are more easily installed into their particular cots or seats.
However, although Audi says that the car is a full five-seater, there's no way that this applies to adults. With the driving seat set in a position even for someone who is less than the average height of today's young fathers, there simply isn't space in the rear seats for adult legs. If a shorter person is driving, even then it would be a struggle. Either way, the transmission tunnel restricts foot space.
So this is very much a car only for a young family or as a second car for people who may perhaps also own a bigger Audi.
It is also a car for people not short of a bob or two, who don't mind too much how much they spend on a small car, and who possibly like the idea of being part of a select group who can actually afford such a car. The owner will more likely be male than female.
Although prices start at £13,980, it would be difficult to get away without spending several thousand more.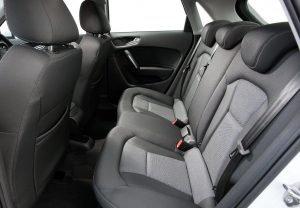 Audi has cleverly introduced some of the latest options already on its larger cars to tempt more cash out of the wallet. And it certainly is tempting, and, to be fair, well worth considering going the extra mile in this respect, for such features as Internet accessibility. With this, as Audi calls it, 'Mobile Phone Preparation – High with Online Services option', you can receive Google Earth images into the satnav system, along with especially-prepared news, travel and weather info that can be called up by your voice commands. Once these methods are mastered by the driver (and of course the passenger, why not?), it really can make a substantial difference to how journeys can be undertaken in a relaxed and ultimately, safer way.
The Sportback's official fuel consumption figures look good.
The performance flagship in the Sportback range, says Audi, is the 1.4 TFSI with no less than 185bhp, giving a 0-62 sprint in just seven seconds; its combined fuel cycle figure is 47.9 mpg. At the other end of the spectrum, the 1.6 TDI returns 74.3 mpg in the combined cycle, and is brisk enough for all sensible drivers, able to reach 62 mph in fewer than eleven seconds. I tried this version and, in a mainly cross-country drive, the car's trip computer recorded a less impressive 56.8 mpg. Good news, though, is the 99 g/km emissions that mean no annual road tax need to be forked out. (In fact, most A1s are VED-free in the first year.) My test car cost more than £20,000 with its variety of options.
For comparison, and being usually impressed with Audi TFSI petrol-engine technology, I also tried the 1.4 TFSI (Sport version), whose 122bhp gets the car to 62mph in 9.0 seconds. On the same cross-country route, the car told me it had used petrol at a rate of 37mpg; the official combined cycle figure is 53.3mpg.
As to the actual driving, the diesel gave a good ride, fairly soft by Audi standards, which is a welcome move; the 5-speed gearbox is light and precise, very nice.
The 1.4 TFSI felt significantly different, with its ride feeling less supple and letting you know all about the bumps and minor undulations.
The boot is well-designed; the tailgate is easy to shut, it's easy to fold and lift back the split rear seats, and hooks and stays in the boot area itself are handy for stopping items from sliding around.
The Sportback range starts with a 1.2 petrol engine (not tested) and two further versions will be available later this summer: one is a 2.0 diesel and the other is the interesting cylinder-on-demand 1.4 TFSI. This is a system that cuts unnecessary use of the engine; for example, in city traffic, if two cylinders will move the car along happily enough, why have all four sucking in fuel? Of course, this technology (it's been done before more than once over the decades) will be sold at a premium, no doubt. The price is yet to be confirmed.