Toyota GR86 road test review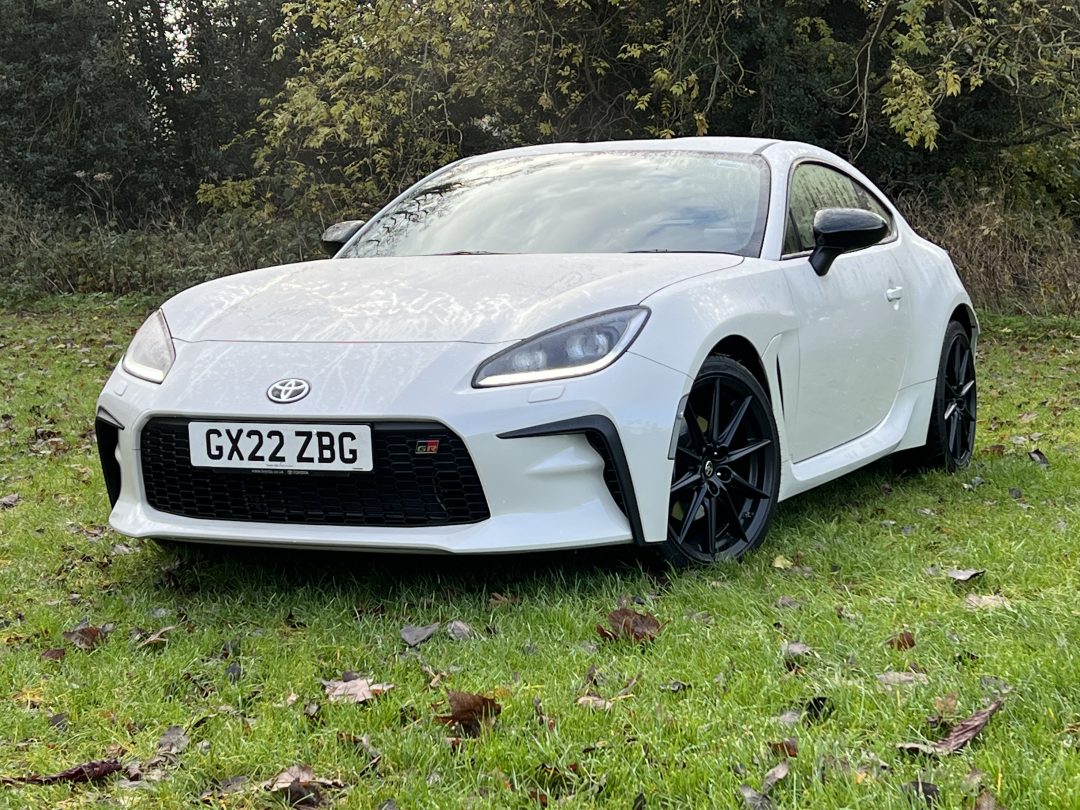 Toyota GR86 road test review: A collector's item in waiting!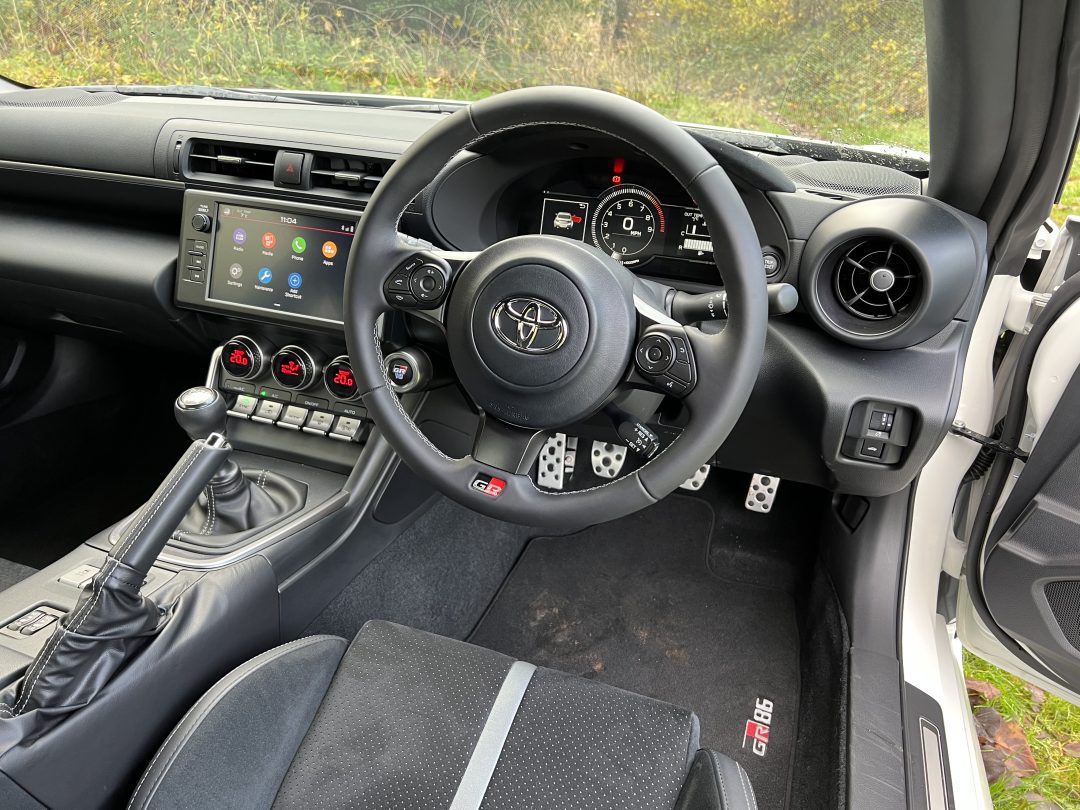 WHEN  a new car sells its entire two-year UK allocation within an hour-and-a-half of going on sale, you know it's going to be something rather special, and this Toyota GR86 certainly didn't disappoint me! With an asking price of £30,000, it's cracking value for money too.
It's the long-awaited and much vaunted successor to the GT86, the product of joint project between Toyota and Subaru, which saw the GT86 bestowed with Subaru's iconic flat four Boxer engine.
The GR bit stands for Gazoo Racing, Toyota's motorsport division, which has enlarged the original 2.0-litre engine to 2.4-litres, hollowed out the valves to save weight, and sharpened up the six-speed manual gearbox. A six-speed auto is also available, but this is a proper sports car, so why would you…
The entire chassis has been stiffened – by a remarkable 60% which makes you think the original car's underpinnings must have made of cheese, and weight has been saved wherever it could be, so the sports seats are lighter than before, but still very comfortable.
The bigger engine gives the GR86 another 35bhp (231) and more torque (184lb ft), but the figures, on paper at least, are still modest. That said, the 0-62mph time is despatched in just 6.3 seconds and the car has a top speed of 140mph, which is plenty, but it's what goes on in between that's important.
As I said to a friend the other day, you can get a supercar, but in many ways it's no fun because it's so quick, so competent, that you have to do silly speeds on a track to really enjoy it.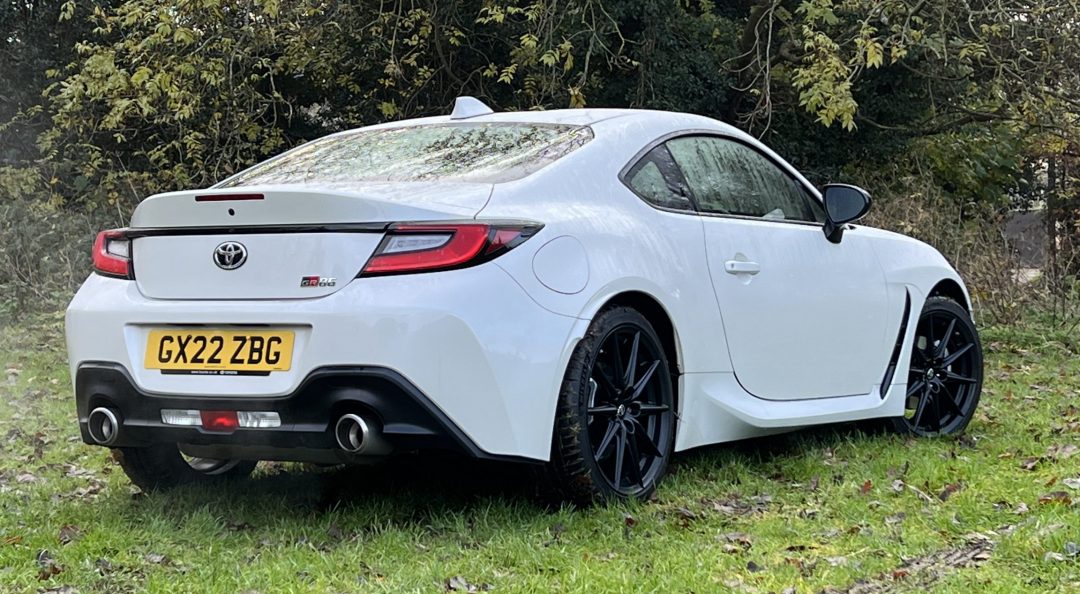 Not so this Toyota, you need to work the engine hard and stir the gearbox regularly to get the most out of this car, with rear-wheel-drive, a limited slip rear diff and a chassis that's set up for fun, it's a thoroughly engaging package.
The six-speed gearbox is pleasingly slick to stir enthusiastically, slotting from gear to gear with considerable precision. You also get a proper handbrake as opposed to an electronic parking brake.
On the road, the ride is firm, but not uncomfortable, with reasonably good feedback through the steering wheel, but despite its 18in 10-spoke alloys being shod with proper Michelin Pilot 4 tyres, the rear end was eager to break away under the merest of provocation on the damp, greasy wintery roads during my test.
The beauty of the GR86 though, is that it's easy to catch and balance on the throttle, helped by the Torsen limited slip diff. It'll raise your heart rate and put a silly grin on your face all at the same time! And for the non adrenalin junkies, the traction control system is very competent!
The instruments  in front of the driver have a digital speed read out in the centre of a circular rev counter which goes into the amber zone at around 7,000 revs with the limiter being found just slightly over that mark. As you approach the rev limiter an orange flashing light reminds you to change up and beeps in case you are not looking at your controls in the heat of the moment.
Turning off the traction control system is achieved by holding down the button on the centre console for three seconds, as well as turning off the car's stability programs, and traction control, it also changes the dashboard to give you a sportier look with a diagonal rev counter in the centre of the dash and a lap timer on the left hand side so you can check how consistent your lap times are on a track day.
Inside the Toyota, GR86 feels like a proper sports car, although the  overall feel is a bit bargain basement with lots of black plastic. Sitting in the heated bucket seats, the steering wheel is just the right size and comes with a little GR badge at the bottom of the steering wheel along with remote controls for the telephone, volume, trip computers and setting menus.
A separate stalk controls the cruise control which is a nice addition that a lot of performance cars omit. The central screen in the middle of the dash is home to the apps menu and the car supports Apple CarPlay and Android Auto which provide your satellite navigation when you need it.
Below the screen are three dials which control your temperature and heating controls and the start button which is found just to the left of the driver's knee. A row of five sportily designed switches  control some of the car's other heating and ventilation functions.
During my test of around 350 miles, the GR86, returned an average of 30.5 mpg, which isn't too bad when you consider I did "enjoy" driving this car greatly.
The styling is quite dramatic, with its aggressive nose, flared sills and a boot shaped to form a kind of spoiler which looks really good, and while you get a reversing camera, there are no parking sensors on the car, so care needs to be taken in tight spots.
All in all this is a brilliant driver's car, which is guaranteed to become a collector's item in the not too distant future as its time on sale is very limited due to upcoming legislation.
Unless Toyota can find some more new ones for the UK, I would suggest it's worth scouring the second hand market for a nice example, enjoy it for a while, and then stick it in the garage. This will be an investment and is a keeper!
Rating: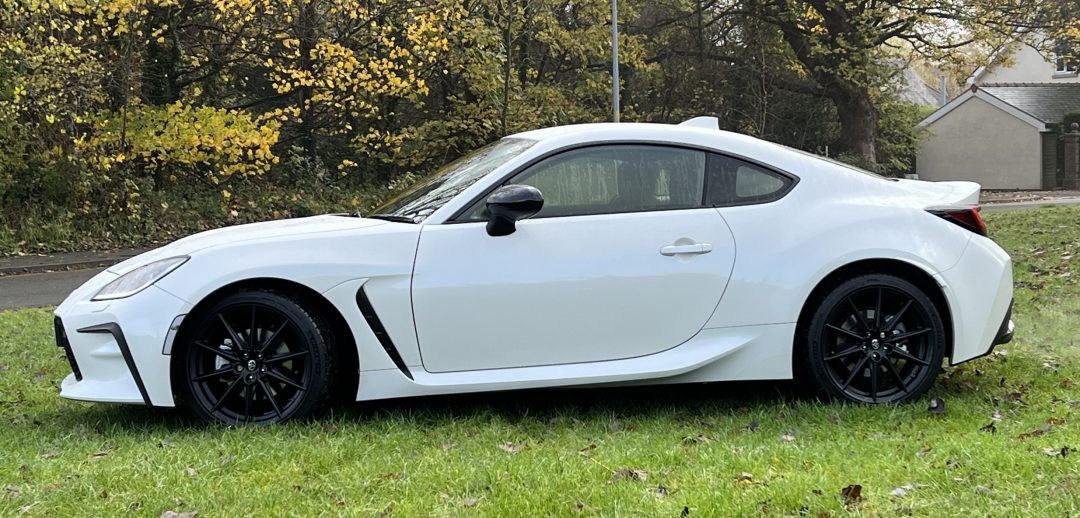 If you like this, read our review on the Toyota GR Yaris
and the
THE VITAL STATISTICS
MODEL: Toyota GR86
ENGINE: 2,387cc, 231bhp flat four-cylinder petrol engine, driving rear wheels through 6 speed manual gearbox.
PERFORMANCE: Top speed 140 mph. 0-62mph in 6.3 secs.
ECONOMY: Combined WLTP: 32.1 mpg.
Wheel World test average: 30.5mpg
CO2 EMISSIONS: 200g/km.
FUEL TANK: 50 litres.
PRICE: £29,995
WARRANTY: Up to 10 years/100,000 miles
WEBSITE: www.toyota.co.uk
o All data correct at time of publication.