SEAT Leon Cupra and Cupra 280 road test review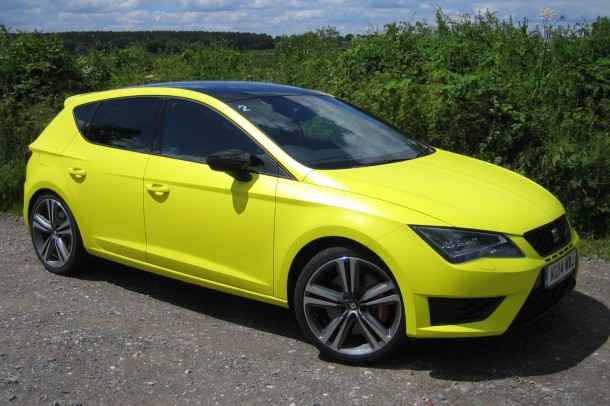 SEAT Leon Cupra and Cupra 280 road test review: We put the fastest production car SEAT has ever built to the test around the famous Mallory Park circuit, but did it impress? DAVID HOOPER reports.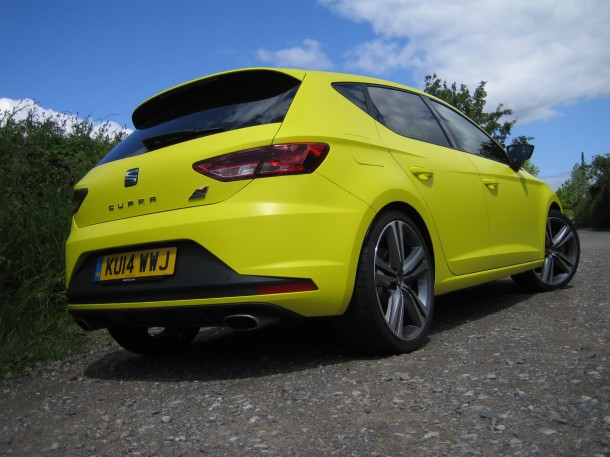 MEET the SEAT Bogof – you buy one, you get one free – I say you buy one, you get one free!
Well, you don't actually get two cars, but what you do get is one car with two very different characters and you can switch between the two at the touch of a chequered flag button on the dash. Comfortable to drive every day, or one of the best track day cars you can buy, the new Cupra is as good as it gets in the hot hatch world.
The new Leon Cupra is already a record breaker, having become the first completely standard, out of the showroom, production car to complete a lap of the famous Nurburgring in under 8 minutes. Driven by Jordi Gene, SEAT Cup Car racer and the brother of ex-F1 racer Marc, the Spaniard was heavily involved in the development of the car, completing 8,000km or more than 400 laps of the famous German track, which as Jordi said, "has everything, so if a car behaves well on that circuit, it will behave well on any road".
As the most powerful production car SEAT has ever made, the new Cupra 280 can complete the 0-62mph sprint in 5.7 seconds and is quite a piece of kit. It universally impressed during the launch exercise at Mallory Park, even the circuit's experienced instructors were singing its praises. Available with two power outputs, 265PS and 280PS, all going through the front wheels, on paper, this car shouldn't work, but it does, in no small part due to a clever limited slip differential which improves traction and eliminates torque steer.
Available with three or five doors, the lower powered car is available with a 6-speed manual, while the 280, which comes with 19in wheels, sat nav and ra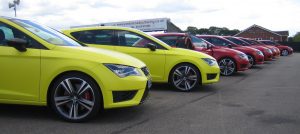 dar cruise control, also has the option of a DSG gearbox, but SEAT say that so far, 90% of orders are for the 280PS model, with an even split between manual and DSG gearboxes, but all versions come with an artificial sporty exhaust noise piped into the cockpit!
The cars also come with a Stop/Start system fitted to the 2.0-litre TSI engine, and I had the chance to drive them both on the road and on the track. In its comfort setting, the Cupra 280 is perfectly comfortable, with a compliant suspension set up, but on the track, with everything set to sport mode, its handling, balance and refinement are truly impressive, pitching the car into the fearsome and seemingly endless Gerard's bend at around 100mph, the Cupra 280 gave little cause for concern with the back end remaining securely planted, even when provoked by a quick lift of the throttle mid-corner. A first for SEAT are the Active Suspension Management's magnetic dampers, and they do their work well, reacting instantly to the cars attitude and speed, and impressively, despite several laps worth of abuse, the brakes stood up to the test with no hint of fade on the cars I drove.
The manual versus DSG gearbox debate is an interesting one. I've always preferred a manual in my hot hatches for its greater involvement, but following a DSG equipped car around Mallory Park did show that the DSG is the marginally quicker option due to its near instantaneous gear change. Despite as slick a change as I could muster, the DSG equipped cars were pulling out a small gap as they accelerated out of low-speed corners and shifting up twice onto the fast straights.
Prices for the new Cupra models start from £25,695 and rise to 28,530 for the 280PS DSG version and whichever model you choose, I promise you won't be disappointed.
This new model will undoubtedly add to SEAT's success, with sales growing steadily in the UK and Europe. The carmaker has now achieved a 2% market share in the UK with 45,312 sales, which is up 16.8% and last year sold 355,000 cars worldwide, which is up 10%.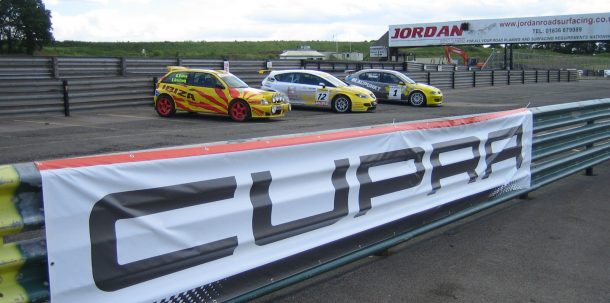 CLICK HERE and "Like" our Facebook page for regular updates and follow us on Twitter
Rating:






THE VITAL STATISTICS
MODEL: SEAT Leon Cupra and Cupra 280
BODY STYLES: 3-door SC and 5-door
ENGINES: 2.0 TSI
TRIM GRADES: Cupra 265 or Cupra 280
PRICES: From £25,695 to £28,530
IN THE SHOWROOM: Now
WEBSITE: www.seat.co.uk
All data correct at time of publishing.