Dacia Logan MCV Ambiance 0.9 TCe 90 MCV review, road test report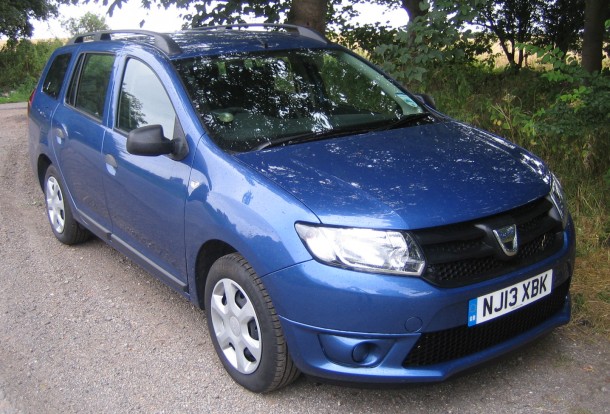 Dacia Logan MCV Ambiance 0.9 TCe 90 MCV review, road test report: Cheap, but very cheerful, DAVID HOOPER says there's little to dislike and a lot to admire in this budget estate car.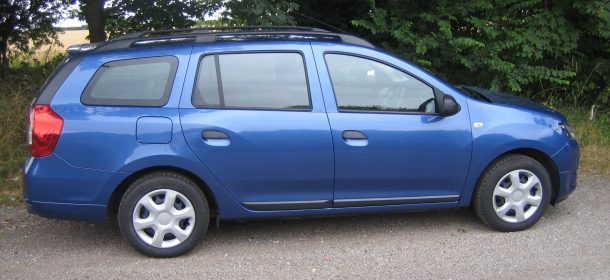 THE introduction of the Romanian Dacia brand is having quite an effect on the UK car market, and people are buying them as fast as the dealers can get their hands on them.
This Dacia Logan MCV Ambiance 0.9 TCe 90 estate car, (MCV standing for Maximum Capacity Vehicle) doesn't look as modern as some of the latest models' designs from other manufacturers, but it certainly doesn't look bad, and comes complete with roof rails, so it's handy for fitting a roof rack to carry luggage, bike carriers, top boxes and the like.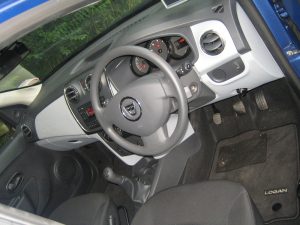 What it does offer is incredible value for money, with this particular car costing just £8,595 and that includes a 3 year/60,000 mile year warranty.
For that amount of your hard-earned dosh, you'd be perfectly justified in not expecting very much, but you really will be surprised by just how good these Dacias really are, and if all you want is a car that will get you from A to B in reasonable comfort, you won't go far wrong.
The interiors are made up of hard plastics, but you do get dark and light greys, with some gunmetal coloured trim, and the overall effect is actually quite agreeable.
Engines, gearboxes and switchgear are all Renault sourced, and you even get remote radio controls mounted on the steering column, electric front windows, a radio/CD player and even Bluetooth, but if I were to buy one, I'd have to do something about the speakers, which are pretty dismal and have very little bass, and if you turn the sound up on a noisy road, the speakers sound terrible and struggle to cope with any kind of volume.
T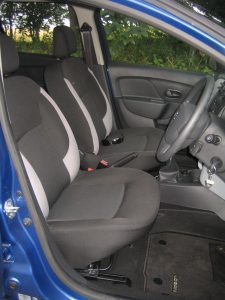 he driver's seat can be adjusted for height, although the steering column is fixed in position and offers no adjustment, again, keeping the cost down, but I didn't have any issues with the driving position.
Another interesting point to note, is that there is a door lock on the passenger door, but not on the driver's door, but with the cars originally being designed for the left-hand drive market, you can understand why, even if it does look a little bit odd.
At the back, there is a cavernous 573-litre boot for a car of this size which comes with a roller cover. The rear seats will also fold down in a 60/40 split to create an almost flat loading area of 1,518 litres, but you would have to be careful of the painted rear bumper when taking things in and out of the car.
The tailgate is opened either by a key, or a lever near the sill next to the driver's seat, but can't be opened without putting the key in the lock from outside the car, which can be a bit frustrating if your hands are full of shopping.
My test car was powered by the surprisingly lively 0.9-litre turbo-charged petrol engine, which for a car of this size, sounds a bit too small, but I have to say it worked really well and was surprisingly nippy, especially if you pressed the right pedal fairly hard, but in normal driving, it was quiet, as refined as three-cylinder engines get and economical, with up to 56.5mpg being available, according to the official combined figure.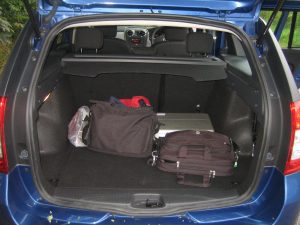 Of course, being at the budget end of the spectrum, there was no trip meter, so I didn't have chance to ascertain its actual mpg during my test, but you do get a gear change indicator and an economy button to limit the throttle pedal excesses, which all help to achieve a C02 emissions figure of 116g/km.
It also lacked air conditioning, which during a hot and sticky summer, I really missed – you forget just how much of a difference it makes, and it's only fairly recently that it has become common on everyday cars in the UK. With that in mind, it may be worth spending the extra for one of the Laureate models which gets air con as standard.
The five-speed gearbox is smooth shifting – and itself something of a rarity these days – with six-speed boxes now more common, so yes, I did try to find sixth gear a couple of times!
All things considered, I am most impressed with the Dacia, yes the plastics are cheap, but they don't rattle or squeak, the car is comfortable and drives nicely – and the Honda Civic Tourer I'm testing this week is a similar size and costs literally four times as much.
As the Americans say – you do the maths!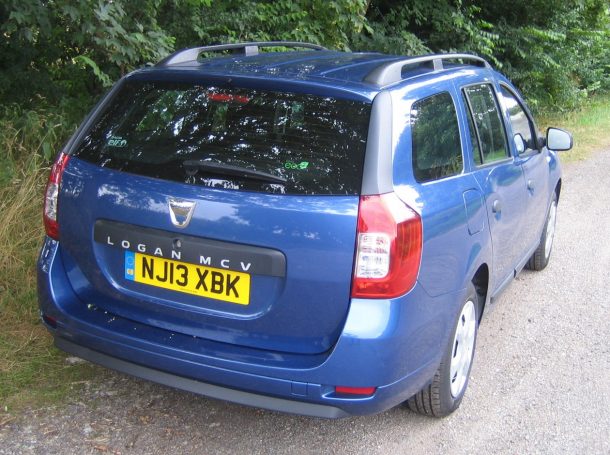 Rating:






THE VITAL STATISTICS
MODEL: Dacia Logan MCV Ambiance 0.9 TCe 90 MCV
DACIA LOGAN RANGE: From Access 1.2 16v 75 MCV (£6,995) to Laureate 1.5 DCI 90 MCV (£10,795).
ENGINE: 898cc, 90PS three-cylinder petrol engine, driving front wheels through 5-speed manual gearbox.
PERFORMANCE: Top speed 109mph. 0-62mph in 11.9 secs.
ECONOMY: City: 44.1mpg.
Country: 65.7mpg.
Combined: 56.5mpg.
CO2 EMISSIONS: 116g/km.
FUEL TANK: 50 litres.
PRICE: £8,595.
WARRANTY: 3 years/60,000 miles.
WEBSITE: www.dacia.co.uk
• All data correct at time of publication.