Honda Civic 1.6 i-DTEC review and road test report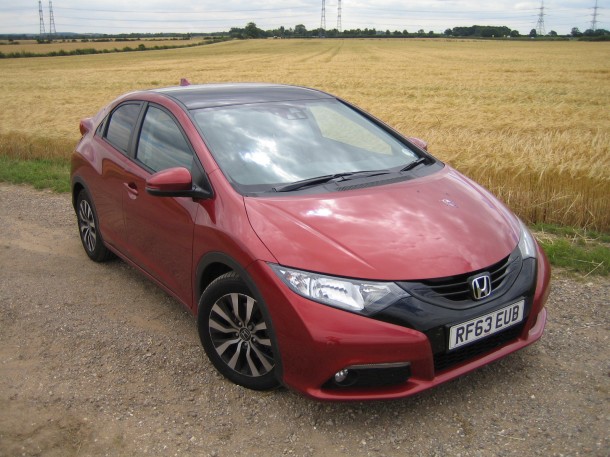 Honda Civic 1.6 i-DTEC review and road test report: A 1.6-litre diesel engine which is better than the rash of 1.0-litre three-pots – DAVID HOOPER drives the new Honda Civic 1.6 i-DTEC
CAR manufacturers make all manner of claims about the economy of their latest products, but hardly any can live up to those claims in real world motoring – but this car exceeded all my expectations!
During my week at the wheel of this latest Honda Civic as the miles started to tot up, so did the average miles per gallon figure, and it stayed consistently high throughout my time with the car, recording 64mpg in normal use. Which got me thinking, if it can achieve that without me trying, what can I really get out of the car if I put my mind to it.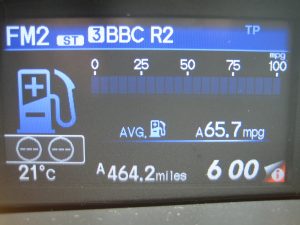 So, on a trip which included town driving at both ends, with a stint of 60mph A road and 70mph dual carriageway in the middle, I put my best advanced driving skills to use, avoiding using the brakes wherever possible by looking far enough ahead to lift off the throttle and slow down for corners before you get to them, being in the right gear at the right time, and short-shifting, or changing gear early, to keep the engine revs as low as possible to avoid wasting fuel.
The result – an incredible 78.3 miles per gallon over a 35-mile run, but I couldn't photograph the evidence until I stopped, by which time the figure had dropped a bit to the 74mpg shown on the photo of the trip computer with this article.
I've driven numerous 1.0-litre three-cylinder city cars which claim comparable figures, but none I've tested so far have bettered 62mpg, and that was only after really trying with similar driving techniques.
Yet the engine in this Honda Civic is a 1.6-litre unit, which, when not in economy mode, provides acceptable performance and smooth, refined motoring, unlike some of the more raucous 1.0-litre three-pots. The benchmark 0-62mph sprint is taken care of in 10.5 seconds and the potential top speed is an ample 129mph. Stop-start technology helps to save fuel and reduce C02 emissions in city traffic, turning the engine off when the car comes to a halt, instantly, and certainly during my time with this model, faultlessly restarting when it's time to move away again.
But this story wasn't supposed to be about the Civic's economy, I'd intended it to be about the suite of safety systems which come as one of two Driver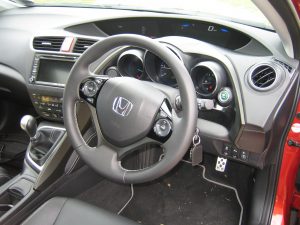 Assistance Safety packs, all of which work in the background to help the driver stay legal, safe, and out of trouble.
Perhaps the most obvious is the traffic sign recognition system, which displays the current speed limit for the road you are travelling along on the dashboard, which can be a surprisingly useful aid, especially in unfamiliar areas.
Other systems keep a watchful eye on the goings-on around you, like the Forward Collision Warning which will warn inattentive drivers if it thinks you are about to crash, and at low speeds, will even apply the brakes to prevent, or at least reduce the impact and resulting damage.
Blind Spot indicators are also useful, lighting up an orange warning symbol in the door mirrors if other vehicles are lurking in your blindspots, and there's even a lane departure warning system, which alerts you if you stray out of your lane on a motorway. All of these things have become fairly common on high-end models in recent years, but are still relatively rare in this sector of the market, but are becoming more commonplace.
The rest of the Civic is a pleasure to live with, although Honda's split rear window became a talking point among some friends who saw the car, some loving it, others not being so complimentary about its rear-end styling, but as with most things, beauty is in the eye of the beholder!
Whatever your views about the look of the car, those fuel consumption figures paint an attractive picture for any potential owner!
Rating: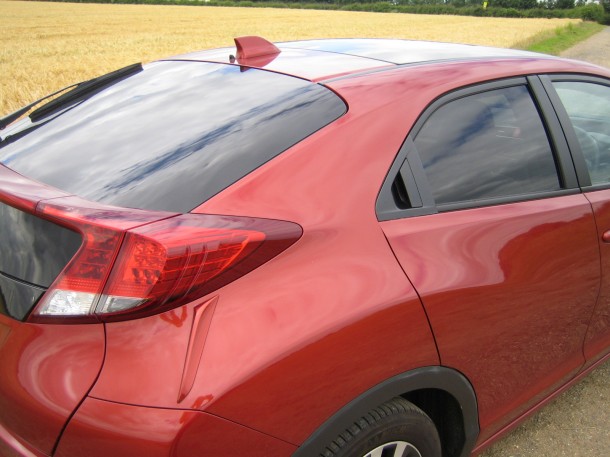 THE VITAL STATISTICS
MODEL: Honda Civic 1.6 i-DTEC.
HONDA CIVIC HATCHBACK RANGE: From 1.4 i-VTEC S (£16,995) to 1.8 i-VTEC Auto EX PLUS (£27,690).
ENGINE: 1597cc, 120bhp four-cylinder diesel engine, driving front wheels through 6-speed manual gearbox.
PERFORMANCE: Top speed 129mph. 0-62mph in 10.5 secs.
ECONOMY: City: 68.9mpg.
Country: 80.7mpg.
Combined: 76.3mpg.
Wheel World test average: 66.3mpg
CO2 EMISSIONS: 98g/km.
FUEL TANK: 50 litres.
INSURANCE: Group 17.
PRICE: £26,460.
WARRANTY: 3 years/90,000 miles
WEBSITE: www.honda.co.uk
• All data correct at time of publication.