Seat Ibiza FR 1.4 TDI 105 PS road test report and review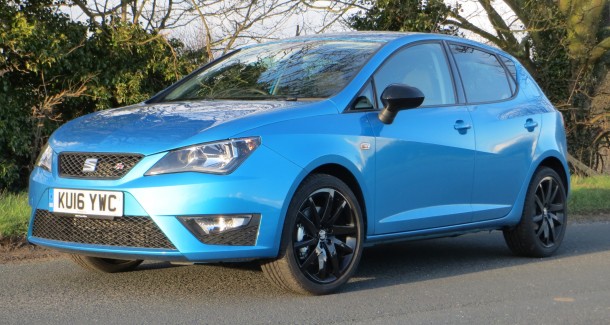 Firm, precise and fun to drive, DAVID HOOPER says this stylish 1.4-litre diesel provides a nice balance of performance and economy.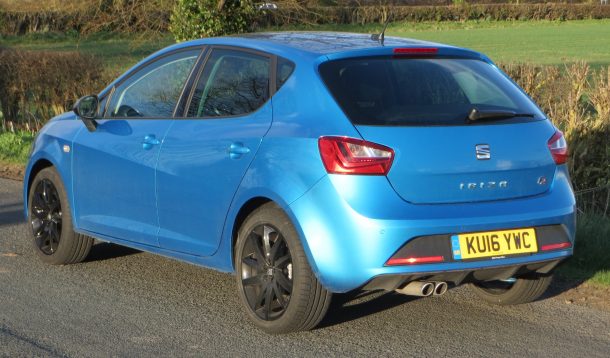 THE Seat Ibiza is a is a great looking little car with sharp styling and distinctive lighting signatures front and rear.
I loved this Alor Blue metallic colour of our test car which is a £550 option, but really suits the car and contrasted perfectly with the black and alloy wheels which created a fair swathe of kerb appeal.
The interior of the Ibiza is predominantly dark, clad in Piper Embosse cloth although the roof lining was white which did break up the monotony to some degree. That said the plastics are slush moulded on the dashboard top and the whole thing gives the impression of a functional  interior which isn't quite as classy as some of the posh brands in the VW Group, but perfectly acceptable.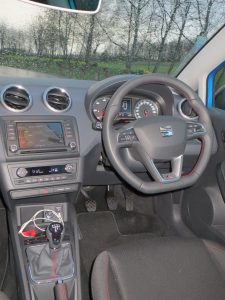 The seat facing is an attractive sporty material with dots on which is complimented by firm seats with red stitching detailing which carries through into the headrests.
Our test car is well equipped and features all the mod cons you would expect – and a few more besides.
The central screen features a system which hides the main buttons when you don't need do use them, but as you put your hand towards the screen to alter something, all the buttons reappear as the system recognises your hand is approaching the touchscreen, which is very clever and I liked a lot.
Graphics on satellite navigation systems vary greatly, but I particularly liked the ones in the Seat Ibiza which are clear and easy to read and give you a good overview of where you are with clarity and ease of operation. By contrast some systems I've reviewed recently have been very difficult to find your way around or to zoom out far enough to get an overview of your route.
The software in the Seat also includes a selection of trip computers and eco-driving tips, plus mobile phone compatibility with the latest full link system which integrates your phone into the car's operating systems.
Climate control air-conditioning is also standard and nearly everything can be controlled from the multifunction steering wheel which is bound in leather and boasts red stitching detailing to match the seats.
This little motor drives as well as it looks. The suspension set-up seemed quite firm at first, but that was something I quickly got used to after driving a less sporty car for a few days, and began to enjoy the Ibiza's precise and accurate handling, good balance, and sheer driveability.
It handles beautifully, and is fun to drive, despite only having a 1.4-litre diesel engine and a modest 105PS. If you're looking to win sprints from a standing start, then this isn't the car for you, despite its FR badging on the grille and tailgate, but it is capable of making enjoyably rapid progress in third, but particularly fourth gear, which I found to be well chosen, making carefully timed overtakes relatively easy.
During my test of more than 400 miles, the Seat Ibiza returned an impressive 53.2 miles to the gallon, which is good considering that I wasn't always particularly sedate with it.
Rear legroom is a tad limited for six-footers, my nephew is 6ft 3in tall, and did manage to squeeze into the front seat, but squeeze was the operative word. Fortunately his brother is still under five feet tall, so there was just enough leg room in the back for him to sit comfortably.
The boot is also a good size, providing ample space for luggage or a trip to the supermarket.
With strong equipment levels, including cruise and climate control, this little Seat Ibiza offers an attractive proposition, and if the £17,335 asking price is a bit too much for your pocket, then one of the lower spec models will be just as agreeable to live with.
Rating: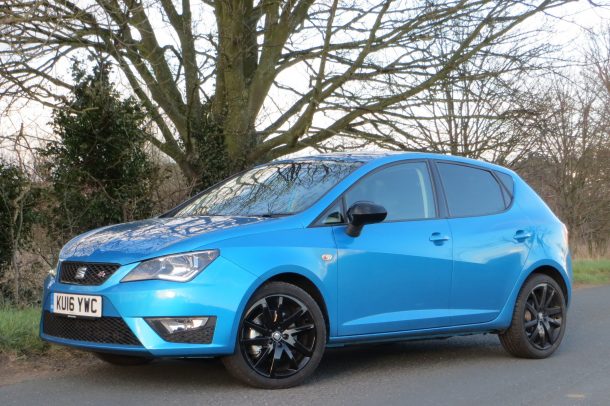 If you like this, read our review on the Seat Leon
THE VITAL STATISTICS
MODEL: Seat Ibiza FR 1.4 TDI 105 PS 5-speed manual.
ENGINE: 1422cc, 105PS four-cylinder diesel engine, driving front wheels through 6-speed manual gearbox.
PERFORMANCE: Top speed 119mph. 0-62mph in 9.9 secs.
ECONOMY: City: 64.2mpg.
Country: 78.5mpg.
Combined: 72.4mpg.
Wheel World test average: 53.2mpg
CO2 EMISSIONS: 100g/km.
FUEL TANK: 45 litres.
INSURANCE: Group 18.
PRICE: £17,335.
WARRANTY: 3 years/36,000 miles.
WEBSITE: www.seat .co.uk
• All data correct at time of publication.