Renault Kadjar Signature Nav dCi 130 road test report and review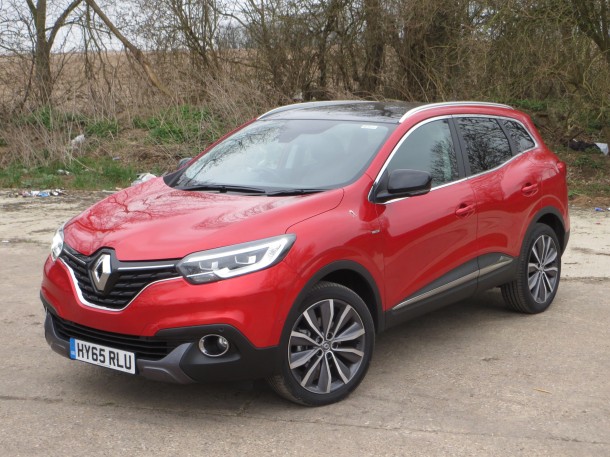 Renault Kadjar Signature Nav dCi 130 road test report and review: This C-segment Crossover is comfortable and capable. DAVID HOOPER has been getting to know appealing new model.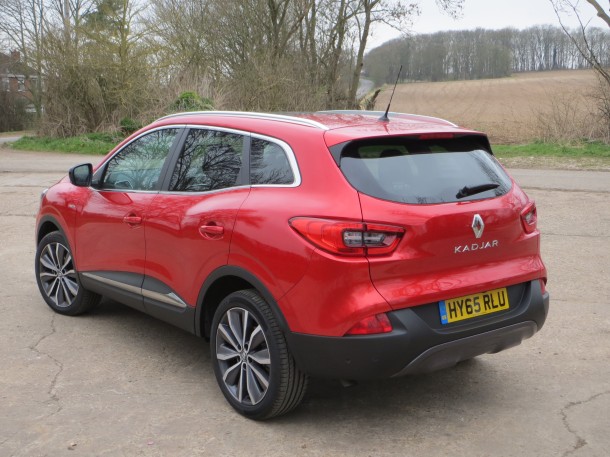 IT'S funny how you just seem to gel with some cars better than you do with others. The attractively-styled Renault Kadjar is one of those cars which I liked very much from the first moment I set eyes on it.
It's curvaceous styling and Flame Red paint colour really make our test car stand out from the crowd with the whole look being finished off by an attractive set of 19in alloy wheels.
It is built at Renault's Palencia plant in Spain, and was first shown in public at the 2015 Geneva Motor Show, going on sale in the UK with an 18-model range which includes three engines, two gearboxes, four trim levels and a choice of two or four-wheel drive.
You seem to get quite a lot of car for the £25,395 asking price of this Signature spec model which comes complete with satellite navigation.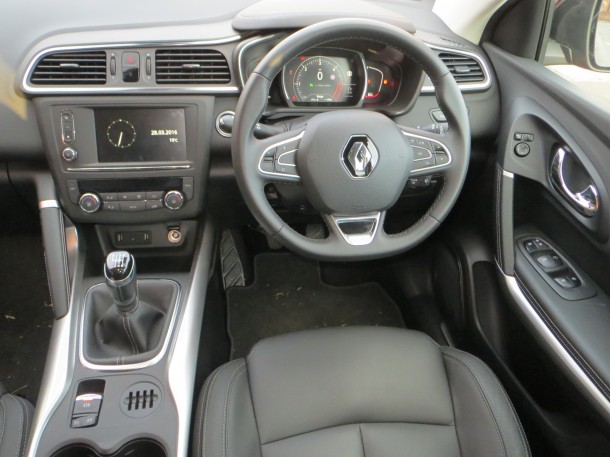 Power comes from Renault's 1.6-litre 130bhp DCI diesel engine which provides a nice balance between performance and economy. The car isn't particularly quick but it goes nicely and is capable of overtaking slower traffic on A roads with ease.
My only real dislike were some of the software controls which weren't particularly intuitive to operate, but once you became more familiar with them navigating your way around did become a bit easier.
The interior of the Renault Kadjar has a very high quality feel with nicely bolstered seats which feature white stitching to highlight the sides.
They Bose hi-fi system sounds superb and provides a rich sound quality which helps any journey go more quickly, whether it's listening to the radio or your favourite album.
The three-spoke steering wheel controls the telephone, cruise control and trip computer and also allows voice commands to control some functions.
The dashboard display in front of the driver features a rev counter as the central dial, with a digital speedometer in the centre. Below that is a small display which shows average speed, average fuel consumption and so on.
To the left is a digital temperature gauge, while to the right is a fuel gauge which both feature an interesting curved design.
The central console features a large display screen which shows the satnav, radio, MP3 and eco-driving displays. The eco-driving display is quite interesting to watch and during my few days with the car I achieved 65/100 and apparently managed to travel 92 miles without any fuel consumption – but no I didn't turn the engine off! It monitors the distance you travel off the throttle, coasting into corners, downhill or anticipating traffic jams at lights and slowing down progressively as you join the back of the queue, instead of doing what so many drivers do which is to accelerate up to the back of a queue and then brake firmly which always seems rather pointless to me.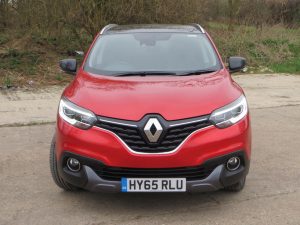 The climate control has dual and single settings, while the centre console is home to the electronic parking brake and cruise control.
Our test car featured a lovely Panoramic glass roof which accounted for around two-thirds of the roof area and allowed light to flood into the interior of car which is otherwise fairly dark thanks to the widely used black plastic trim, although there were some nice contrasting sections of some carbon fibre trimmings and the occasional flashes of silver on the centre console edges and door cards.
During my test which covered around 600 miles the Renault Kadjar returned an average of 49.8 miles to the gallon, helped by an eco-button which limits the throttle response thereby ironing out some of the drivers throttle pedal fluctuations.
The Renault Kadjar is an excellent car to drive, it's comfortable, smooth, refined, and offers a raised seating position with comfortable seats and is just a nice place to be, whether you are having a few days away or just going about your daily business, Kadjar is a very amiable companion.
It is also easy to park thanks to the car's parking assist system which will reverse the car into impressively tight spaces. You simply indicate left or right depending which side the parking space is on and the car will find a big enough gap, whether it's parallel, or at an angle, it will automatically manoeuvre itself into the space – all you have to do is work the pedals.
In the back there is room for three adults, while the rear seats fold down to create a flat boot area. With the rear seats in use, there is also a good sized boot and the floor contains some "secret" panels which are ideal for keeping things out of sight.
I was most impressed with the Kadjar and am certain it will become a popular choice for many happy owners – especially now that it comes with a four-year, 100,000 mile warranty.
Rating: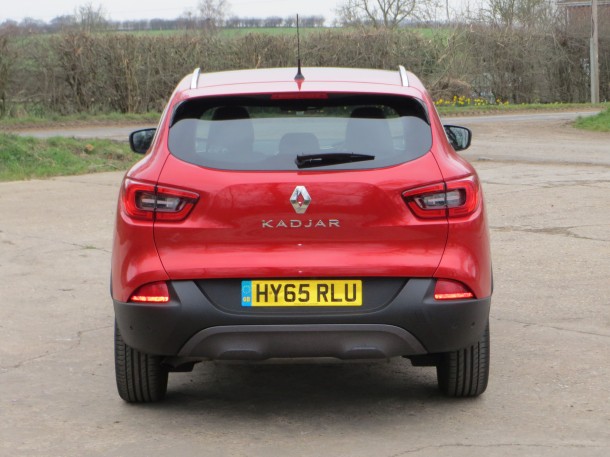 THE VITAL STATISTICS
MODEL: Renault Kadjar Signature Nav dCi 130
ENGINE: 1598cc, 130bhp four-cylinder diesel engine, driving front wheels through 6-speed manual gearbox.
PERFORMANCE: Top speed 118mph. 0-62mph in 9.9 secs.
ECONOMY: City: 62.8mpg.
Country: 68.9mpg.
Combined: 55.4mpg.
Wheel World test average: 49.8mpg
CO2 EMISSIONS: 117g/km.
FUEL TANK: 55 litres.
INSURANCE: Group 18
PRICE: £25,395 (£28,070 as tested).
WARRANTY: 4 years/100,000 miles
WEBSITE: www.renault.co.uk
• All data correct at time of publication.