VW Passat Estate 2.0 TDI SE Business road test report and review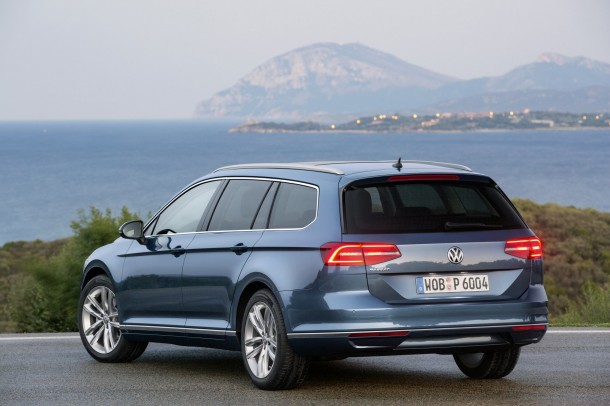 VW Passat Estate 2.0 TDI SE Business road test report and review: KEITH WARD drives a practical estate designed for the businessman on the move
THIS is the eighth generation of the Passat, which since its launch in 1973 has racked up over 22 million sales worldwide and going on for half a million  in the UK, where the estate version consistently outsells the saloon, £1,530 cheaper.
Its star is not fading – in its latest form the Passat was named Europe's Car of the Year 2015. And a telling tribute to its workaday appeal is that no fewer than eight out of every 10 sold new go straight to hard-headed fleet customers for business use.
All this despite prices on the high side. Ford Mondeo estates start from just over £21,000, Passats from a tad under £24,000 (1.6 TDI S) rising to well over £30,000 (2.0 TDI SCR 190 R-Line).
From the 11- strong, all-diesel Passat estate range, covering five levels of trim and four newly-worked engines with power outputs between 120 and 240 PS, we try here the best-seller, a 2.0-litre 150 PS in newly introduced mid-range SE Business trim (meaning it includes navigation), fitted with an optional six-speed DSG automatic box at £28,390.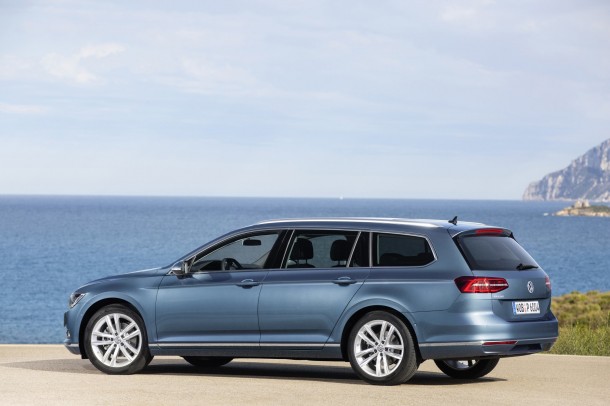 Included as standard are a driver alert system and automatic braking if your attention wanders, adaptive cruise control, front and rear parking sensors, air-con, eight-speaker audio with DAB radio and CD player plus the now-customary Bluetooth phone and aux-in connectivity.
Our car came with more than £6,000-worth of options including, with winter in mind, heating for the steering wheel, front seats (in leather), windscreen and washer jets, as well as climate control instead of mere air-con and a towbar with electric release plus trailer assist – guidance to prevent you making a fool of yourself when reversing it.
The latest Passat may be shorter, lower and 85 kg lighter than the last, but a longer wheelbase allows extra interior space.
And the vast, dual-floor boot is even bigger than before, expanding with the rear seats down to 1,780 litres (1,731 previously), so outstripping just about all rivals except the gargantuan Skoda Superb Estate (1,950 litres).
The rear seats of the VW are easily lowered via levers at either side of the boot to extend the cargo deck to a whopping 1,710 mm (67.5 inches) but, unlike before, it is not absolutely flat. Shame.
On the road, there is immediate evidence of the revised and lighter electromechanical steering and the claimed improvements in body rigidity – no tremors or rattles to detract from what is a comfortable, saloon-standard ride. The driver gets an "ergoComfort" seat.
Our car sported the optional dynamic chassis control (£705) giving a choice of suspension settings, and an XDS electronic differential lock (£185) to improve traction and handling.
The 150 PS diesel is pacy but relativey relaxed, its peak torque reached as low as 1,750 rpm.  And it was recording more than 54 mpg, meaning a range on a tankful of well over 700 miles to please those typical long distance users.
There's a plushness about the cabin furnishings, which even stretch to an analogue clock. Switches are mostly to hand, the exception being those sited separately for foglights, a distracting grope away, low down to the right.
Rating:






THE VITAL STATISTICS
Model: VW Passat Estate 2.0 TDI SE Business
Engine: Diesel; 1,968 cc; 4-cyl; turbo; 6-speed DSG auto; stop-start
Power: 150 PS @ 3,500-4,000 rpm; max torque 251 lbs ft @ 1,750-3,000 rpm
Pace: 134 mph; 0-62 in 8.9 secs
MPG: On test 54.3; official combined 62.8; tank 66 litres
CO2: 119 g/km; Euro 6; band C; VED Nil then £30 p.a.
Insurance: 19E
Warranty: 3 yrs/60,000 miles; 3 yrs paint; 12 yrs body; 1 yr breakdown
PRICE: £28,390;  as tested incl options £34,410