SEAT Leon X-PERIENCE SE Technology 2.0 TDI 150 PS 6-speed road test report and review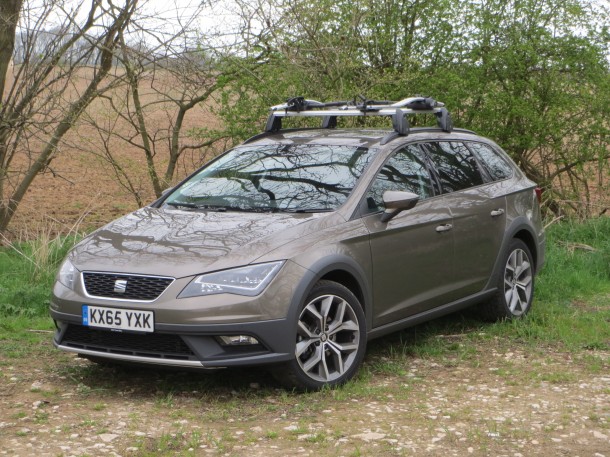 SEAT Leon X-PERIENCE SE Technology 2.0 TDI 150 PS 6-speed road test report and review: A practical car, but the 1970s interior is an X-perience DAVID HOOPER hasn't had for a while!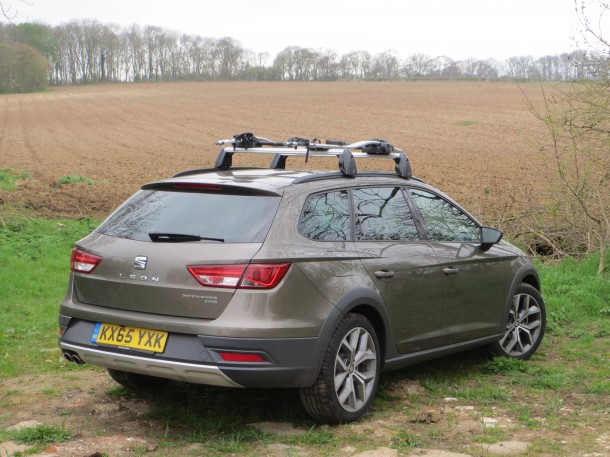 THE Seat Leon Sport Tourer is a good-looking and practical motor car, but add a four-wheel-drive system and raise the suspension a bit, and you've got a whole new X-perience! And that is exactly what the Spanish carmaker has done to create this versatile lifestyle estate car which is the perfect accompaniment for those who enjoy busy and active leisure time. But I have to ask . . . why the 1970's interior? It's a pleasant enough place to be and comes with lots of equipment as standard, but the seats and door cards are clad in a brown velour which looks, to put it politely, quite dated, despite being mixed with some smart leather seat facings. The last time I saw something like this in a car it was an old Ford Cortina or Morris Marina! To be fair, it doesn't actually look too bad, but if I was ticking boxes on the options list, I'd tick a different one, even if it cost a bit more! But I suppose the brown Alcantara and leather mix does match the Adventure Brown metallic paintwork.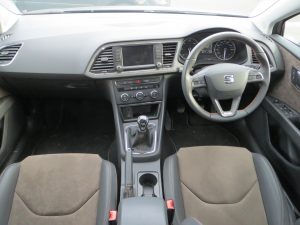 The X-perience is well-equipped for an outdoorsy lifestyle, especially in this top-of-the-range Technology spec, and comes with plastic protectors around its wheel arches, and "skid plates" under the front and rear overhangs of the car, to protect from the odd rock or tree stump, and the whole "look" is topped off with some smart 18in machined alloy wheels and 225/45 R18 tyres. Inside, as well as the retro 1970s upholstery, you get plenty of mod cons, including a satellite navigation system, Bluetooth telephony, assorted trip computers and eco-driving tips and training on the central screen, with many of the functions being repeated in the instrument cluster in front of the driver. Cruise control and electric windows and mirrors are also included, the seats aren't heated, which can be a welcome addition to any car after a hard day's cycling in the cold. The boot is a good size, and I liked the amount of thought that had gone into its design to make it user friendly – little bag hooks on either side to stop your shopping falling out, and a quick release system for the rear seats to fold them down flat simply by pulling a lever, easy and simple to use, creating a huge load carrying area. There was also extra space below the boot floor, thanks to a space saving spare wheel, so you could easily keep some less often used bits and pieces under there.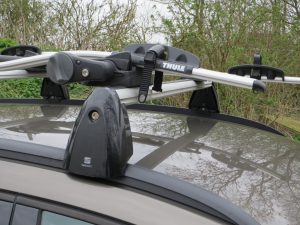 Our test car was powered by Seat's 150bhp 2.0-litre TDi mated to a six-speed manual gearbox, although a DSG gearbox is an alternative, making for a nice combination which was easy to get along with, thanks to plenty of mid-range grunt for overtaking. During my test, the car returned 46.8mpg over a distance of more than 500 miles, but that was probably hampered by the option of a cycle carrier mounted on the roof, adding a bit more drag and wind resistance, hence negatively affecting the fuel consumption, but a brilliant piece of kit for transporting bicycles quickly and easily, although at higher speeds, there was some audible whistling which I eventually got used to not listening to. The Seat roof bar system can also be locked on to the car, and each of the bike holders also has its own lock, so you can easily secure your bike to the carrier system should you want to leave them unattended, even if it's at the motorway services for few minutes. The car is a delight to drive and handles nicely, giving a compliant and comfortable ride, but is still firm enough to provide enjoyable driving when the mood takes you. Parking sensors all round compliment the rear parking camera which is a useful aid when squeezing into a tight parking bay. The Seat X-perience is well priced when you consider the amount of equipment you get as standard, with our test car's invoice coming in at just over £28,000 which seems good value to me for such a practical, well put-together  and thought-out family car. The standard X-perience model costs £24,920, while the DSG version is slightly dearer than our test car and just breaks the £30,000 barrier. So go on then, one last pun . . . why not X-perience it for yourself! Rating: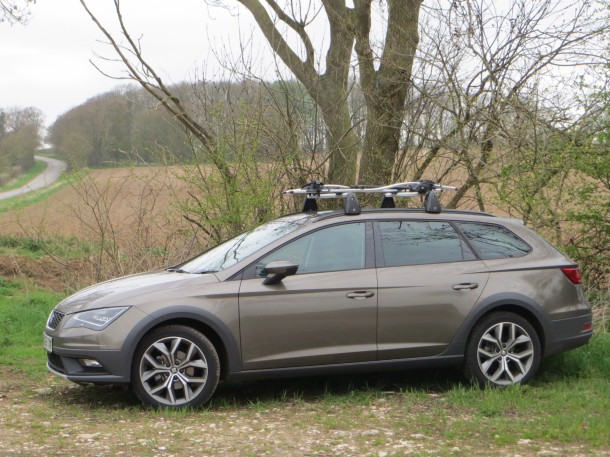 THE VITAL STATISTICS MODEL:  SEAT Leon X-PERIENCE SE Technology 2.0 TDI 150 PS 6-speed manual ENGINE: 1968cc, 150bhp four-cylinder diesel engine, driving four wheels through 6-speed manual gearbox. PERFORMANCE: Top speed 129mph. 0-62mph in 8.7 secs. ECONOMY: City: 49.6mpg. Country: 65.7mpg. Combined: 58.9mpg. Wheel World test average: 46.8mpg CO2 EMISSIONS: 125g/km. FUEL TANK: 50 litres. INSURANCE: Group 26. PRICE: £26,905 (£28,130 as tested) WARRANTY: 3 years/60,000 miles WEBSITE: www.seat.co.uk • All data correct at time of publication.