Renault's Megane CC lets the sun shine in
Summer's here, so DAVID HOOPER, gets his top off in Renault's latest Megane Coupe Cabriolet!
AS the sun shines and the temperatures rise, it's great to be able to get your top off – and in Renault's latest convertible, it all happens at the touch of a button.
This is the second generation of the Megane Coupe Cabriolet and I think Renault has done an excellent job with the styling of this car. Yes, it has a rather large rear end, but it is in proportion with the rest of the car, and the more time you spend with it, the better it looks.
Making the transformation to a convertible takes around 20 seconds, with only one button needing your attention. It's not the quickest in the business, or the smoothest for that matter – there are a couple of clunks as the hefty panels perform a disappearing act – but when the operation is complete, the car looks a treat from almost any angle.
While it is a proper four-seater, if everyone has long legs, there may be a few complaints from the back seats as there isn't a huge amount of legroom and the seats are quite upright, but reportedly comfortable enough on a long-ish journey.
With the roof up, the boot is enormous, and even with the two large roof sections stored away, there is a decent amount of space underneath it if you can travel light, or are just doing a bit of shopping.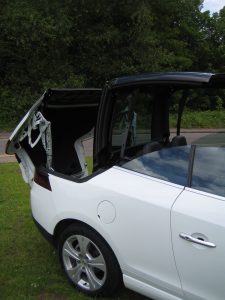 In coupe mode, with the roof up, the Megane is actually quite a plush car. It's a very pleasant place to be even when the weather is less than perfect, thanks to what is now the largest panoramic dark-tinted glass roof in its class, which, believe it or not, was designed by Karmann, a name which will be very familiar to classic car fans.
The seats are supportive, and equipment levels are very good, as you would expect from a Renault. You get climate control, rain-sensing wipers, auto-on headlights, a speed limiter and cruise control, Bluetooth and MP3 connectivity, plus a digital speedo display which is crystal clear to read at the slightest of glances.
There are just two trim grades, Dynamique TomTom and GT Line TomTom, which as you might guess, come with a built-in sat-nav system which is easy to operate from a joystick controller mounted on the centre console near the handbrake.
Alloy wheels also come as standard, and there is plenty of protection should the worst happen. Numerous airbags will help to cushion any blows, while roll-over hoops will automatically deploy should they be needed, helping this car achieve a five star occupant protection rating from Ncap.
If you'd like one, you have a choice of four petrol and three diesel engines, and the dCi130 version tested here provided just enough performance, and an over-all average fuel consumption during my test of 42mpg, which included a mix of town and motorway driving over the course of a week's test.
The car drives very well, with hardly any noticeable scuttle shake, or vibration through the car, caused by the bodyshell not being rigid enough when the roof is removed.
It's the perfect weather for convertibles, and this Coupe Cabriolet from Renault is definitely worth putting on your shopping list if you like wind-in-the-hair motoring.
Rating:





THE VITAL STATISTICS
MODEL: Renault Megane Coupe Cabriolet Dynamique TomTom 1.9 dCi 130.
MEGANE COUPE CABRIOLET RANGE: From Dynamique TomTom 1.6 110 2dr (£20,340) to GT Line TomTom dCi 160 2dr (£24,825).
ENGINE: 1870cc, 130bhp four-cylinder engine, driving front wheels through 6-speed manual gearbox.
PERFORMANCE: Top speed 127mph. 0-62mph in 10.6 secs.
ECONOMY: City: 39.8mpg.
Country: 56.5mpg.
Combined: 48.7mpg.
Fuel tank: 60 litres.
CO2 EMISSIONS: 149g/km.
INSURANCE: Group 23.
PRICE: £22,100.
WARRANTY: 3 years/60,000 miles.
WEBSITE: www.renault.co.uk
• All data correct at time of publication.