Citroen's DS3 is a hit – especially with the ladies!
ROAD TEST REPORT AND REVIEW: CITROEN DS3
Brilliantly designed and fun to drive, editor DAVID HOOPER says Citroen's DS3 range makes an enticing proposition.
WHEN Citroen launched its strikingly attractive DS3 range, it marked a decisive change in the company's design direction.
It was a move which has since been reinforced with the arrival of the DS4, which is equally impressive, so I have no doubt the forthcoming DS5 model, which is due next year, will also be highly desirable.

You really can't miss the DS3. If you've seen one coming towards you on the road, the first thing you will probably notice is the upright line of LEDs mounted on either corner of the front bumper. These daytime running lights may be the first thing to grab your attention, but the car demands a much closer inspection.
It's a brilliantly designed car which has given Citroen's sales a considerable boost by attracting new customers who might also be tempted by the likes of the BMW Mini, Alfa Romeo Mito or the Fiat 500.
Outside, there is an angled B-pillar that looks a bit like a shark's fin, while the roof appears to float above the dark-tinted windows.
Buyers can further customise their DS3 to their personal taste with all manner of colour combinations, up to 38 in total, as well as choosing whether to give it a performance, style or technological slant.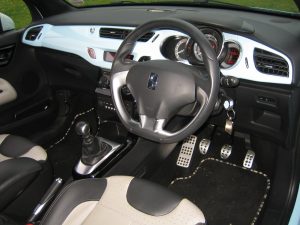 There are three basic models to choose from, DSign, DStyle and DSport and a low emissions model, emitting just 95g/km of C02  is also available. It's called the e-Hdi 90hp Airdream DStyle 95g, but for those who fancy something a little more sporting, you could go for the recently introduced DS3 Racing, which I have to say, looks superb.
Prices for the DS3 range start at £12,405 for the petrol VTi 95hp DSign, rising to £17,695 for the top-of-the-range petrol THP 150hp and diesel HDi 110hp DSport models.
It is the latter which I have been testing this week, and although I liked it very much, I was genuinely amazed by the reaction it got from my wife, who considers cars to be simply a method of getting from A to B. She absolutely loved it, declaring it is "her sort of car". The very pretty pale blue paint job helped, as it was the first time she had seen this colour on any car, and it did look lovely in the sunshine. Officially called Botticelli Blue, it came with a contrasting white roof, complete with strange Zebra graphics, which I was not so sure about – but at least they provided a talking point.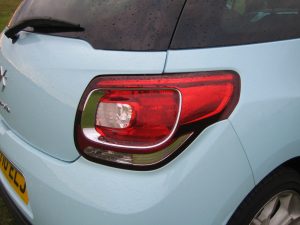 Inside, the dashboard was finished in the same colour as the exterior bodywork, which is an optional extra, but it does look excellent.
The car is well equipped and appeared to be well screwed together, although this particular model had notched up around 16,000 miles and there were a few plasticky rattles beginning to make themselves heard.
To drive, the Citroen is great fun, thanks to sharp, precise steering and a lively diesel engine, although with the peak torque not available until 2,000rpm, there was sometimes a bit of a delay between pushing the accelerator and getting a reaction from the car, particularly around town.
At higher speeds, it wasn't a problem and the little Citroen proved quite nippy. Like its Mini competitor, it drives like it's on rails, but its ride quality is far superior and more comfortable, although there is a bit of road noise audible in the cabin.
I was impressed with its economy, too – it returned 51.3mpg over the 319 miles of mixed driving I did in this car, which is excellent.
A good sized boot and split-folding rear seats which can actually accommodate rear passengers, all add up to a practical little car which looks fantastic and is great fun to drive.
Would I buy one? Yes, definitely.
Rating:






THE VITAL STATISTICS
MODEL: DS3 DSport 1.6HDi 110hp.
CITROEN DS3 RANGE: From 1.4 VTi 95hp DSign 3dr (£12,405) to DSport Plus 3dr (£17,695).
ENGINE: 1560cc, 110bhp four-cylinder engine, driving front wheels through 6-speed manual gearbox.
PERFORMANCE: Top speed 118mph. 0-62mph in 9.8 secs.
ECONOMY: City: 50.4mpg.
Country: 72.4mpg.
Combined: 62.8mpg.
Fuel tank: 48 litres.
CO2 EMISSIONS: 118g/km.
INSURANCE: Group 18.
PRICE: £16,600.
WARRANTY: 3 years/60,000 miles.
WEBSITE: www.citroen.co.uk
• All data correct at time of publication.