Jaguar XKR-S is certainly no pussy cat!
ROAD TEST REPORT AND REVIEW: JAGUAR XKR-S AND JAGUAR XF
Aggressively styled, the XKR-S leaves no-one in any doubt as to its potential.
As Jaguar lets the fastest car it has built for a generation loose on the roads, editor DAVID HOOPER gets a taste of the stunning XKR-S and drives the latest XF featuring a new 2.2-litre four-cylinder diesel engine.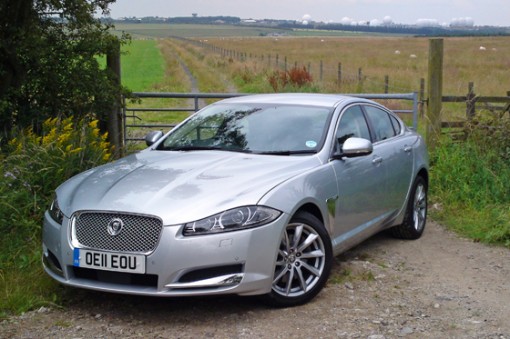 JAGUAR has just unleashed its latest range of new cars for the 2012 model year – and believe me when I tell you there are some real crackers in the new line-up.
There is, in fact, almost something for everyone, from the business driver, to the private motorist, in the range which comprises the XF, gorgeous XK and award-winning XJ models.
I'm sure any executive would be delighted with the new entry-level XF model, which features, for the first time, a four-cylinder 2.2-litre diesel  engine – but fear not – the familiar V6 diesels are still available in other models.
You would be correct in thinking that a 2.2-litre diesel engine has been seen in other, closely related products, but for this Jaguar application, a huge amount of refinement work has been undertaken to make it worthy of the luxury brand.
Much of the noise and vibration associated even with this modern diesel has been eradicated, and even after a relatively short drive, I was more impressed than I ever expected to be.
Not only is it quiet and smooth, it is also surprisingly willing. Limited to a top speed of 140mph, it gets from rest to 60mph in 8 seconds, thanks to its respectable power output of 190PS and 450Nm torque. The automatic gearbox shifts very smoothly, and the car is capable of achieving 52.3mpg on the combined cycle, with a C02 emissions figure of 149g/km, which makes it very competitive. Prices start from £30,950.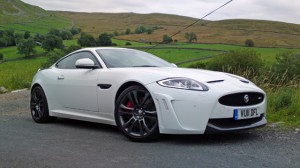 All very nice and green it may be, but the next car I drove is likely to make company car drivers, forced to stick to economical machines for tax reasons, green with envy.
The highlight of the day was the chance to drive the much talked about XKR-S, which is, quite simply, mindblowing! It's the fastest Jaguar the company has produced in a generation.
When I drove an earlier version of the XKR at Croft race circuit a couple of years ago, it was impressive enough, but this beastie takes things to the next level.
With 550PS on tap, its 5.0-litre Supercharged V8 engine will propel this car from rest to the benchmark 62mph in a mere 4.4 seconds, 100mph flashes by in 8.7 seconds, and its top speed is a potential 186mph!
It's what happens in between though which will keep a constant silly grin on your face! The noise, from the engine at one end, and the exhausts at the other is as addictive as it is fun, but make no mistake, this is one aggressive big cat which will bite if you take liberties with it, as I found out when I gave the right pedal slightly too firm a prod on one of North Yorkshire's quiet country lanes, as frustration set in after I'd had to follow a tatty old Fiesta for far too long on the narrow, winding road. The back tyres chirruped as the power coursed through the drivetrain, and as I instantly lifted off the throttle, the exhausts popped and banged so loudly it was clearly audible inside the car with the windows up and the radio on!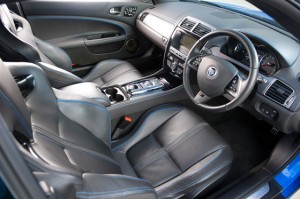 Anything more than the lightest of pressure on the throttle pedal and car's response is vicious and instant. Feed in the power and the acceleration is relentless, yet inside you are cosseted in sports seats which are as comfortable as they come, surrounded by every mod con you could ask for.
However, with an asking price of £97,000, it should be well equipped – after all, it's a lot of money to pay for just an engine, no matter how powerful it is.
With the XKR-S though, you get much more than that – 20in Vulcan Satin Dark Grey alloys, for a start, flared wheel arches, all sorts of sporty trimmings and gorgeous looks to die for.
Other than to say it is blisteringly quick in a straight line, I can't really tell you much about what this car is like to drive at speed, or how it handles, as the roads were too busy at the start of the summer holidays and the speed limits too low, to really explore this super-car's potential. How I wish I could have taken it around Croft circuit, which wasn't that much further north.
However, were you fortunate enough to own one, I suspect just looking at it every morning would be enough to make you smile, and if that didn't work, I'm sure pressing the starter button and blipping the throttle pedal a couple of times would certainly put Cheshire Cat-sized grin on your face!