Volvo C70 has room for four, whatever the weather
A sleek coupe or a stylish convertible, Motoring Journalist DAVID HOOPER, editor of wheelworldreviews.co.uk, says Volvo's C70 really is a car for all seasons.
HAVING your cake and eating it is a pleasure that eludes us for much of the time, but every now and again, I drive a car which fits more than one role, and does so admirably.
The Volvo C70 is a perfect example of such a car. In its standard form, it's a sleekly-styled coupe, but at the press of a button, it transforms itself into a gorgeous convertible. It really is a car for all seasons.
The C70 isn't a new car, it's been with us for a few years now, but it is still a nice looking machine thanks to a recent facelift which as well as a few minor cosmetic changes, saw the introduction of new engines under the bonnet.
My test car was powered by the 2.0-litre 150bhp D3, which boasts five cylinders and makes a delightful rumbly noise when the power is applied. Now, how often can you say that about a diesel engine? There is also the option of the D4, which offers 177bhp, and both can be specified with either a six-speed manual or six-speed Geartronic automatic gearbox, while at the top of the range, there is still the stonking T5 petrol engine, with its 230PS and 0-62mph time of just 7.4 seconds.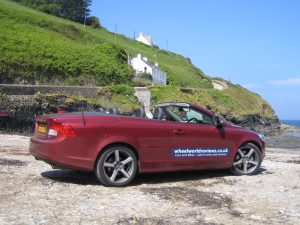 The D3 in my test car was a little more sedate than that, taking just over 10 seconds to hit the benchmark figure from a standing start, but that really is only part of the story, as once on the go, it's mid-range punch is impressive, especially in third and fourth gears, where overtaking slower A-road traffic is not a difficult task at all.
Despite its five cylinders, it is also an impressively economical engine, with a claimed combined figure of 47.9mpg, which should be achievable if driven gently.
I put the car to a more severe test, by packing every spare inch of space with everything we needed for a week's self-catering in Cornwall, leaving just enough room for my wife and adult-sized teenage son, on one of the two rear seats, which he reported to be "very comfortable".
During our trip to the South West and home again, the car averaged just under 42mpg overall, which is really quite impressive when you think of the additional weight it was carrying at motorway speeds for long periods – and of course, the mandatory traffic jams on the M5, as most of England seemed to have had the same idea as us.
A boot full of luggage meant the roof had to stay up while we were travelling as there was no room for it to be folded away into the boot.
Once at our destination and the car unloaded, however, it was a different story, and we enjoyed meandering around the Cornish highways and byways with the roof down, taking in some spectacular views and scenery. With this design are no latches to break your nails on, the whole conversion is completed at the touch of a button, including the adjustment of all four side windows. Impressive to watch it may be, as all three sections of the roof disappear into the boot, but it isn't the quickest of operations and you might struggle to complete the transformation at the traffic lights. You can't drive, even slowly, with the roof anywhere between fully open or fully closed.
There was surprisingly little wind disturbance in the front of the car with the roof down – even my wife, who is usually quick to complain of feeling cold when the roof comes off a car, seemed to enjoy it – helped by the heated front seats which help to keep the chill off. The optional wind deflector would have helped even more, but that had stayed at home, because we needed to use the rear seats, but if you are thinking of buying a car like this, and there are only two of you most of the time, take it from me, they are worth the small extra investment.
We couldn't have the roof down all the time though, thanks to the British weather, but the beauty of the C70 is that it looks just as good with the roof up, as it does with it folded away, thanks to its three-piece design which means the rear of the car is kept in proportion, unlike some of its rivals which look as if they need to count a few calories to reduce the size of their bulbous rumps, required to accommodate their larger two-piece roof sections.
Inside, it is typical Volvo fare, with the uncluttered "floating" centre console, and clear instrumentation.
The car I tested came with Bluetooth phone connectivity, and a USB slot for an MP3 player, which was a real boon on a long journey – and in areas where radio reception is poor.
My only real criticism would be levelled at the amount of interior storage space. There are cup holders front and rear, and door pockets, complete with their own covers, but they are small and difficult to access, especially with the large doors shut, which made storing sunglasses, a bottle of sun cream, mobile phones and all the other clutter you need with you, a bit of a challenge, but we did find a home for them all in the end.
The C70 is a distinctive looking car and proved itself to be a surprisingly accomplished mile-eater on a long trip. It's not as expensive as you might expect it to be either, with prices starting from just under £30,000.
Rating:





THE VITAL STATISTICS
MODEL: Volvo C70 D3 SE LUX.
C70 RANGE: From D3 (150ps) ES 2dr (£29,335) to T5 SE Lux Geartronic 2dr (£36,520).
ENGINE: 1984cc, 150bhp five-cylinder engine, driving front wheels through 6-speed manual gearbox.
PERFORMANCE: Top speed 130mph. 0-62mph in 10.2 secs.
ECONOMY: City: 35.8mpg.
Country: 61.4mpg.
Combined: 47.9mpg.
Fuel tank: 60 litres.
CO2 EMISSIONS: 154g/km.
PRICE: £33,115.
WARRANTY: 3 years/60,000 miles.
WEBSITE: www.volvo.co.uk
• All data correct at time of publication.