Range Rover review: We roadtest the latest 3.0 TDV6 Autobiography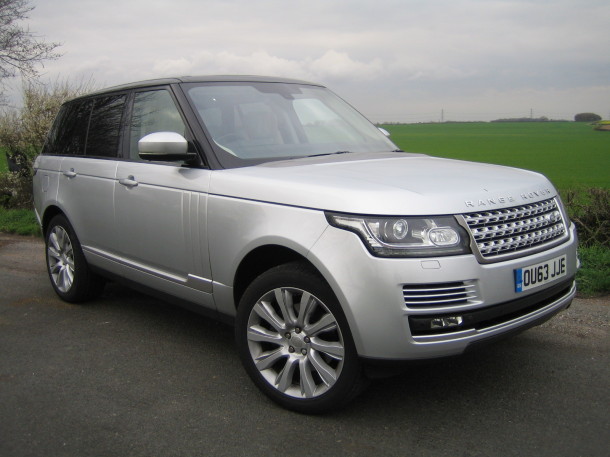 ROAD TEST REPORT AND REVIEW: Range Rover 3.0 TDV6 Autobiography – Is this latest Range Rover 3.0 TDV6 Autobiography the consummate all-rounder? DAVID HOOPER puts this classy 4×4 to the test to find out.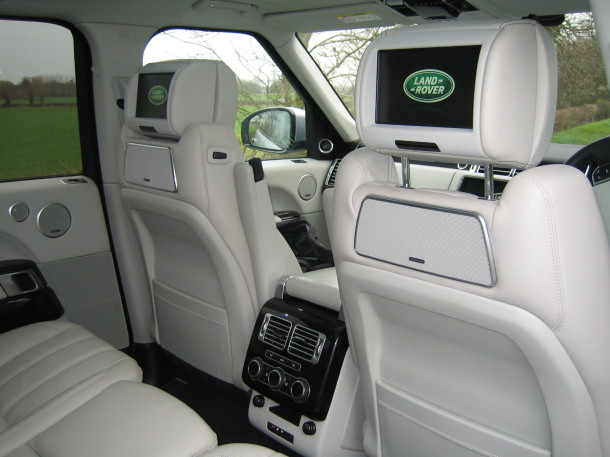 THE iconic Range Rover needs little introduction, it's as British as afternoon tea – and even if the company is now owned by the Indians, it's still a fitting analogy!
Bigger, lighter, cleaner and greener, this all-new model really is something to behold, especially in the super-luxurious Autobiography specification of this beautifully kitted-out 4×4.
Calling it a car almost does this "fully-loaded" Range Rover a disservice as it is so much more than that – it's almost every vehicle you could ever want, all wrapped up into one all-singing, all-dancing package of technological wonders.
A luxury limousine with a view, a surprisingly capable and impressive off-roader, a van (with the rear seats folded down) and a performance car (almost).
The Range Rover can cover large distances without breaking sweat and I liked the radar cruise control system which maintains a preset distance to the car in front and adjusts the car's speed in the ebb and flow of the traffic. Learn to trust it and the system works well.
Weighing much less than its predecessor, the new model  is fitted with Start&Stop across the range, so it avoids wasting fuel when the car is stationary at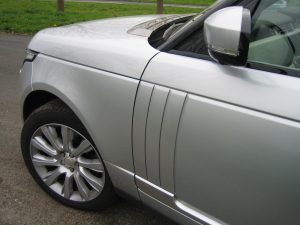 lights or in traffic, but it is also impressively economical, especially when driven gently, achieving 40.9mpg on one gentle drive, and averaging 34.5mpg overall during my test of 430 miles.
Impressive stuff from a 3.0-litre V6 diesel engine with 258bhp and 600Nm torque on tap, powerful enough to propel it from 0-62mph in 7.4 seconds on its way to a potential maximum speed of 130mph. The eight-speed gearbox is silky smooth, and although you probably won't, should you feel the need, you can manually control the gear shift points via steering wheel mounted paddles. Even the steering wheel itself is heated, which is actually quite nice on a cool spring morning!
The latest Terrain Response system will set the car up for any off-road challenges you're ever likely to encounter, there's a proper low range setting too, and a special display shows the angle of the steering wheels and the amount of articulation of each axle. There is also an off-road navigation system, as well as the full on-road set-up – all clever stuff indeed! And the turning circle of this big vehicle could a few Italian hot hatches I could mention.
This new model not only looks fantastic thanks to its big shiny grille, 21in Delta Wing Sparkle alloy wheels and signature lighting, which I think is some of the most distinctive on the market today, it's also packed with enough gadgets and gizmos to keep even the most geeky of technologists occupied for hours.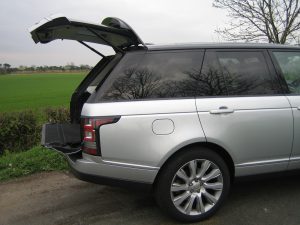 A TV in the dash, which only the passenger can see when the car is in motion is complemented with separate screens in the back of each headrest for rear seat passengers, but perhaps the headline act are the two individual sets of wireless headphones – but that's just the start. The premium Median Signature 1700W sound system, a heftily-priced £4,000 extra, sounds fantastic and comes with Dolby surround sound and a subwoofer which actually makes the carpet vibrate – yes really!
The colour of the ambient lighting can be chosen by the owner and offers a selection of colours, there are external cameras which show a junction view, kerbside view, and a trailer view, and you can even set the camera so you can see the towbar, so hitching up your caravan or horsebox suddenly gets an awful lot easier.
The Range Rover glides along on air suspension, with a sport mode setting on the eight-speed gearbox hanging on to gears a little longer before changing to sharpen things up a bit, as well as stiffening up the suspension, although it is still biased towards comfort rather than out-and-out performance.
Rear seat passengers get their own climate control settings and heated seats, but don't get the massaging seats the two people in the front are able to enjoy. The front seats will also blow cooled are at you so you don't get a sweaty bum in the summer.  As well as the mandatory drinks holders, a large rear arm-rest is also home to a remote control for the two rear TV screens, and while the rear seat passengers are whisked along in the lap of luxury, they can admire the view from behind the privacy glass rear windows, or look skyward through the panoramic glass roof.
You can buy houses for less than the price of this superb Autobiography model, but if your budget won't quite stretch to the £90,000-plus asking price of this car, the Range Rover line-up starts from and equally scary £71,310.
Now where's my Lottery ticket?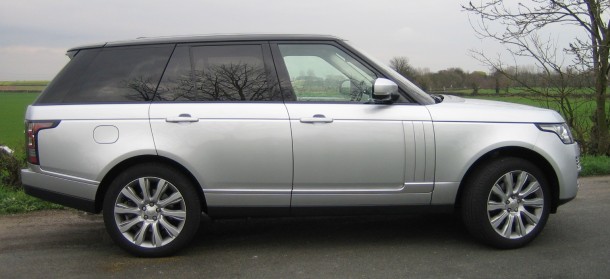 Rating:






THE VITAL STATISTICS
MODEL: Range Rover 3.0 TDV6 Autobiography.
RANGE ROVER RANGE: From 3.0 TDV6 Vogue 5dr (£71,310) to 5.0 V8 Autobiography (£98,430).
ENGINE: 2,993cc, 258bhp six-cylinder diesel engine, driving four wheels through 8-speed automatic gearbox.
PERFORMANCE: Top speed 130mph. 0-62mph in 7.4 secs.
ECONOMY: City: 33.2mpg.
Country: 40.4mpg.
Combined: 37.7mpg.
Wheel World test average: 34.5mpg
Fuel tank: 85 litres.
CO2 EMISSIONS: 196g/km.
PRICE: £87,910
WARRANTY: 3 years/Unlimited miles.
WEBSITE: www.landrover.co.uk
• All data correct at time of publication.