Happy birthday VW Golf — a legend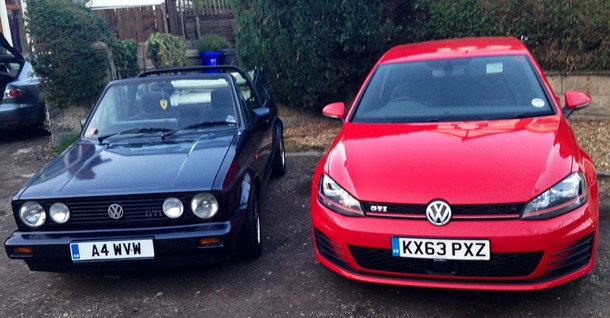 Motoring writer Keith Ward takes a look at the latest version of the VW Golf… as it passes its 40th birthday.
VOLKSWAGEN'S Golf has past a landmark birthday — its 40th!
It merits a celebration. Global sales exceed 30-million. Now in its seventh generation, it is currently Europe's best selling car of any make, and easily the most popular VW model sold in the UK, well ahead of the Polo and occupying a comfortable fifth place in this country's top 10, finding a cool 65,000 customers a year.
Business fleets account for nearly seven out of 10 sales, diesel for 85 per cent, five doors rather than three for 90 per cent.  In a 23-strong range priced from £16,495 to £26,500, the overall best seller is the 1.6 TDI in second-up SE trim at £20,710.
Following a general trend, the Golf has certainly grown over the years, from a length of 3.7 metres in 1974 to 4.2 metres today. It's wider and lower. Compared even to its immediate predecessor, the Mk VII's cabin offers increased leg (by 15mm) and shoulder room (by 31mm) as well as a boot 30 litres larger than that of the Mk VI.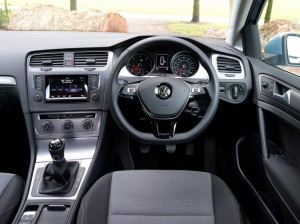 Thanks to modern materials and manufacturing techniques, it is up to 100k lighter, claiming to be 23 per cent more efficient, yet stronger and safer, with a raft of standard and optional passive and active safety systems.
They will alert the driver who dozes or wanders, brake the car about to collide, and park it perfectly in spaces few of us would attempt. For the first time in a Golf you can now select the "feel" of the way the car drives – eco, sport, comfort, normal and individual.  Each mode   alters throttle mapping and electronically manages the engine to suit.
Conceived in an age when drivers still touched wood that a car would start, the Golf now presents the motorist with a coloured touch-screen as standard, as wide as eight inches in top versions with satellite navigation, and responding to finger gestures familiar to smartphone users.
There's a 21st century lexicon of auxiliary inputs, USB and i-Pod, Bluetooth telephone and DAB digital radio. So – at 40 is the Golf over the hill?  No sign of that. VW are already lining up both all-electric and hybrid versions for UK showrooms later this year.
We have been trying a couple of the latest Golfs, you could call the fast and the frugal: The 152 mph 2.0-litre petrol GTI and an economy-tuned BlueMotion 1.6 diesel giving us more than 70 mpg.
Critics say that, especially since the Mk III's radical step away in the early 90's from the original boxy shape, successive new Golfs have not really changed much in appearance; the non-geek will be hard pushed to distinguish between them. VW point to the importance of the model's DNA as a continuing assurance to loyal repeat customers.
While they have not been without faults over the years, and the VW brand rates below the Japanese and even its own corporate stablemate Skoda in reliability surveys, there is a solid quality feel to a Golf, something more than just the way the doors clunk shut.  It feels generally well put-together, the gears precise, steering nicely balanced, furnishings good quality, sound levels low, even if all is reflected in prices higher than those for some rivals.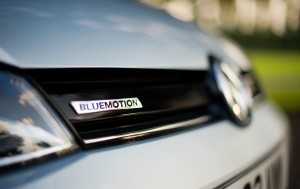 BlueMotion used to denote a specific economy version of VW models.  Confusingly, just as GT these days refers to a trim spec, all new Golfs are now said to be equipped with some 'BlueMotion Technology' modifications. These include the nagging nanny arrows on the dash to get you to change gear, as well as stop/start  engines and battery regeneration systems.
On top of that, the £21,270 actual BlueMotion 1.6-litre diesel TDI 110 PS six-speed manual we drove ("the most efficient internal combustion-engined Golf available") features aerodynamic mods: A sports suspension lowered by 10 mm, spoilers on the rear pillars and roof and streamlined front air intake and radiator grille.
The completely new engine is officially rated with a combined 88.3 mpg, meaning a theoretical 976 miles on a tankful. We achieved a still remarkable 67.3 overall, tipping above 70 on motorway trips. And class-leading CO2 emissions of just 85g/km, so nil VED.
While the diesel was no slouch — 124mph and 0-62 in 10.5 seconds — the GTI is something else, of course. This £26,125 Golf whisks away like it's been whacked by Bubba Watson. It generates the excitement that made it an icon from its outset.
There's a devoted owner of a Golf GTI convertible Mk I in our family who gamely keeps it going with frequent three-figure outlays for repairs and upkeep. She took a ride in the new GTI.  Loved the power, latest sports seats and the red ambient interior lighting; disliked the newfangled electronic parking brake and stop-start engine.
Her dismissive take on fast GTI versus frugal BlueMotion: "You buy a Golf for style.  If you want economy buy a Polo".
THE VITAL STATISTICS
MODEL: VW Golf BlueMotion 1.6 TDI  5-door
ENGINE: Diesel; 1,598 cc; 6 spd manual; direct injection; turbo; stop-start
POWER: 110 PS @ 3,200 rpm; max torque 184 lbs ft @ 1,500-3,000 rpm
PERFORMANCE: 124 mph; 0-62 in 10.5 secs
MPG: On test 67.3; official combined 88.3
CO2 EMISSIONS: 85 g/km; band A; tax disc Nil
TYRES: 195/65; R15; alloys
TYRES:  Group 15E
PRICE: £21,270
MODEL: VW Golf GTI 2.0 TSI 220PS three-door.
ENGINE: Petrol, 1,984cc, four-cylidner, 16-valve turbo, six-speed manual, stop-start.
POWER: 220PS @ 4,500rpm; max torque 258lbsft @ 1,500-4,400rpm.
PERFORMANCE: 152 mph; 0-62 in 6.5 seconds.
MPG: On test 40.1; official combined 47.1.
CO2 EMISSIONS: 139 g/km; band E; tax disc £125.
TYRES: 225/40; R18; alloys.
TYRES:  Group 29E.
PRICE: £26,125.