Octavia estate gives you more for less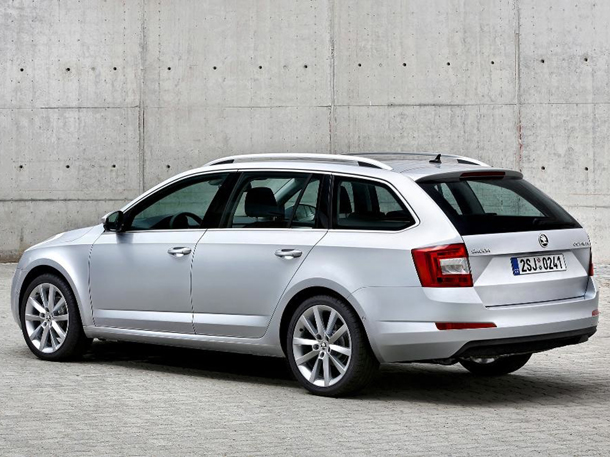 ROAD TEST REPORT AND REVIEW: Skoda has long made the estate car one of its major features. Motoring writer Keith Ward takes a look at the Octavia Estate.
ESTATES loom large in the sizeable Skoda Octavia range, accounting for more than half the 46 versions and around one third of this model's sales.
Like the latest Octavia hatchback, £800 cheaper, the estate is longer, wider and taller, yet lighter, than the previous generation. It is all part of Skoda's range strategy to move the Octavia up a size to leave a gap for the Rapid.
Acclaimed and award-winning Skoda have gradually taken on a respectable VW corporate look.  Through half-closed eyes, this Octavia could be a stretched Golf estate, or a truncated Passat estate.
Inside, it's impressively spacious, expanding to a "class-leading" 1,740 litres with the rear seats down and capable of taking narrow items up to three metres long with the front passenger seat also folded. There are storage bins either side of the boot and a pair of 180 mm-deep (seven inch) lockers under the floor.
The rear three seats, giving excellent head and leg room, are on a fixed bench, with the middle occupant having to straddle a central floor tunnel. The divided seat backs slope forward easily via two levers. But unless you pay extra for a two-level boot, there is a four-inch step across the extended floor. Plus, you reach deep to retrieve your luggage over a sill a good two feet (640 mm) above ground. The tailgate opens high and wide.
A choice of four turbocharged engines — two petrol 105 or 140PS and two diesel 105 or 150PS – all come with stop-start and energy recovery technology. Transmissions are five or six speed manuals and six or seven speed DSG automatics. CO2 figures vary between 99 (1.6 diesel) and 121 (1.4 petrol); combined mpg from 53.3 (1.4 petrol) to 74.3 (1.6 diesel).
Of three trim levels, even basic 'S' versions come with climate control, electric front windows and heated mirrors, alloys, roof rails, tinted glass, two-way adjustable leather steering wheel, eight-speaker audio with DAB radio, Bluetooth and touch-screen controls, automatic post-crash braking and seven airbags.
I tried the best-selling 105PS diesel 1.6 TDI five-speed, puffing a tax-avoiding 99g/km, in middle SE trim, at a list price of £20,040.  A host of options, including a user-friendly sat-nav (£550) and Bi-Xenon headlights (£1,190) hoisted that to well over £24,000.
On the road, this version is a pleasant drive in terms of its handling and precise steering. The ride on the lightened chassis can be a little jittery in town. An engine tuned for economy can hesitate in second, even on fairly flat roads. There is a driving mode selector with sport, eco, normal and individual settings to play with. In general, finding the most comfortable gear of the five takes practice. On motorway journeys you could be looking for a sixth.
However, there is no denying its zero-tax CO2 emissions and its fuel economy. In a week's varied motoring, this Octavia Estate with a camel's powers of conservation could cross deserts. It returned a near-60 mpg and at this rate could have approached 1,000 miles on one tankful.
THE VITAL STATISTICS
MODEL: Skoda Octavia Estate SE 1.6 TDI CR 105PS DPF.
ENGINE: Diesel; 4-cyl; 1,598 cc; turbo; 5-speed manual; DPF; stop-start.
POWER: 105PS @ 3,000-4,000rpm; max torque 250Nm @ 1,500-2,750rpm.
PERFORMANCE: 119mph; 0-62 in 11.0 seconds.
MPG: On test 59.1; official combined 74.3 mpg; tank 50 litres.
CO2 EMISSIONS: 99 g/km;  band A;  VED Nil;  BIK 14 per cent.
INSURANCE: Group 13E
WARRANTY: Three years/60,000 miles incl RAC breakdown Europe-wide; 12 years body.
PRICE: £20,040; as tested with options £24,330.