Can Renault's Zoe spark change of attitude?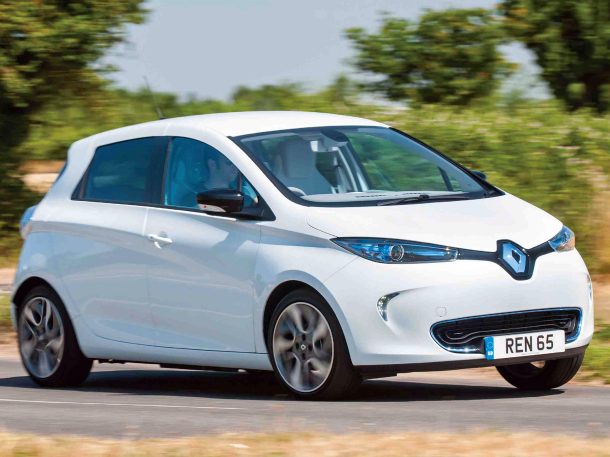 ROAD TEST REPORT AND REVIEW: Renault is just one manufacturer trying to tempt buyers to go electric. Motoring writer Keith Ward finds out if its Zoe can do the trick.
DRIVING an all-electric car is certainly different. Get in and with your foot on the brake press a "start" button.  Hear nothing.  Then see a "READY" notice on the dash, and an array of coloured graphics, continued on a central seven-inch screen.  Select the D for Drive slot on the automatic selector and glide smoothly and silently away, except for a barely audible whine.
Worried that progress will struggle to match a milk float's?  Forget it.  That electric motor in place of an engine under the bonnet is pumping out a fair 88bhp and 220 Nm of torque.  The Zoe can soar eagerly to 30 mph in four seconds, and 60 comes up in a reasonable 13 or so.  I followed advice to kick down the gas pedal further, past a resistance spot, and there's a sort of afterburner giving a further surge, capable of taking you well beyond the legal limit.   Zoe is not lazy, and she rides and steers well enough to match most conventional competitors, with an almost graceful air.
Through all this you learn to recognise the chimes and bleeps of various functions.  The Zoe is well up to Renault's notably high standards of active and passive safety. More of a threat is being distracted by those dazzling dashboard displays. Ah — that one is showing that, under braking, the direction of power reverses, from the front mounted motor to the 400-volt, 290 kg lithium-ion battery slung in a tray below the rear footwells.
It is the presence of this that means rear passengers sit high, with a platform view, designed so their legs stretch down and not tend to fold up under their chins.  There's two-way adjustment of the steering wheel but you can't alter the driver's seat height.
However, there is no compromise on space in the boot, which is commendably roomy and 600mm (about two feet) deep and 1,020 (40 inches) across, by our tape.  And with the, albeit one-piece, rear seatback  folded, cargo volume expands from 338 to 1,225 litres.
Remembering that at prices from £13,995 this is by far the least expensive pure electric, proper car on the market (jump by around £7,000 to the larger Nissan Leaf or by around £11,700 to a BMW i3, in all cases after deducting the £5,000 government grant) the Zoe is impressively equipped.
For an outlay similar to that for a diesel Clio you get, even in the basic Zoe Expression, climate control, navigation, cruise control, hill start assist, alloys, Bluetooth and LED daytime running lights. Included in the vehicle price is the fitting at your home of a special charging unit, worth around £500, and a 4.5-metre lead to our car. During charging there's a system to heat or cool the car interior, ready for you to drive away in comfort.  Charging can last from a minimum 30 minutes to nine hours.
When you are driving low-speed in town, a voice alarm can be switched on to warn unaware pedestrians of the Zoe's silent approach.  A voice-controlled multi-media device operates through the dash touch-screen.
The superior Dynamique trim we drove at £15,195 adds enhanced digital audio, electric windows rear as well as front, leather-covered steering wheel and gearknob, auto lights and wipers, rear parking sensors and hands-free key card.
An included "Zen" kit on our Dynamique supposedly created an "ambience" (not rightly noticeable) via a scent diffuser, ioniser and toxicity sensor, the alternative being an "Intens" pack of rear parking camera and "dark interior ambience" which sounds preferable (the camera that is).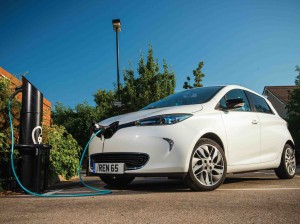 Detracting somewhat from that bargain purchase price is that the vital lithium-ion battery is never yours.  Renault uniquely oblige you to rent it from them at anything between £70 and £113 per month, depending on your mileage and rental period. They do replace it free if it fails or drops to less than 75 per cent of as-new strength, although such batteries are thought pretty reliable. And they turn out to you in case of breakdown.
Pure electric cars in general, around the world, are yet to really spark interest from the car buying public. We have not really switched on to them. Hybrid combinations have more appeal.  Forget for a moment what powers the Zoe.  In size it fits into the Supermini class, alongside a Clio or Focus or Astra.  Average annual mileage in the class is 7,800, or just 30 miles per working day, say Renault.  That makes it "ideally suited to electric vehIcles". And the Zoe boasts a "real world" range of 62 to 93 miles between charges — more than adequate.  Helping is a range "optimiser" kit including heat pump, regenerative braking and low-resistance Michelins.
That is the theory, and there are holes in it, of course.  What happens when you are not on the commuter run to work or the shops and back, but want to go on holiday, or a weekend visit to friends on the other side of the country, and the Zoe is the only car in your household? What if you live far away from London's congestion zone whose penalties you would avoid?  How does the cost of a season ticket stack up against leasing an EV?
Even on the benign Cheshire plain which Renault chose for Zoe trial drives, that exotic dash display warned me at the end of a trip that I had done 28 miles and had 39 left. The colder the weather (in the North?) the shorter the range.  On past experience with a Nissan Leaf in the tougher energy-sapping territory of the Pennines I have watched the range indicator decreasing alarmingly.
THE VITAL STATISTICS
MODEL: Renault Zoe Dynamique Zen. All-electric; zero emission; 5-door; 5-seat hatchback Supermini.
POWER: Lithium-ion battery 400v; Motor 65 kW,88 hp; max torque 220Nm.
PERFORMANCE: 84 mph; 0-30 in 4.0 secs; 0-62 in 13.5 seconds.
RANGE: Likely 62 to 90 miles.
RECHARGE: 30 minutes minimum to nine hours.
CO2 EMISSIONS: Nil;  VED band A; tax disc Nil.
INSURANCE: Group 16E.
WARRANTY: Four years/100,000 miles; five years electric powertrain; lifetime on battery.
PRICE: £15,195 (after Government grant of £5,000 deducted). Plus battery rental per month £70 to £113.