Peugeot 2008 e-HDi 92 Feline road test report and review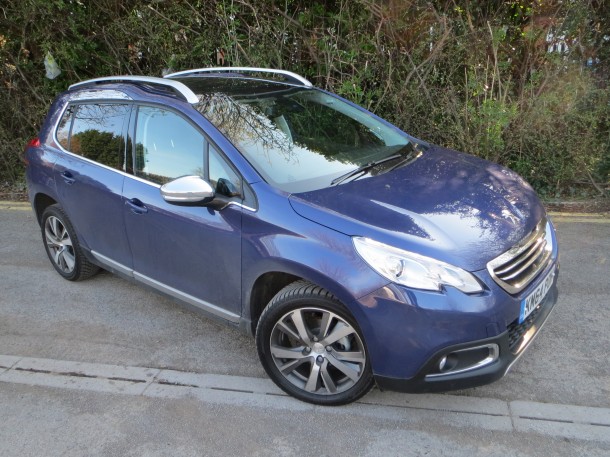 Peugeot 2008 1.6 e-HDi 92 Feline promises low emissions and good miles per gallon figures, but can it delivery – DAVID HOOPER has been finding out.
Peugeot 2008 e-HDi 92 Feline road test report and review
THE Peugeot 2008 has been with us for a couple of years now and I for one, really like it, but the main talking point with this car, is the engine, which is a recent addition to the range.
Designed for economy, on paper its figures are impressive (up to 78.6mpg) but how does it fare in the real world – I've been finding out.
I think the Peugeot 2008 looks great, sitting on smart alloy wheels, in fact the current Peugeot range looks particularly good compared to much of its competition – the latest 308 being particularly stylish.
This 1.6-litre e-HDi unit develops 92bhp, and workable 230Nm torque, which combine to provide a pleasantly driveable car which is capable of making good progress with well-timed overtakes on A-roads, and still return impressive mpg figures, helped by a stop and start system.
During my test it returned 54.3 miles to the gallon over a distance of 450 odd miles of driving encompassing the full mix of roads and traffic conditions, so this is a representative figure of what an owner could reasonably expect from this car.
The 2008 in this guise will get from rest to 62mph in a fairly leisurely 12.8 seconds, but use fourth gear for most overtaking manoeuvres which have to be carefully timed to maximise this car's overtaking potential.
On the road it pulls reasonably well through the gears and cruises quietly on the motorway.
The ride quality is relatively firm but not uncomfortable and feels confident and stable through the twisty bits.
Parking sensors fore and aft make squeezing into those tight spaces an easy operation which can be judged almost to perfection without risking a crick in your neck.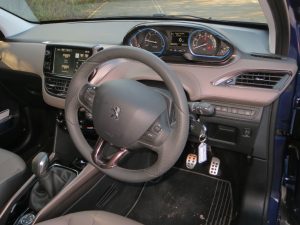 The interior of the Peugeot 2008 is quite a smart place to be and is easy on the eye with our test car featuring a brown stripe across the centre of the dash linking the two doors together.
The upholstery in our test car was half leather, half Alcantara and looked very nice. The bolstered seats provided plenty of lateral support and proved to be comfortable, after even the longest of journeys.
At the back there are three seats and for rear passengers which can be folded down in a 60/40 split to increase the already practical boot space.
The instrument binnacle sits on top of the dashboard, just ahead of the driver with a small steering wheel set below the instrumentation making for a sporting feel to the car.
The speedometer and rev counter along with the fuel and temperature gauges are illuminated by blue lighting and the panoramic sunroof also features electric blue mood lighting along the runner rails, adding an extra element of interest to the interior.
The panoramic glass sunroof is a lovely feature which floods the car with light and allows people in the back seats a great view especially when passing airport where planes or helicopters are landing – which happened on my few days with the car.
When not in use, or at night, a blind can be drawn across the glass sunroof at the press of a button, eliminating some of the distractions which night time street lighting may cause.
The main controls for the sat-nav radio and telephone are controlled from a touch screen system which you can also use to go on the internet if you wish.
This model of the 2008 also features part-time four-wheel-drive which can be selected by rotating the dial between gear lever and handbrake, which allows the driver to select from normal road use to three off road modes and provides the ability to turn off the traction control system, all at the twist of the dial.
The handbrake is quite novel too, in that it works in the traditional manner but is far from the traditional shape but fits nicely in the palm of your hand and is preferable for many who dislike the modern penchant for electric handbrake systems. I know several people who dislike them with a vengeance but have to put up with them.
The 2008 is practical family car, and with this new 1.6 e-HDi engine, it's a very economical one too.
Rating: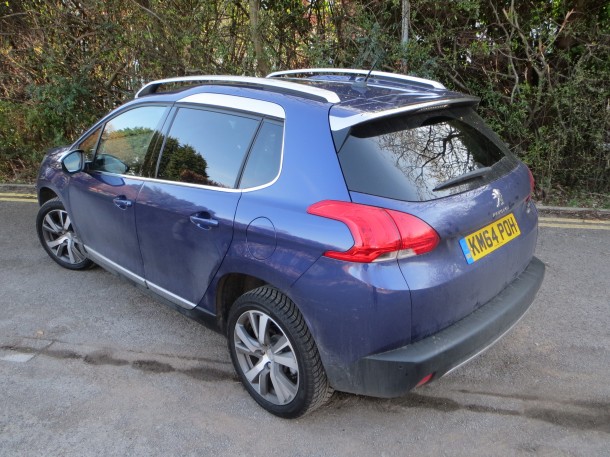 If you like this review, read our article on the Peugeot 308
THE VITAL STATISTICS
MODEL: Peugeot 2008 1.6 e-HDi 92 Feline.
PEUGEOT 2008 RANGE: From Access+ PureTech 1.2 VTi (£13,195) to Feline Mistral Ambience 1.6 eHDi 115 S/S (£20,045).
ENGINE: 1560cc, 92bhp four-cylinder diesel engine, driving front wheels through 6-speed manual gearbox.
PERFORMANCE: Top speed 113mph. 0-62mph in 12.8 secs.
ECONOMY: City: 60.1mpg.
Country: 78.5mpg.
Combined: 70.6mpg.
Wheel World test average: 54.2mpg
CO2 EMISSIONS: 103g/km.
FUEL TANK: 50 litres.
INSURANCE: Group 17.
PRICE: £19,145.
WARRANTY: 3 years/100,000 miles.
WEBSITE: www.peugeot.co.uk
• All data correct at time of publication.