Dacia Duster Ambiance dCi 110 4×4 road test report and review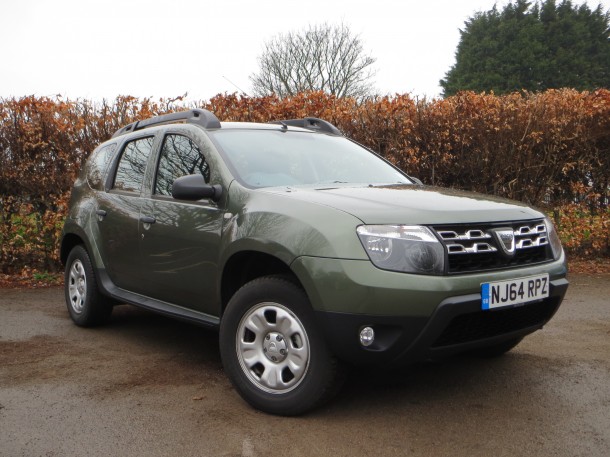 Dacia Duster Ambiance dCi 110 4×4 road test report and review – A cheap and cheerful 1.5-litre 4×4 – DAVID HOOPER has been putting one through its paces.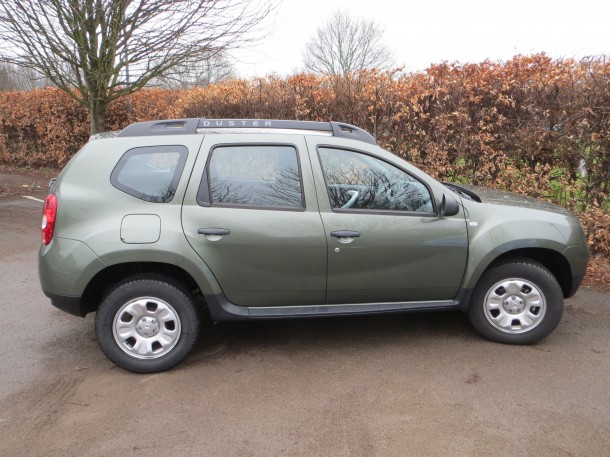 THE Dacia Duster is a full four-wheel-drive SUV. Its price tag is a clear indication of what you get – a no-frills but fairly rugged soft roader which comes with a proper four-wheel-drive system capable of running in either two wheel drive or all-wheel-drive. It even has a lock mechanism for particularly sticky situations.
The Dacia Duster range starts from just under £9,500 for a two-wheel drive version with a 1.6-litre petrol engine, while our test car featured a selection of optional extras, which included and extended warranty up to 7 years and 100,000 miles for £850, which could be money well spent, metallic paint at £495 and the Adventurer Pack, which included door protection side mouldings, and wheel arch protectors for £445. The Protection Pack at £595 adds rear parking sensors, mudguards and a boot liner, while the Styling Pack adds chrome side bars, and daytime running lights and a few other styling tweaks for £655, but I think some smart alloy wheels would also improve the car's looks.
Inside there is room enough for five people to travel in comfort, while at the back of the car there is a sizeable boot which in the case of our test car came with a protective load liner tray to stop muddy boots dirtying the carpet.
Lift the boot floor and you find something of a rarity these days, a full-size spare wheel and tyre, although that is also a £150 cost option.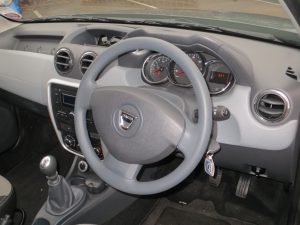 The Dacia Duster's interior looks reasonably presentable, but comprises nail scratching hard plastics, but you do get two tone dark grey combined with a lighter grey which runs across the centre of the dash.
The instrumentation is simple and clear with a red counter and a central speedometer. The right-hand dial is reserved for the fuel gauge a clock and a trip meter but there are no luxuries in the Duster like a trip computer, so I can't report how many miles to the gallon this car did during my test.
The centre console is home to the radio unit and heating controls which comprise of a four speed fan, but no air-conditioning on this model.
Luxuries on this car are few and far between and you even have to adjust the door mirrors manually which on some of the smaller Dacia models isn't an issue because the car is so small and you can easily reach across to the passenger door to adjust the mirror, but on this car it is quite a bit bigger and it is difficult to reach across so you have to speak nicely to your passenger.
However you do get electric front windows and Bluetooth connectivity for your telephone. The dashboard radio unit also has a USB connector which is handy for charging your phone whilst on the move. On the right hand side of the steering column you may be surprised to find remote controls for the radio which can adjust the volume, change the source i.e. the radio, CD player or iPod and can also answer phone calls.
On the road the car drives really well under normal conditions but it doesn't like mid-corner bumps which are transmitted straight through the steering wheel to the driver at the helm. One such bump nearly made the steering wheel jumped out of my hands and the steering is somewhat vague at the best of times.
There are a couple of cupholders in the front of the car and an economy switch, but the gearing on this model is quite low to endow it with some off-road ability without the need for a low range gearbox and so first second and third gears are dispensed with fairly quickly, but once on the move, fourth provides plenty of pulling power and progress can be reasonably pleasing and progressive.
The seats are comfortable and even after an hour or two at the wheel there are no aches and pains in evidence.
Buying a Dacia Duster is probably a decision of the head for most, rather than the heart, but I think having spent some time living with this car that you will come to like it, if not love it, especially when you have enough money left for a good holiday, compared to the purchase price of many of the Dusters chief rivals which in some cases cost multiples of the asking price of this car.
So with summer just around the corner and minds turning, after a long cold winter, to summer holidays, I for one am not going to knock it.
It's not posh it's not flash, but it does what it says on the tin and it's not at all unpleasant to live with.
Why spend more?
Rating: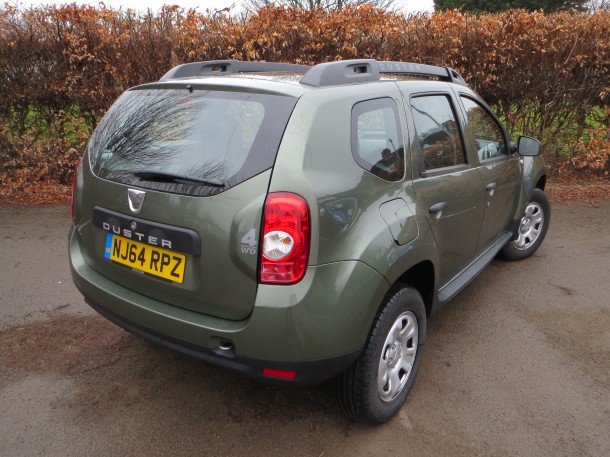 If you like this, click here to read about the Dacia Logan MCV
THE VITAL STATISTICS
MODEL: Dacia Duster Ambiance 1.5 dCi 110 4×4.
DACIA RANGE: From Access 1.6 16v 105 4×2 (£9,494) to Lauréate Prime dCi 110 4×4 (£15,995).
ENGINE: 1,461cc, 109bhp four-cylinder diesel engine, driving four wheels through 6-speed manual gearbox.
PERFORMANCE: Top speed 104mph. 0-62mph in 12.5 secs.
ECONOMY: City: 47.9mpg.
Country: 56.5mpg.
Combined: 53.3mpg.
CO2 EMISSIONS: 135g/km.
FUEL TANK: 50 litres.
INSURANCE: Group 10
PRICE: £13,995 (£14,490 as tested).
WARRANTY: 3 years/60,000 miles
WEBSITE: www.dacia.co.uk
• All data correct at time of publication.