Citroen C4 Cactus Feel BlueHDi 100 road test report review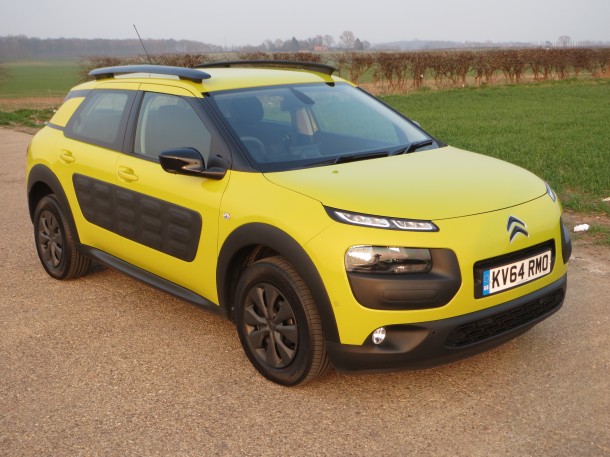 Citroen C4 Cactus Feel BlueHDi 100 road test report and review: Citroen has done it again with this quirky C4 Cactus. DAVID HOOPER says hello to this yellow newcomer.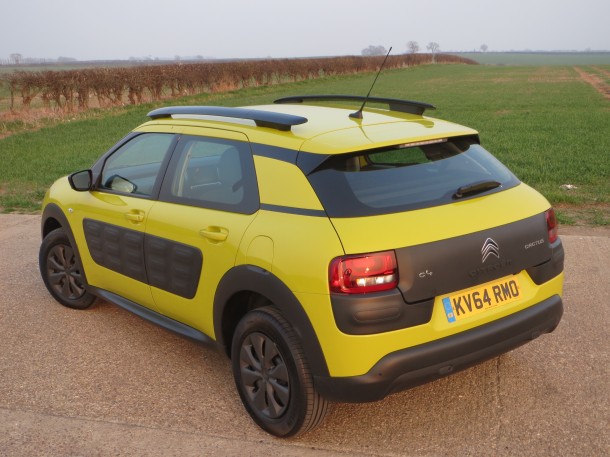 THIS is Citroen's C4 Cactus and let's be honest, it's hard to miss, especially in this brightest of lemon yellow colours. It's officially called Hello Yellow.
But the car itself is certainly no lemon having already found favour with numerous buyers and reeling in a bucket full of awards including a Car of the Year gong.
While the Citroen C4 Cactus may not be everybody's cup of tea, this is Citroen at it's quirky best and they've produced a car which is difficult to pigeon-hole – which is not easy when there are so many sub categories for just about every occasion, so Citroen should be congratulated for creating yet another niche of their own.
Walking around the car you will notice the distinctive signature lighting split by more of the colourful paintwork, but there is an abundance of black trim which may not be its most attractive feature but is eminently practical for a car designed to spend its life in the urban jungle and so it is well protected against those annoying car park and dings which not only damage the car, but can also affect its second-hand value.
Protected wheel arches are nothing new, but the oversized panels on the car's midriff certainly are. Citroen call them Airbumps – and that is exactly what they are cushioning blows to the car's doors in the supermarket carpark.
At the back there is yet more plastic trim, which also covers a lot of the tailgate and extends to the bottom of the bumper.
The carbon fibre effect wheel trims on steel wheel rims finish off the "look" – and like it or not, is impossible to ignore
The inside of the Citroen C4 Cactus is just as remarkable and looks like nothing I've seen before, and comes with three trim levels, Touch, Feel and Flair. The dashboard top resembles a suitcase with straps and is opened by lifting one of the catches to reveal a deep glove box which also contains a USB socket and 3mm jack to connect iPods and other accessories like phones.
There is an intriguing mix of interior materials ranging from hard wearing plastics on the doors to soft-touch armrests, large door pockets and old-fashioned pull handles to actually close the doors with.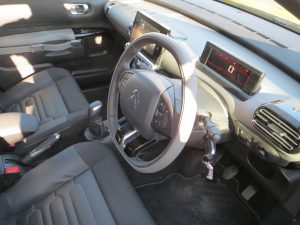 The seats are covered with an attractive stitching pattern which comes as part of the black leather and cloth pack at £695.
The two front seats are split by a central armrest which you can fight over with your passenger, while in the back there is room for three passengers. The rear door windows are interesting and feature a catch which opens at the back of the door to allow ventilation. The benefit comes in some weight saving – and a huge door pocket because there is no need for a winding mechanism within the rear door to operate the window.
At the back of the car the boot is probably about the most conventional aspect of the Citroen C4 Cactus, but a high lip can make loading bulkier items difficult. The dashboard consists of a screen about the size of an iPad sticking on top of the centre console and this controls all the car's main functions and our test car featured optional extras in the form of the Navigation Hi-Fi pack at £495.
On the steering wheel there are multi function buttons but thankfully not as many as we have seen on previous Citroen models. In the Cactus they are limited to cruise control and radio functions.
Instrumentation is minimalistic to say the least and features a fuel gauge and a digital speedometer on a small display visible through the steering wheel.
A brilliant addition for families is the ability to remotely lock the rear doors and activate the child locks so that small people have no means of escape at inopportune moments.
Our test car also featured the City Park Pack at £595 which will automatically reverse you into a parking space so long as you work the pedals and although I've seen some of the systems work numerous times it is still a joy to behold when the steering wheel starts turning all by itself.
The engine in our test car is the PSA group's latest 1560cc turbo diesel in this application developing 100bhp and 254 Nm of torque and emits an impreSsively low 82g/km of C02.
The cars maximum speed is 114 mph while the 0-62mph sprint is completed in a reasonable 10.7 seconds.
The car features a five speed gearbox and although it cruises nicely at motorway speeds and on A-roads, it doesn't feel comfortable in fourth gear at 30mph in town and in these days when a six-speed gearbox is the norm, it seems counter intuitive driving around in third gear.
However the figures speak for themselves with Citrown quoting 94.2 mpg on the extra urban cycle and 80.7 mpg on the urban cycle. The figures may seem unrealistically high but during my test I achieved in excess of 60 miles to the gallon without trying too hard, which in itself is pretty impressive.
Other engine options include 74bhp, 81bhp and 108bhp 1.2-litre petrols and the latest e-THP turbo unit, as well as 91bhp and 99bhp 1.6-litre turbo diesels.
Parking sensors fore and aft and a full colour reversing camera make parking this car a stress-free operation, no matter how tight the spot may be.
The Citroen C4 Cactus is different, it's garish, it's fun and during my few days with the car gained as much attention as some far more exotic test cars do.
At nearly £19,000 on the road this particular model isn't cheap but with the range starting from just under £13,000, you can stand out from the crowd for much less money than that.
Rating: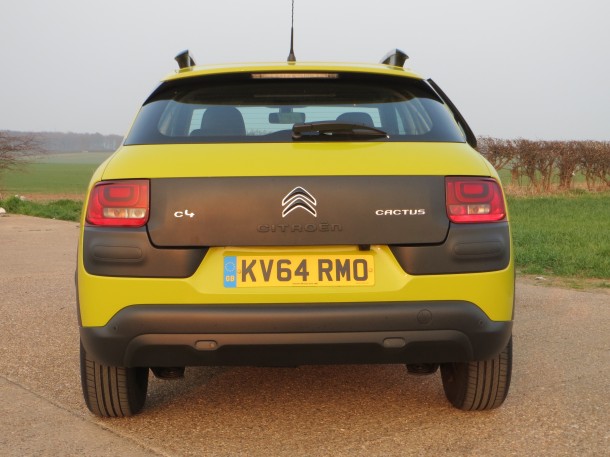 If you like this, have a look at our Citroen DS3 Cabriolet review
THE VITAL STATISTICS
MODEL: Citroen C4 Cactus Feel BlueHDi 100 manual in Hello Yellow/Black Airbumps.
CITROEN C4 CACTUS RANGE: From PureTech 75 manual Touch (£12,990) to e-HDi 92 ETG6 Flair (£18,290).
ENGINE: 1560cc, 100bhp four-cylinder diesel engine, driving front wheels through 5-speed manual gearbox.
PERFORMANCE: Top speed 114mph. 0-62mph in 10.4 secs.
ECONOMY: City: 80.7mpg.
Country: 94.2mpg.
Combined: 91.1mpg.
Wheel World test average: 60.4mpg
CO2 EMISSIONS: 82g/km.
FUEL TANK: 45 litres.
INSURANCE: Group 18.
PRICE: £16,690 (£18,870 as tested).
WARRANTY: 3 years/60,000 miles.
WEBSITE: www.citroen.co.uk
• All data correct at time of publication.