Audi TT Roadster road test report review – third time lucky for sporty drop-top
Audi TT Roadster road test report review – Sporty drop-top impresses JON SMITH as Audi gets it right with the third generation of the popular TT.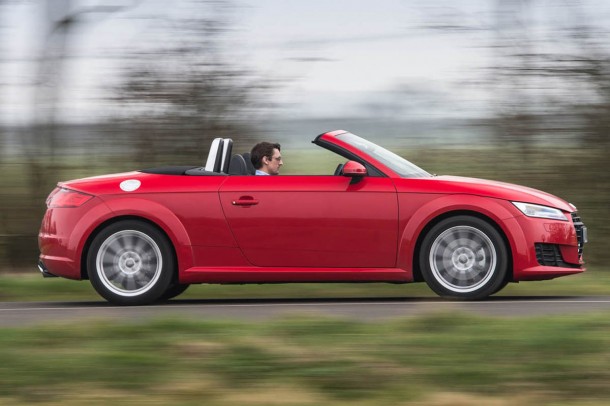 Audi TT road test report review – third time lucky for sporty roadster as improved handling sharpens up its act!
THE radically styled Audi TT Roadster was almost the perfect sports car when it first appeared back in 1999 – great looking, fast and affordable to more people than you might think.
But there was just one ingredient missing from the ultimate recipe. Somehow it lacked that seat-of-your pants responsiveness and athleticism that differentiate a 'sporting' car from a true 'sports car'.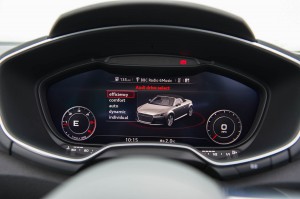 That quality also eluded the mark two version. But now, the third generation model has been transformed with sharper handling and near razor-sharp reactions thanks mainly to its new MQB platform.
Together with more powerful engines – they are also less thirsty – the latest Roadster is an altogether more engaging drive.
Prices go from £32,995 to £37,555 and the line-up includes diesel 2.0 and petrol 2.0TFSI engines, a choice between two wheel drive and quattro four-wheel-drive. Some models are available with six speed S tronic instead of six speed manual.
At the top of the range is the more powerful TTS Roadster with 308bhp and quattro four wheel drive. First deliveries of that go out in June and prices start at £41,085.
Unlike rivals Merc and BMW, Audi has stuck with a fabric roof to cut weight and maximise luggage capacity – the boot holds a useful 280litres.
Mind you, the hood with its three-layers of fabric is a far cry from the 'rag-tops' of the past and can be erected or dropped electrically in a mere 10seconds at speeds up to 31mph…very handy for dodging rain showers. Padded and well insulated, it makes the cabin snug and silent with barely a hint of wind noise.
Most popular version is likely to be the 2.0TFSI manual in two wheel drive guise at a tad over £32,000.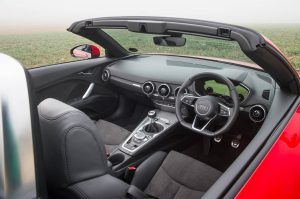 The 228bhp, four cylinder engine is a real gem. Its easily accessed power and free-spinning character helps make the TT one of the easiest and least demanding sports car to drive quickly.
And quick it definitely is with acceleration to 62mph in 6.2seconds. A fraction of a second is shaved off this time by the S tronic and the quattro is half a second faster still thanks to its extra grip.
Despite the turn of speed, the manual TFSI clocks up CO2 emissions of just 140g/km and the combined economy is 47.mpg. Most owners will be able to hit the 40mph mark on everyday running. More frugal still is the 2.0TDI ultra which records a mere 114g/km and 65.7mpg, yet will polish of the 62mph sprint in just over seven seconds.
Both the front drive and quattro versions I drove felt reassuringly glued to the road as lateral forces rose during spirited cornering. Steering is nicely weighted and sends the relevant messages back to the helm while insulating the driver against the inevitable shocks from poor road surfaces.
Cabin noise is subdued apart from a pleasing, close-meshed snarl from the exhausts.
An optional electrically operated wind deflector keeps the cabin free of from buffeting and allows you to listen to music or chat without raised voices at the legal speed limit.
The interior design is largely carried over from the Coupe and includes Audi's 'virtual cockpit' which is based around a 12.3-inch high res LCD display that fills the binnacle in front of the driver.
It replaces the traditional analogue dials and includes the sat-nav screen. It is certain to be seen soon across the company range. Although a bit daunting at first, most of us may take a little time to adjust to the innovation but once mastered you'll wonder how you managed with the old system.
The rest of the cabin is pure Audi with high quality mouldings, soft nappa leather and an ambience that is a cut above the rest. Scuttle-shake or rattles are non-existent and there's a sense of occasion about the compact but comfortable surroundings.
With its new-found dexterity and dynamics, the TT Roadster immediately broadens its appeal to take customers who may previously have ruled it out.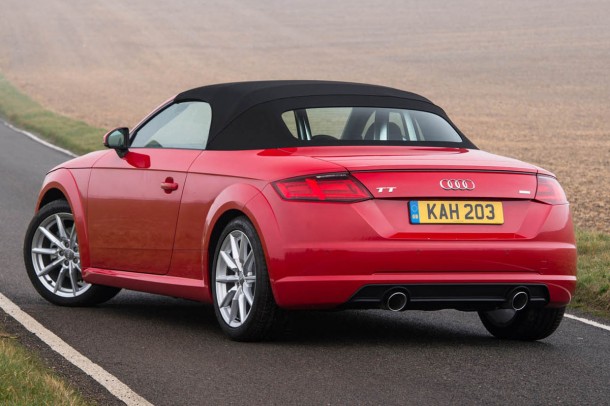 Rating:






If you like this, why not read our Audi TT Coupe review