Audi TT Coupe S line quattro 230 PS S tronic road test report and review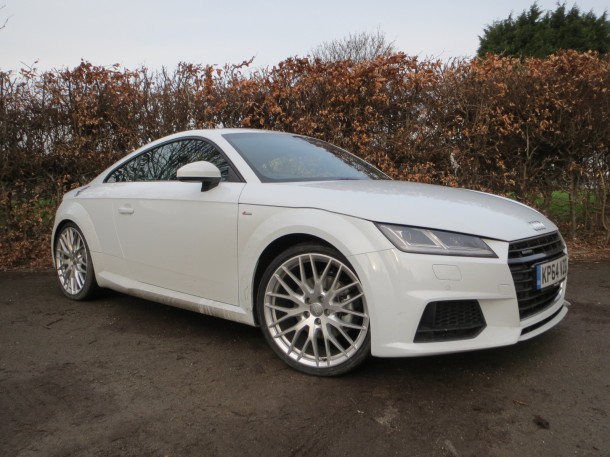 One for the gadget freaks – DAVID HOOPER reports on a car with space-age instrumentation which will both amaze and delight in equal measure.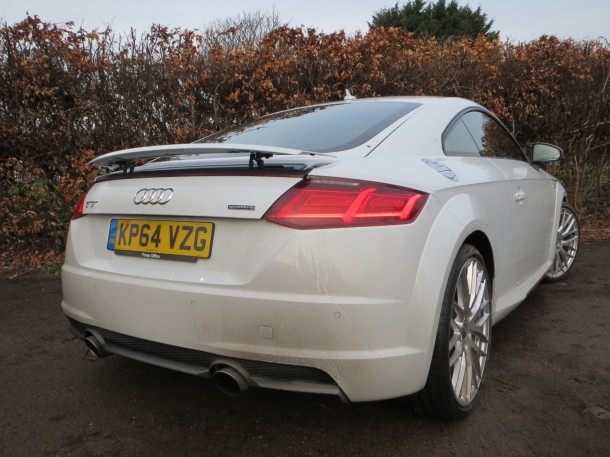 IF you like technology, you're going to love this new Audi TT – the dashboard alone will be enough to clinch some sales – I'm sure of that – it's like something off the Millennium Falcon in Star Wars.
The centre console where the instruments sit also doubles as the sat nav screen – no longer is it in a 7in screen in the middle of the dash. The size of the display is adjustable, as are the rev counter and speedo, which at the flick of a button on the steering wheel can shrink into the bottom corners of the display to make room for a bigger map, which you can zoom in and out of as you wish. As you drive, and the car turns, the entire display swivels like a computer game. It's ace and will amaze gadget freaks of all ages for hours!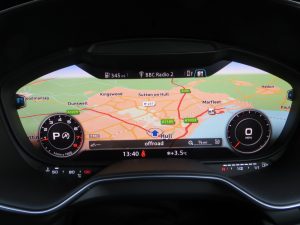 Then there are the brilliant indicators which strobe in the direction you are turning – I only know because my over-excited electrician of a brother-in-law sent me a text to tell me after he'd followed the TT out of a car park. Apparently he'd tried to video it as well, would you believe? If you indicate left, the orange light illuminates at its right-hand end and strobes to the left – a Mexican Wave of orange indicator light – the front ones do the same – I checked, and I love it!
Another clever bit of design in this all-new model is what Audi has done with the heating and ventilation controls. They are now incorporated in the centre of the air vents, with the two outer ones controlling the heated front seats – you probably won't be surprised to hear that they took me a little while to find! These are a £1,600 Comfort and Sound package which also includes a superb Bang and Olufsen sound system. It all makes the dash look quite minimalistic, if you like that sort of thing.
It's all clever stuff and makes the new TT feel quite special. Our test car was also fitted with Rotor grey fine Nappa leather Super Sports quilted front seats, another pricey but very effective option at £1,800, but one which made the interior look a bit like a designer handbag, but all the better for it.
The new Audi TT is available as a soft top, or this stunning coupe, which is slightly quieter than the convertible model, but only slightly, so good is the quality of the convertible's roof – it all depends how much you want the wind in your hair, I guess.
The car not only looks fantastic, but in this 2.0-litre TFSI guise, it's also a potent performance car. The benchmark 0-62mph sprint is dismissed in just 5.9 seconds with a potential top speed of 155mph on tap, but it's the bit in between that most owners will enjoy.
Quiet, refined, comfortable, but engagingly quick and surefooted, thanks to its Quattro four-wheel-drive system, the Audi TT not only goes like a train, it sticks to the road like it's on rails too, providing virtually unshakeable grip, even on slippery road surfaces, I had to really try to provoke any kind of electronic intervention from the car's safety systems.
With all this get-up-and-go on tap, the economy takes a bit of a hit, and during my test the car returned 27.8mpg over 270 miles, but I did enjoy the car.
The 6-speed S tronic gearbox was a delight, easy to drive in traffic, and providing lightning quick and almost imperceptible changes with the dynamic mode engaged and an enthusiastic driving style adopted. The car makes the automotive equivalent of a sonic boom as it changes up under hard acceleration and blips the throttle on the downshift, all adding to the fun and games and a truly superb driving experience.
The list price of this car in standard form is around £34,545, but with all the extras on our test car you would have to sign a £45,000 invoice to have this little beauty sitting on your drive – but in my book, you wouldn't regret a penny of your spend!
Rating: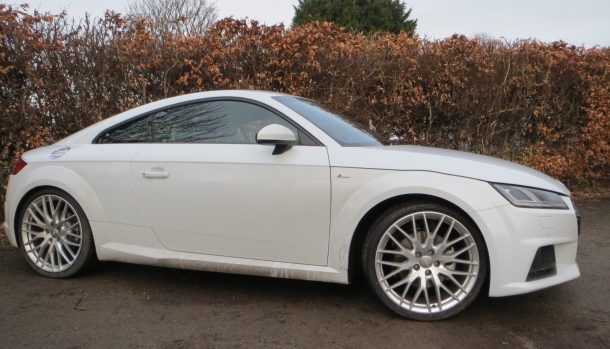 THE VITAL STATISTICS
MODEL: Audi TT Coupe S line 2.0 TFSI quattro 230 PS S tronic.
AUDI TT RANGE: From 2.0 TFSI Sport (£24,237) to 2.0 TFSI quattro S line Roadster S tronic (£37,555).
ENGINE: 1984cc, 230PS four-cylinder petrol engine, driving four wheels through 6-speed  S tronic gearbox.
PERFORMANCE: Top speed 155mph. 0-62mph in 5.9 secs.
ECONOMY: City: 34.4mpg.
Country: 54.3mpg.
Combined: 44.8mpg.
Wheel World test average: 27.8mpg
CO2 EMISSIONS: 146g/km.
FUEL TANK: 50 litres.
PRICE: £33,905
WARRANTY: 3 years/60,000 miles.
WEBSITE: www.audi.co.uk
• All data correct at time of publication.
Audi TT Coupe S line quattro 230 PS S tronic road test report and review