Citroen DS3 DStyle Plus PureTech 110 road test report and review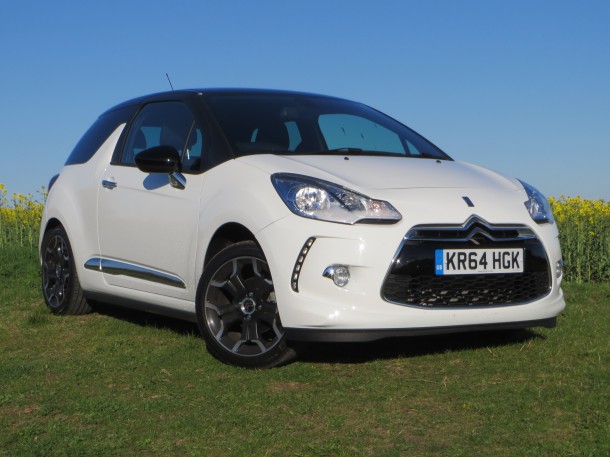 Citroen DS3 DStyle Plus PureTech 110 Stop and Start – DAVID HOOPER enjoys a few days with Citroen's impressive three-cylinder engine in this excellent DS3.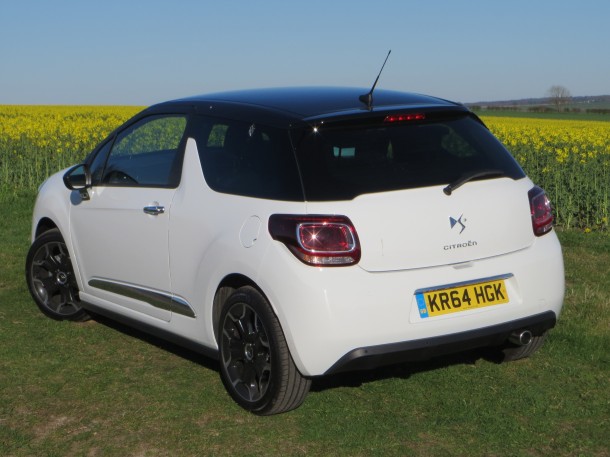 THE Citroen DS3 is an excellent little hatchback that looks good and is fun to drive, but the car itself is not the main focus of this roadtest, it's what's under the bonnet that is the main talking point.
Some say that having only three cylinders can be a disadvantage due to the lack of bottom-end torque, but in this case, thanks to Citroen's use of a slightly larger capacity engine, I would disagree.
I first came across this excellent PureTech engine during a Citroen C3 car launch in Paris, based at Citroen's headquarters.
Driving through Paris was an experience I still haven't forgotten – to say it was a bit hairy would be an understatement, but we managed to complete the exercise without a scratch on the new cars – thank goodness!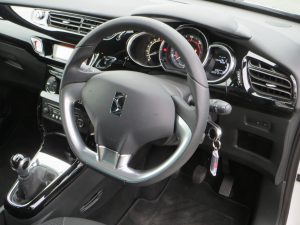 And that PureTech engine is as impressive now as it was then, providing an eminently driveable car which, for the uninitiated, is hard to distinguish from the usual four-cylinder configuration, at least until you wind the rev counter around the clock to reveal that distinctive three cylinder burble, albeit in a refined way in this DS3 with its upmarket feel.
I think Citroen's choice of a 1.2-litre three-cylinder engine, rather than the 1.0-litre capacity many rival manufacturers have plumped for, pays dividends in terms of performance and refinement.
In this car, the benchmark 0-62mph sprint is completed in a respectable 9.6 seconds, and the car has a top speed of 118mph, so there are few issues with the car's performance.
The official fuel consumption figures are as misleading as ever. They claim 47.9mpg on the urban cycle, 70.6 on the extra urban and 60.1mpg on the combined cycle, but needless to say, during my few days with the DS3 which included the full mix of A road, motorway and town driving, as well as a fair bit of busy city traffic, the car returned an average of 43.4mpg over a total distance just shy of 300 miles. Not bad, but no better than just about any modern diesel you care to mention, and quite a few four-cylinder petrol engines will also stand comparison now. Drive like a saint, and you will no doubt be able to improve on the figure I achieved, but dynamically the DS3 is a great car to drive and I have to confess, I did enjoy driving this model, with its surefooted, well-balanced handling.
The Stop & Start system helps to save a bit of fuel in town traffic – when you remember to take it out of gear and take your foot off the clutch to turn the engine off. It restarts the instant you touch the clutch pedal again, and the savings, although small, can add up to several minutes of fuel saved over the course of a week's commute, and it all contributes to the low C02 emissions figure of 107g/km.
The DS3 is also available with a less powerful, lightweight, fuel efficient three-cylinder VTi 82 engine, as well as a wide choice of conventional four-cylinder petrol and diesel units.
The DS3 model line now boasts a six-model range which features a huge choice of interior and exterior colour combinations which can be matched with a host of trim materials and finishes, even the key fob can be personalised, which means no two Citroen DS3s are likely to be the same.
It all adds up to endless hours of fun designing your DS3, pouring over the brochures and car configurators to come up with the perfect DS3 for you!
Rating: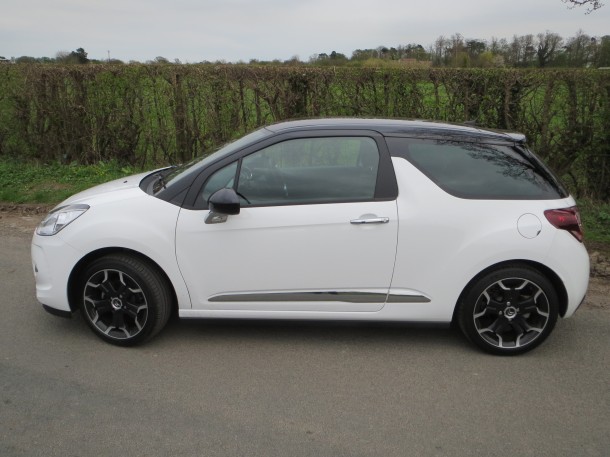 If you like this, read our review on the Citroen Cactus
THE VITAL STATISTICS
MODEL: Citroen DS3 DStyle Plus PureTech 110 S&S manual in Polar White/Black.
CITROEN DS3 RANGE: From DSign PureTech 82 (£13,295) to DSport BlueHDi 120 S&S 6-speed (£21,295).
ENGINE: 1,199cc, 110bhp three-cylinder petrol engine, driving front wheels through 5-speed manual gearbox.
PERFORMANCE: Top speed 118mph. 0-62mph in 9.6 secs.
ECONOMY: City: 47.9mpg.
Country: 70.6mpg.
Combined: 60.1mpg.
Wheel World test average: 43.4mpg
CO2 EMISSIONS: 107g/km.
FUEL TANK: 48 litres.
INSURANCE: Group 19.
PRICE: £15,630 (£16,450 as tested).
WARRANTY: 3 years/60,000.
WEBSITE: www.citroen.co.uk
• All data correct at time of publication.