Alfa Romeo Giulietta QV road test report review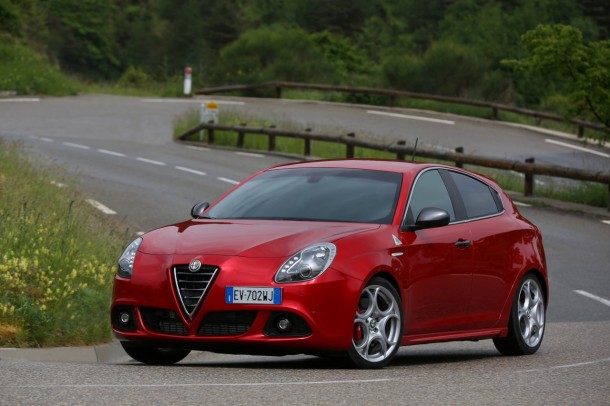 We try out the splendid Giulietta special QV as Alfa Romeo celebrates 60 years of the prestigious Italian beauty.
TO give it its full name, as Alfa Romeo do even in the UK, this is the Giulietta
Quadrifoglio Verde – celebrating 60 years of the Giulietta name and bearing on its flanks the green four-leaf clover, which has adorned high-performance versions of the Italian maker's road-going models since the 1960s.
In fact it hails from Alfa's great sporting heritage, being first used on the RL driven by Ugo Sivocci to victory in the 1923 Targa Florio. That established it as a good luck motif to be carried on all racing Alfa Romeos and, from the 1960's onwards, on high-performance versions of road-going models.
This range-topping QV version certainly looks the part – splendid in brilliant Alfa Red, side-skirted, windows tinted, low on its sports suspension, the front number plate worn jauntily to one side, that iconic Milanese emblem atop the V-shaped grille, red Brembo brake callipers peeping through the 18-inch alloys and big-bore twin tailpipes hinting at the power within.
Inside, that QV logo is repeated around the tastefully-furnished cabin with its stitched leather trim for the body-hugging sports seats, flat-bottomed steering wheel, gear lever and parking brake. The boot at just 350 litres is not the largest in its class and despite the usual seat and steering column adjustments it's worth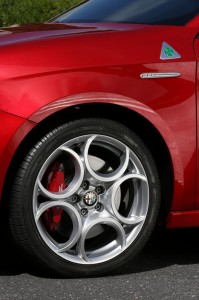 taking some time to settle into a comfortable driving position, ready for the off.
There's a 6.5-inch touch screen fronting a multi-media system, including integrated sat-nav, bird's eye mapping and voice input of your destination.
Under the bonnet is the turbocharged 1,742 cc, 240 bhp, four-cylinder petrol engine first tried last year in the raw-boned Alfa 4C sports car. With 80 per cent of its torque available from just 1,800 rpm, it makes for spirited country road motoring as well as thrusting getaways.
Standard transmission is the smooth-acting Alfa TCT twin dry clutch semi-automatic, also from the 4C. If the mood takes you, it can switch to manual changes through either the gear lever or steering wheel paddles. As standard on Alfas, you can customise throttle, steering and gear change settings.
Intake and exhaust systems specific to the QV are allied to a new fuel intake unit to 'enhance' the engine note at low frequencies, as if any gloriously warbling Alfa engine needed vocal aids. It all adds up to a rewarding driving experience.
If actual performance figures are not real supercar class, there is on hand what is termed a "Launch Control" system. Not quite on a Cape Kennedy scale, this again is inherited from the 4C, which I first experienced in the relative safety for all concerned of a race track.
As if on a starting grid, you press the aluminium brake and accelerator pedals fully down (one for each foot) squeeze the down-shift paddle on the steering wheel, then release the brake. It could pass for a rocket start. The system governs traction control, power delivery and transmission upshifts to maximise acceleration. On the clock it is claimed to shave 0.8 seconds from the benchmark 0-62 time (making it a respectable 6.0 seconds).
It's more to do with the sensation than the shaving (a similarly priced Golf 2.0 TSI 300R is still quicker). But you may ask whether aspiring Jeremys should be encouraged to launch themselves up the high street? On the environmental plus side, the Giulietta is top-rated in NCAP industry-standard crash tests.
And if Alfa's reliability remains questionable, its faithful admirers are still ready to give it an overall four-star approval, according to a recent consumer survey.
Rating:





If you like this, have your seen our other Alfa Romeo reviews?
THE VITAL STATISTICS
Model: Alfa Romeo Giulietta special QV version
Body: Five-door; five-seat medium hatchback; boot 350 litres
Size Length: 4,351 mm; width 1,798; ht 1,465; wt 1,320 kg
Engine Petrol: 1,742 cc; 4-cyl; turbo; front drive; TCT 6-speed semi-auto
Power: 240 bhp @ 5,750 rpm; max torque 340 Nm @ 2,000 rpm
Pace: 152 mph; 0-62 in 6.0 secs
MPG On test: 34.8; official combined 40.4; tank 60 litres
CO2: 162 g/km; tax band G; VED £180; BIK 25%
Insurance Group: 33
Warranty: 3 yrs; paint 3 yrs; anti-rust 8 yrs; breakdown 3 yrs
Price: £28,120
Website: www.alfaromeo.co.uk