Nissan Note n-tec 1.2 manual road test report and review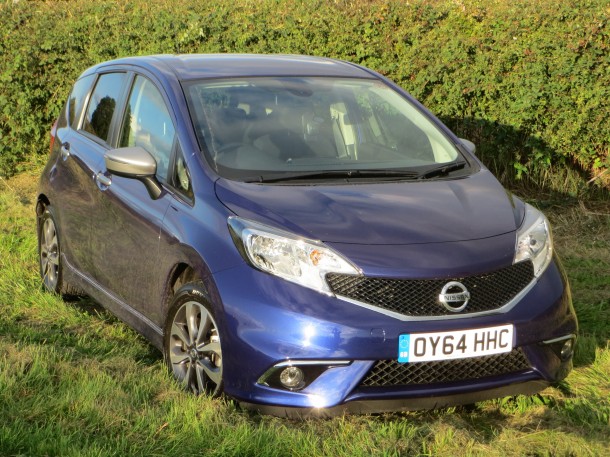 Nissan Note n-tec 1.2 manual road test report and review: In this n-tec guise the Nissan Note has lots of kit, but a low-powered three-cylinder engine? DAVID HOOPER says that while the car is good, the engine may not be everyone's first choice.
IN this stylish n-tec specification which adds lots of extra trim, styling flourishes and safety equipment this version of the Note will strike a chord with many buyers.
Its attractive Ink Blue paintwork may well seal the deal, but the 1.2-litre three-pot with just 59PS won't be everybody's cup of tea. It's not bad around town, which is probably where most buyers of this model will stay, and once up to speed it cruises quietly, but if you need to overtake anything quicker than a tractor, you will struggle.
It comes with exclusive 16in alloy wheels, satin silver door handles and mirror caps, a carbon look rear bumper, a glossy black grill, chrome daytime running light finishers, and rear privacy glass.
The interior of the Nissan Note is quite austere, with lots of black plastic with very little bright work to break up the monotony. Even the centre console which is home to the trendy air-conditioning unit and the entertainment centre with its colour screen sat nav which doubles as a reversing camera is surrounded by piano black trim.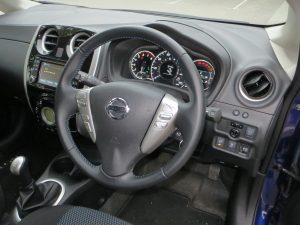 The only relief from the black theme are silver strips on either side of the centre console, around the gear lever and on the steering wheel which houses the multifunction buttons.
The main instrumentation is clear and easy to read and includes a trip computer, speedometer, gear-change indicator, two trip metres and the rev counter.
The interior featured plenty of storage compartments with a generously proportioned glovebox and a good supply of cupholders including on the centre console.
In the back of the car there is an impressive amount of leg room thanks to the Note's long wheelbase.
The rear seats slide back and forth to allow you to adjust the amount of legroom depending on the required luggage space and size of the rear passengers, but even with the rear seats in their rearmost position, there is still a decent amount of boot space.
Visibility is good from the driver's seat thanks to large windows. The "A" pillar isn't too intrusive, although it can obscure the view through some corners or on roundabouts, so care has to be taken.
On the road the Nissan Note with its distinctive sounding three-cylinder 1.2-litre engine is a willing performer and pulls well through the gears providing surprisingly sprightly performance when you work it hard, but as with many engines of this type, there is little usable torque which means you have to use the gears to make the car go with any kind of intent.
The payback, of course, is low-cost road tax (£20 per year) and CO2 emissions which makes the Note an affordable car to buy and run.
During my test it averaged 48.3 mpg which is quite good for such a small engine, but that is hardly a match for a modern diesel. Nissan's own 1.5 dCi quotes a combined figure of 80.7mpg, much higher than the official combined figure of our test car, at 50.1mpg, and that comes with an extra cylinder and lots more torque, but if you like the three-cylinder engines, there are more powerful versions of this engine available with other trim grades.
The five-speed gearbox slots accurately from gear to gear, and if you put the car into neutral at the traffic lights and take your foot off the clutch the engine cuts out and unlike some cars in this class, it stays off until you press the clutch again. It remains off for what seems like several minutes at a time.
For such a small car I was surprised to find a lane changing indicator which alerts you if you drift out of your lane on a motorway.
Our test car tipped in at around £15,400, so if you are looking for an affordable runabout with practicality in spades, then you won't go far wrong with a Nissan Note. It's comfortable, pleasant enough to drive and cheap to run, and if this particular model is too dear for you, the range starts from £9,995.
Rating: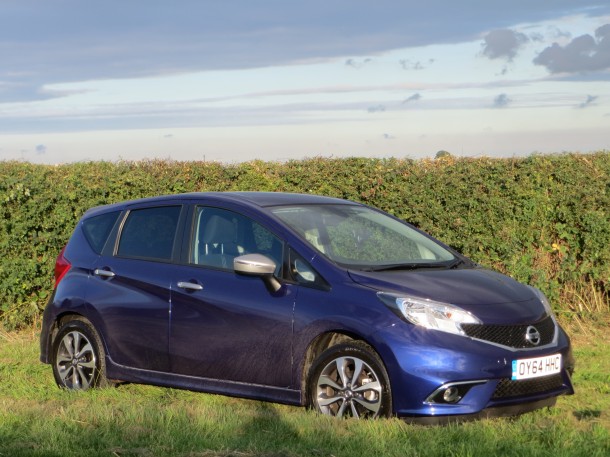 If you like this, read our review on the Nissan Qashqai
THE VITAL STATISTICS
MODEL: Nissan Note n-tec 1.2 manual.
ENGINE: 1198cc, 59PS three-cylinder petrol engine, driving front wheels through 5-speed manual gearbox.
PERFORMANCE: Top speed 106mph. 0-62mph in 13.7 secs.
ECONOMY: City: 47.9mpg.
Country: 70.6mpg.
Combined: 50.1mpg.
Wheel World test average: 48.3mpg
CO2 EMISSIONS: 109g/km.
FUEL TANK: 41 litres.
INSURANCE: Group 10
PRICE: £15,365.
WARRANTY: 3 years/60,000 miles.
WEBSITE: www.nissan.co.uk
• All data correct at time of publication.