Mitsubishi Outlander 2.2 DI-D GX4 Auto road test report and review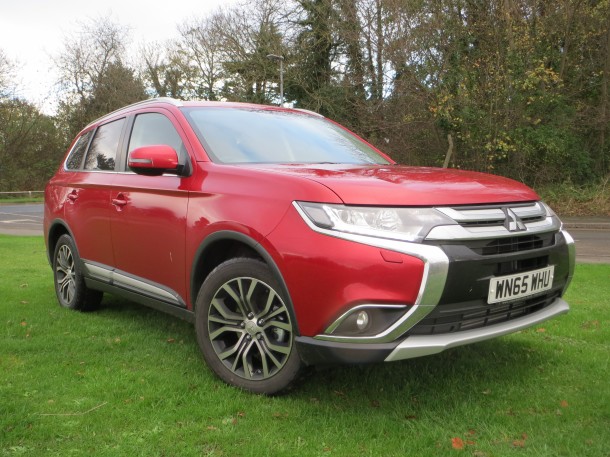 Mitsubishi Outlander 2.2 DI-D GX4 Auto road test report and review: DAVID HOOPER has been finding out what this comfortable and practical seven-seat SUV is like to live with.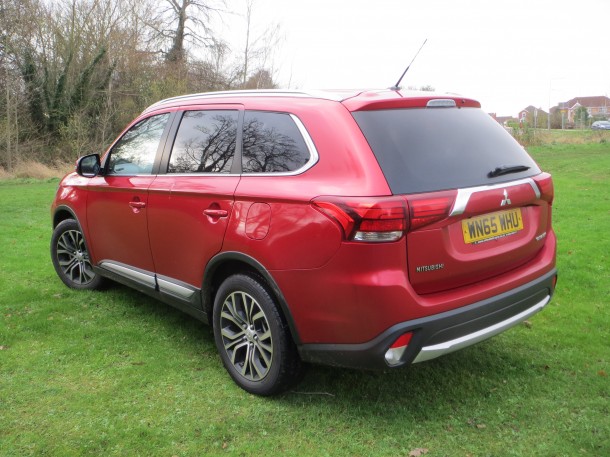 THERE are two distinct versions of the latest Mitsubishi Outlander, the PHEV GX3h, or Plug-in Hybrid Electric Vehicle, or this week's test car which is the 2.2-litre diesel-engined model.
The PHEV model is proving quite a hit with business drivers thanks to its beneficial tax regime and good all-round usability, and is also a popular choice for the planet-saving green lobby to help them keep their consciences clear (don't mention the batteries!).
But for many Mitsubishi customers, a conventional diesel is still the preferred option and our test car demonstrates what a practical 4×4 the Mitsubishi Outlander is as day-to-day family transport.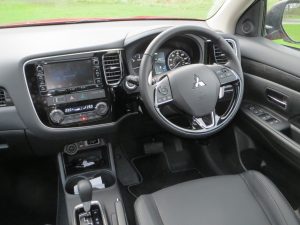 This big Mitsubishi Outlander looks very classy with lots of chrome work complementing the angular lines which come as standard with a large 4×4 SUV. It has a switchable four-wheel-drive system which aids economy by only using two wheel drive in normal use, and an eco-button which helps to maximise fuel economy and lets you grow virtual trees as you drive, the Outlander coaches you in eco-driving techniques as you travel.
Our test car is the top model of the current range and comes with seven seats, although the extra two at the back are barely big enough for children, but do fold flat into the boot floor when not in use. There are five leather seats up front, with the three rear seats folding down flat at automatically at the touch of a button. The rear seats also slide forward and backwards to adjust legroom and boot space depending on requirements which is a useful feature when you are away for a few days.
There is a large central armrest which allows you to connect your MP3 player and telephone via USB or 3mm jack sockets as well as a 12V socket in the dash. A central screen in the dashboard is home to the radio and satellite navigation system but the satnav lady has quite a severe voice and is a bit on the bossy side. The interface could also be better as it insists that you enter street names even when you are using a postcode.
Another minor niggle is the button for the trip computer which is hidden behind the wiper stalk on the dash and can be quite hard to find until you get used to its location.
The tailgate can be opened remotely from inside the car at the press of a button and you also get a reversing camera which helps you squeeze into the tightest of places with relative ease.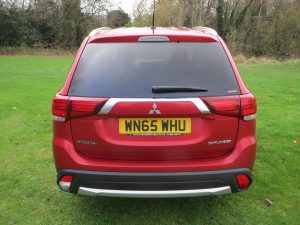 There is a trip computer, and various other displays but I particularly liked the environment display which incorporates an altimeter, outside temperature and a barometer, so you can keep an eye on the weather as you drive.
The 2.2-litre diesel engine, which in fact at 2,268cc is actually nearer a 2.3-litre unit, is very smooth and the six speed automatic gearbox works very well. It even has a low range setting, which combined with steering wheel mounted paddles, allows ample control for most situations, although the car does not include a hill descent system as many of its competitors now do, so isn't really intended for serious mud-plugging.
The combination of an automatic gearbox and a 2.2-litre diesel engine are not the most economical, with the car averaging around 36mpg at motorway speeds on a long run, but I did see a return of 42.1mpg on a steady drive of around 100 miles, which isn't too bad for a car of this size, but isn't that good either by today's standards.
The Outlander is easy to drive and manoeuvre, and is very comfortable thanks to fairly soft suspension settings, but of course there is a payoff when it comes to pressing on a bit, where the body role becomes more evident. That said, it is never a problem, but can prompt comments from your rear seat passengers.
Our test car featured Mitsubishi's Keyless Entry and Go system which is very convenient when your arms are full of shopping or walking kit as mine often were during a wet weekend in North Yorkshire.
The addition of a sunroof is something of a rarity these days, But served to remind me what a nice feature it can be, allowing light to flood into the car on dark winter days.
The Mitsubishi Outlander is an easy car to drive over long distances and is quiet at motorway speeds with very little road noise intruding into the cabin.
So whether you are a business driver who finds the PHEV more desirable, or prefer the uncomplicated diesel version, most people will find the Outlander a capable, comfortable which is both easy to live with and practical.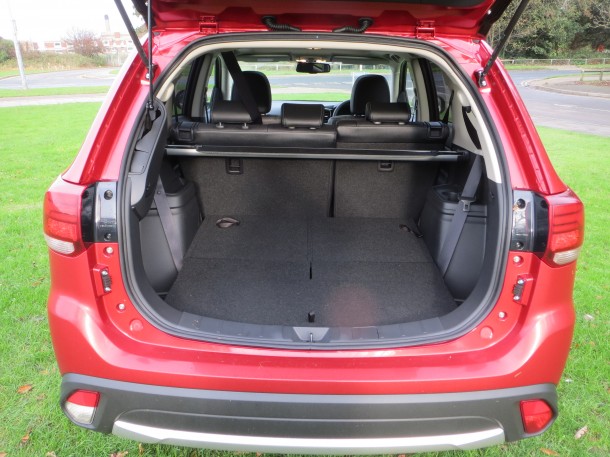 Rating:





If you like this, but want something smaller, read our review on the ASX
THE VITAL STATISTICS
MODEL: Mitsubishi Outlander 2.2 DI-D GX4 Auto.
ENGINE: 2,268cc, 147bhp four-cylinder diesel engine, driving four wheels through 6-speed automatic gearbox.
PERFORMANCE: Top speed 118mph. 0-62mph in 11.6 secs.
ECONOMY: City: 40.9mpg.
Country: 54.3mpg.
Combined: 48.7mpg.
Wheel World test average: 36.2mpg
CO2 EMISSIONS: 153g/km.
FUEL TANK: 60 litres.
INSURANCE: Group 12.
PRICE: £33,134.
WARRANTY: 3 years/62,500 miles.
WEBSITE: www.mitsubishi.co.uk
• All data correct at time of publication.