Mitsubishi ASX 2.2 DiD4 4WD Auto road test report review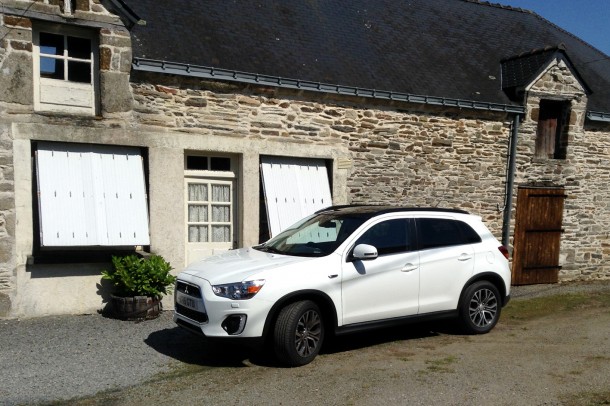 Mitsubishi ASX 2.2 DiD4 4WD Auto road test report review: VAL JESSOP puts the latest model through its paces on the Continent.
WHAT IS so puzzling about the Mitsubishi ASX is why it hasn't been more popular in the UK.
Curiously, and without referring to statistics, its presence seemed more obvious on roads on the other side of the Channel, where a Breton neighbour had one and which, coincidentally, sported the same dashing white livery as the test car!
The compact SUV crossover has been on sale in Britain for five years and until now seems to have hid its light under a bushel.
In fact, the ASX is a well put-together vehicle which meets the criteria of so many people wanting a tough-looking but capable SUV that struts its stuff in the city as well as excelling as a long-distance cruiser.
The updated model has undergone some deft re-sculpturing on the nose and wheelarches and has new wheels which have certainly given the car a more modern look. However, it still maintains that honest, robust persona which not all contemporary crossovers manage to achieve. It looks smart, appealing, but the macho character remains intact.
The ASX is an easy vehicle to live with, providing relaxed and no-nonsense driving while its compact dimensions belie an impressively spacious interior.
Available in 2WD or 4WD form, this test car was the latter and came with a 2.2-litre diesel and auto box which proved an ideal combination for stress-free, long-distance cruising during a 1,000-mile plus jaunt. Comfort was excellent on the raised platform which provides that all-important elevated outlook.
It shares the same wheelbase as the larger Outlander SUV, slightly pared down but still ensuring generous interior space which always raises the quality bar. It even manages to eke out more space in the load area than its star rival, the Nissan Qashqai.
The ASX automatic box transferred seamlessly and quietly and the overall engine noise was also far more subdued than you'd expect. It is only when you jab the accelerator for a quick response from low gears that it sounds more mechanical.
It doesn't provide a rivetingly interactive drive, but it does demonstrate a decent amount of mettle and its easy, relaxed manner and high level of comfort will appeal to many.
In town, it is just as care-free and easy-going and even before switching to 4WD, the SUV feels grippy and well-planted on the road. It corners confidently and the pumped-up squat profile enhances a sturdy, stable demeanour. There is some bodyroll in bends, but this is well within acceptable levels.
In 4WD mode, the car made light work of rutted farm tracks and skipped across a freshly-cut, but deeply-furrowed cornfield. For most owners, such capability is all they require – and the option of four-corner grip along greasy or iced-up roads.
I Iiked the honest, robust quality of the ASX which is smart looking inside and out and particularly so in this top-spec ZC-H model. Everywhere looks and feels solid and though some may quibble at the dashboard being a little dated, it is robust and conveys a rugged durability which fits in with 4WD side.
At £24,884, it may seem pricey, but not when you consider what is on offer. It is awash with equipment and features which make it excellent value-for-money, including leather upholstery, panoramic glass roof and sat-nav.
Standard equipment on entry models include seven airbags, stability control systems, ABS, air-con, electric windows, privacy glass and alloys wheels. The mid-range model adds snazzier-looking 17-inch alloys, rear parking sensors, climate control, heated front seats and cruise control.
One of the most impressive aspects was the average fuel figure achieved over its 1,032 mile test of 43.6mpg, which, for a 2.2 diesel 4WD automatic car is quite acceptable. And it was not that far away from official figure quoted 48.7mpg.
The ASX may not have as much bling as some rivals, but it is smart looking and boasts a NCAP 5-star safety rating. Add to that Mitsubishi's impressive reliability record and decent resale values and the Crossover becomes a very worthy prospect.
Rating:





MODEL: MITSUBISHI ASX 2.2 DiD4 4WD AUTO
ENGINE: 2.2-litre diesel 148bhp 280lb/ft
PERFORMANCE: Top speed: 118mph 0-60mph: 10.8 seconds
ECONOMY: Combined: 48.7mpg
CO2 EMISSIONS: 153g/km
Tax band: G
INSURANCE: Group 19
PRICE: £24,884