Mazda 2 and CX-3 road test report review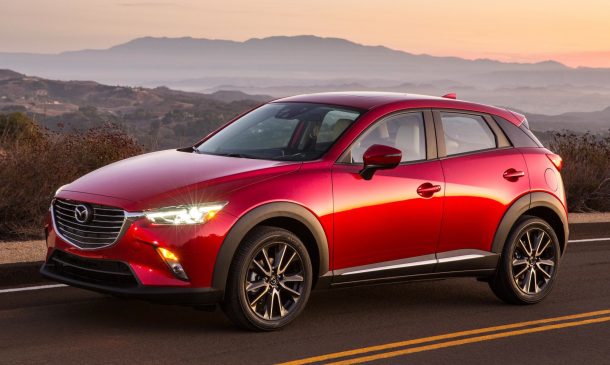 KEITH WARD has a look at some of the latest new models from the Japanese carmaker – Mazda 2 and CX-3 road test report review
IN what Mazda call their "most intense period of activity ever" we have seen this year five new or revised models launched in the UK: the 2 and the 6, plus CX-5, CX-3 and MX-5, so that the Japanese maker now claims the "youngest model line-up of any manufacturer".
They were showcased at a recent regional media driving day.
Youth is paying dividends in terms of Mazda sales here: up by a steady 20 per cent a year since 2012, far outpacing the overall market, to head back to their hey-day level of 50,000 customers annually.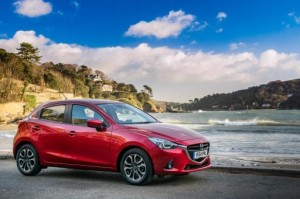 The fourth-generation Mazda 2 is most popular with UK motorists. It owes nothing to its predecessor's twinning to the Spanish-built Ford Fiesta, being independently engineered in Japan and built for the European market in Thailand.
A 16-strong range priced from £11,995 to £17,395 perms five levels of trim with a pair of new 1.5-litre four-cylinder engines stamped with Mazda's own respected but curiously named SKYACTIV technology – a petrol tuned to either 75, 90 or 115 PS, or a 105 PS diesel.
Incidentally, by taking this route of an ultra-low compression ratio, the diesel "easily meets" the latest Euro VI emission regulations without recourse to expensive after-treatment systems – or to cheating devices, Mazda UK state pointedly, in light of the VW scandal.
Regardless, Mazda buyers already tended to favour petrol power. Most popular 2 version is the £14,395 90PS. Mid-range SE-L trim bags you alloys, front fogs, folding heated mirrors, leather steering wheel and gearknob, integrated Bluetooth, a seven-inch colour touch-screen with multimedia rotary control handily between the front seats and the still-questionable benefit of DAB radio with its patchy reception.
The attractive, sculpted body of the new 2 five-door hatchback, catching the light at many different angles, is longer than the previous generation to comfortably seat four adults, but shows a seven per cent reduction in weight, contributing to official combined figures of between 56.5 and 83.1 mpg. CO2 emissions are from 89 to 117 g/km.
We tried the 115 PS petrol which drives with some verve through its six-speed box (0-62 in 8.7 seconds). Exploiting that might account for our onboard trip computer reading of 32.2 mpg, against its official combined rating of 56.5.
Sport Nav trim raises the price to just under £16,000, including climate control, sat-nav, lane departure warning, self-braking in city traffic and auto lights and wipers. A £400 optional Safety Pack exclusive to the 115 PS Sport Nav includes a rear cross-traffic alert and – claimed to be a first in this sector of the market – a head-up display of driving date in the windscreen.
Point losers in the 2 are thick, rather obstructive middle B-pillars between front and rear doors. And while the boot is deep, there's a step across it when the rear seats are lowered.
More practical in this respect is the new, higher-stance CX-3 compact SUV, based on the 2 but 180 kg heavier, 215 mm longer and 40 mm taller. It also is a good-looker. In this you get a near-flat extended deck and a cargo capacity of up to 1,197 litres against the 2's maximum volume of 950, according to Mazda's own figures.
But prices are significantly higher. An 18-strong CX-3 range from £17,595 to £24,695 runs to five trim levels and choice of three engines – more powerful 120 or 150 PS 2.0-litre petrol units and the 105 PS diesel. The 150 PS unit is paired with 4WD.
Our 120 PS petrol CX-3, again in top Sport Nav trim, was enhanced by snazzy seats in leather and suede, an £800 option which, together with special red metallic body paint (£660) helped raise the final price to just under £22,000. As in the 2, finish and fittings are good quality.
On the road, the CX-3 rides and handles well. As in the 2 hatch, screen info is controlled efficiently from a rotary switch between the front seats. From this bigger engine, mpg was a not bad 39 – did the CX-3 encourage calmer driving than the Mazda 2?
THE VITAL STATISTICS
Model Mazda 2 1.5 115PS Sport Nav
Body 5-door compact hatch; length 4,060mm; boot 280 – 950 litres
Engine Petrol; 1,496 cc; 6-speed manual
Power 115 PS @ 6,000 rpm; max torque 148 Nm @ 4,000 rpm
Pace 0-62 in 8.7 secs; 124 mph
MPG Official combined 56.5; on test 32.2
CO2 117 g/km; VED nil then £30 a year; latest Euro Stage 6
PRICE £15,995; as tested £16,525
Rivals Ford Fiesta, Vauxhall Corsa, VW Polo, Hyundai i20, Skoda Fabia.
Model Mazda CX-3 2.0 120PS 2WD Sport Nav
Body 5-door compact SUV; length 4,275mm; boot 287-1,197 litres
Engine Petrol; 1,998 cc; 6-speed manual
Power 120 PS @ 6,000 rpm; max torque 204 Nm @2,800 rpm
Pace 0-62 in 9.0 secs; 119 mph
MPG Official combined 47.9; on test 39.0
CO2 137 g/km; VED £130; latest Euro Stage 6
PRICE £20,495; as tested £21,995
Rivals Ford C-Max; Nissan Juke; VW Golf SV; Skoda Yeti