Jaguar F-Type 3.0 V6 Supercharged Coupe road test report and review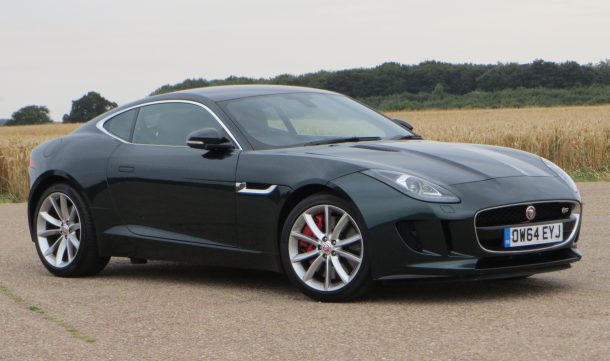 Art on wheels – that's what DAVID HOOPER thinks of this beautiful Jaguar F-Type Coupe – but what happened when it was challenged by cap-wearing boy racers in a Vauxhall Corsa?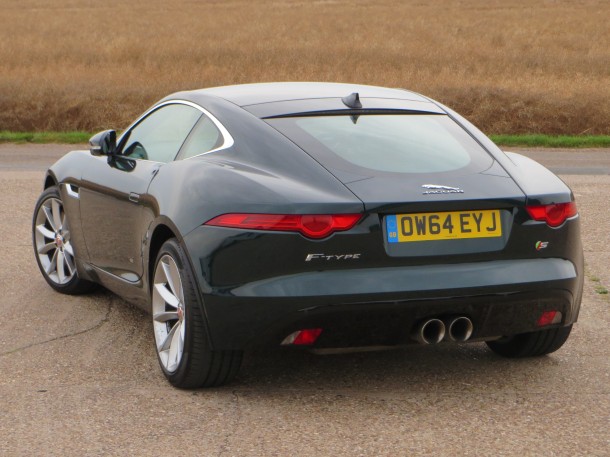 Jaguar F-Type 3.0 V6 Supercharged Coupe road test report and review
IF this Jaguar F-Type Coupe isn't one of the best looking cars on the road today, I'll eat my hat. My son described it as "epic", and who am I to argue?
The spiritual successor to my dream car, the one I would buy if money were no object, the glorious E-Type, this sleek coupe really is art on wheels.
Its styling by Jaguar design director Ian Callum really needs no further ramblings from me, just look at it. It's dramatic and beautiful, and the 19in Propellor Silver alloy wheels, a no cost option, finish off its glorious good looks, and compliment its classic British Racing Green paintwork.
Inside, the Jaguar F-Type looks just as impressive as it does on the outside and features a nice mix of leather, brushed aluminium and silver chrome work.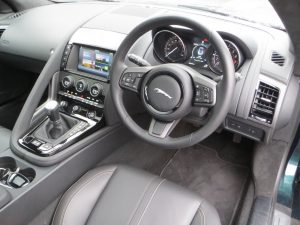 I also liked the Panoramic Roof which was fitted as a £1,250 option, but it did lighten up what was otherwise a fairly black interior environment.
The instrumentation is clear, and the large sat nav display also controls most of the car's main functions, such as the radio and telephone. Needless to say, equipment levels are high, and the buttons on each door which control the seat positions can provide an almost endless amount of fiddling on their own – and once you're happy, there are three memory positions for driver and passenger.
Our test car came with a six-speed manual gearbox, arguably the preferred option for most true petrol heads, but I have to confess, that the automatic box would be smoother and probably easier to drive. The industrial strength clutch made getting this powerful piece of artwork moving was not always the most refined of manoeuvres, but that did improve as I spent more time with the car.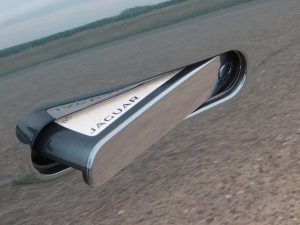 Other buttons on the centre console included one to make the exhausts even louder, which is just brilliant and makes the burble that bit more audible and immensely enjoyable. It also popped and banged a bit on the over-run when you lift off the throttle and made a noise so addictive I just had to keep doing it. Didn't help the fuel consumption much though, but the compensation was a wide grin between my ears.
The other bit of fun to be found was with the button which manually controls the rear spoiler. It raises and lowers itself automatically when the car reaches 70mph, but the driver can choose to deploy the spoiler at any time he feels the need – like I did when sitting at the front of the queue at the traffic lights when a couple of boy racers in a souped up Corsa pulled up alongside and started revving their engine, trying to goad me into a race. Of course, I was far too sensible… and they would have lost anyway… so I just pressed said button, deployed said spoiler and grinned cheesily at them. They laughed, but realising the futility of their challenge, thought better of it and didn't even bother trying. Result!
The truth is, that with 380bhp, a 5.3 second 0-62mph time and a top speed of 171mph from its 3.0-litre V6 Supercharged engine, no matter how souped up their Corsa was it would have been severely mauled by my big cat with its distinctive sounding supercharger. It's a fast car, very fast, and a sheer delight to drive, but with these performance figures, you would be forgiven for thinking that the fuel consumption would be horrendously heavy. Well, I can tell you that it isn't. It's not good by average family car standards, but I did enjoy driving this car – a lot – and it returned an average of 26.9mpg over 300-plus miles. When I drove it like a saint, which I did once or twice, the instant fuel readout hovered at around 40-42mpg, but that's not what you buy this car for.
The Jaguar F-Type almost speaks for itself, or bellows from its twin bean-can exhausts. Beautiful to look at, fabulous to drive and a pleasure to travel in, it will cross continents with ease, and if you were lucky enough to own one, it would put a smile on your face every time you open the curtains in the morning and see it waiting for you on your drive!
Rating: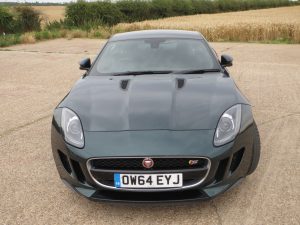 THE VITAL STATISTICS MODEL: Jaguar F-Type 3.0 V6 Supercharged Coupe.
ENGINE: 2,995cc, 380PS V6 petrol engine, driving rear wheels through 6-speed manual gearbox.
PERFORMANCE: Top speed 171mph. 0-62mph in 5.3 secs.
ECONOMY: City: 13.5mpg. Country: 37.2mpg. Combined: 28.8mpg.
Wheel World test average: 26.9mpg
CO2 EMISSIONS: 234g/km.
FUEL TANK: 70 litres.
INSURANCE: Group 50.
PRICE: £60,250 (£70,645 as tested).
WARRANTY: 3 years, 999,999 miles.
WEBSITE: www.jaguar.co.uk
• All data correct at time of publication.