Mazda MX-5 2.0 Sport Nav road test report and review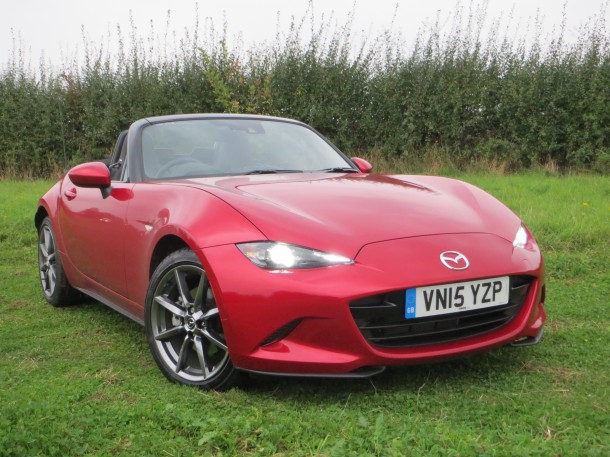 The MX-5 has always been good, but this brand new model is by far the best yet. DAVID HOOPER enjoys a few days with this cracking little sports car.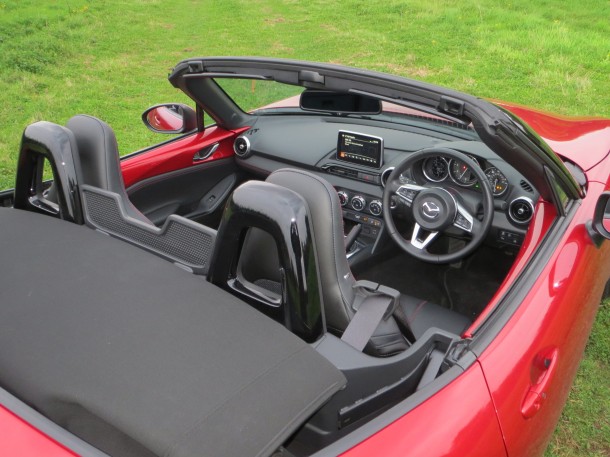 THE Mazda MX-5 is the world's favourite sports car – it is also mine! It has always been a fabulous little car with almost bullet-proof reliability, but this new model raises the bar again and is the best so far.
Accused of being a girl's car in some quarters, it now looks far more aggressive, or perhaps I'm just more in touch with my feminine side, but I really don't care, I love it and thoroughly enjoyed my few days with this newcomer.
Styled by Alfa Romeo, engineered by Mazda, possibly the perfect combination, and thank goodness they divided the work that way around! The end result looks fabulous, with narrow, almost piercing headlight "eyes" at the front, sitting above an aerodynamically styled front bumper assembly. The styling of the rear of the car for me is less convincing and in my book doesn't work so well, but I think I could live with it.

Slide into the driver's seat, and the view through the windscreen is quite nostalgic, reminiscent of a classic 1960's sports car, with beautifully-rounded wings on either side, with a gently curving bonnet in between – think MGB, the car which is widely credited with inspiring the original MX-5. This new model is almost paying homage to another icon of motoring history – and another of my favourites.
Mazda has gone back to basics with the new MX-5, it's smaller, lower and much lighter than its predecessor, and is no longer offered as a Roadster Coupe, for now, but don't be surprised if Mazda doesn't bring that back in two or three years' time although there are apparently no current plans to do so.
MX-5 buyers have a choice of two engine sizes across five trim levels, a 1.5-litre with 131PS, or the model I've been driving, the 2.0-litre, with 160PS, , the more powerful car getting Bilstein shock absorbers which give it a firmer ride, and a limited slip differential to improve traction out of a corner.
The new MX-5 is temptingly affordable, with prices starting from just £18,495 on the road, it's very attractively priced and represents excellent value for money.
Inside, it's an updated, yet very familiar look, and this Sport Nav model comes with all the mod cons you would expect in any Mazda. The infotainment system allows you to control the navigation system, telephone, MP3 player and radio, while luxuries like full climate control, electric windows and mirrors and of course heated seats are all included. The auto dimming rear view mirror was also a useful addition, especially as you sit so low, helping to reduce dazzle from following headlights.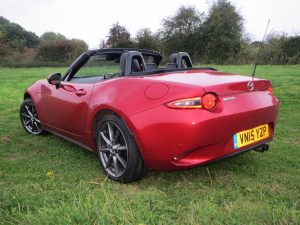 The soft top is detached with a lever from the top of the windscreen, which also drops both side windows a couple of inches. It's then up to you to throw the roof back and clip it into position, which takes seconds, but can't be done from inside the car – unless you are a contortionist, which I'm most definitely not, but you can put it back up without having to leave your seat. You also have to put the side windows back up yourself – which isn't a big thing, but surely Mazda could have made them close again automatically. If you've parked and got out of the car and then decided to close the roof, you have to turn the ignition back on to close the windows, and it doesn't work from the key fob either.
Think what you like of the way the car looks, if you enjoy your driving, you will be enchanted with the way this car drives – it reminded me greatly of the MX-5s I enjoyed racing in the Britcar Championship. With a 0-62mph time of 7.3 seconds, and a top speed of 133mph, it's not supercar fast, but Mazda have judged MX-5 perfectly in my opinion. It's fast enough to be fun and engaging to drive, allowing you to accelerate through the gears without reaching silly speeds and really enjoy "driving". I've yet to drive a 1.5-litre version, but some say it is even more enjoyable, which I find hard to believe.
The handling is taut, the steering immediately responsive without being at all twitchy and the short-throw gearbox, widely acknowledged as one of the best in the business, a delight to use – and then there was the nine-speaker Bose sound system… And of course the handling keeps you fully informed about the car is doing, and how much grip you have left. It's simply brilliant!
Mazda's clever Skyactiv technology helped achieve an average fuel consumption during my test of 39.8 miles per gallon over nearly 600 miles. Not bad, but not great, you might think, but I promise you, I did enjoy driving this MX-5 – very much.
I loved this MX-5 and wouldn't hesitate in recommending it to anyone. It looks fabulous, is well priced and is even better to drive. What more is there to say, except, perhaps, that the world's favourite sports car is on track to win the hearts of many more admirers.
Rating: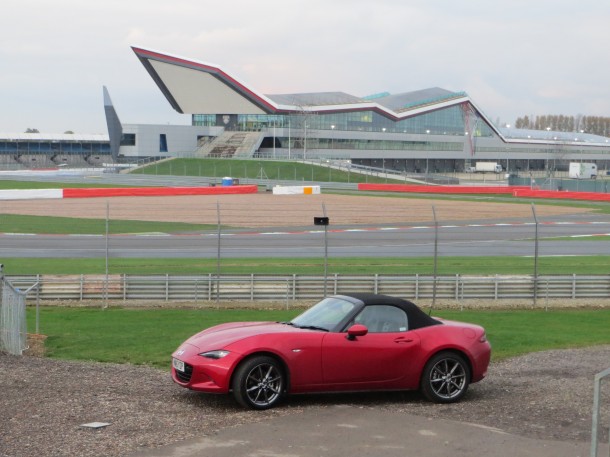 If you like this, read our review on the new Mazda2 and CX-3
THE VITAL STATISTICS
MODEL: Mazda MX-5 2.0 Sport Nav.
ENGINE: 1998cc, 160PS four-cylinder petrol engine, driving front wheels through 6-speed manual gearbox.
PERFORMANCE: Top speed 133mph. 0-62mph in 7.3 secs.
ECONOMY: City: 30.4mpg.
Country: 51.4mpg.
Combined: 40.9mpg.
Wheel World test average: 39.8 mpg
CO2 EMISSIONS: 161g/km.
FUEL TANK: 45 litres.
PRICE: £22,695.
WARRANTY: 3 years/60,000 miles.
WEBSITE: www.mazda.co.uk
• All data correct at time of publication.