Mazda range review and road test report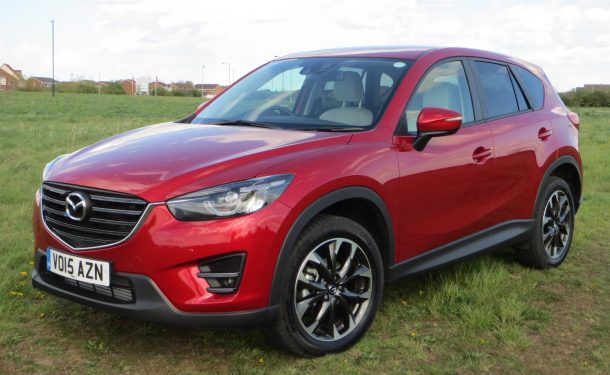 Mazda range review and road test report: ALISTAIR COULL has a look at the latest developments from the Mazda stable.
MAZDA is on a roll across Europe. Sales increased by 29 per cent year-on-year between July and September, extending the brand's growth to 12 consecutive quarters.
The Japanese car maker sold just under 60,000 vehicles in the third quarter, outpacing an overall market that was up by 10.6pc and raising its market share to 1.7pc.
Mazda posted douible digit gains in 15 countries and showed net growth in almost every European country.
Leading the way were the Netherlands (up 121pc), Turkey (+111pc) Portugal and Slovenia (both +68pc) and France (+62pc).
Sales in Italy, Spain, Sweden and Switzerland were up arouind 50pc while in Mazda's twop largtest markets, the UK and Germany, they were up by 27pc and 17pc respectively.
"What is encouraging is that we continue to make gains, not only across borders but across our entire model range," says Mazda Europe vice-president Martijn ten Brink.
"Take our newest model, the fourth generation MX-5. It has been a positive surprise and we have had to hike production in Japan to meet demand in Europe."
"The CX-3, launched in June, is also driving sales with nearly 10,000 sales in its first three months while Mazda2, launched in March, sales were up 90pc compared to last year."
Mazda2 sales are likely to increase even more after a diesel-powered 1.5-litre 102bhp model averaged over 100mpg in a recent real-world economy test.
Recorded over a 400 mile route, the 103.42 average was 24.45pc better that Mazda's claimed combined economy figures for the car.
The most popular model in Europe is the CX-5, ahead of the Mazda3 and revised Mazda6.
Mazda says it is on track to sell more than 200,000 vehicles in Europe this year, up 15pc on 2014.
The most recent arrivals to the revamped Mazda range are the CX-3 and MX-5, both of which Mazda brought to a recent driving day in Halifax.
The CX-3 is Mazda's first small SUV and is pitched against a host of competent rivals including the best-selling Nissan Qashqai.
With an 18-strong line-up priced from £17,595 and £24,695, its looks, quality and equipment levels help it stand out from the crowd. Powered by 120 and 150bhp Skyactiv petrool engines or a 105bhp Skyactiv diesel, all versions are fitted with a seven inch colour touchscreen and multimedia command centre. Sport Nav models also also get a segment-first head-up display system.
On a shortish test route in appalling weather conditions into Bronte country, a 2.0-litre 120bhp 2WD Sport Nav version coped admirably with the low cloud and driving rain.
Top speed is 119mph with acceleration from zero to 62mph in nine seconds – neither of which could be tested properly in the murky conditions.
What could be proved however is how easy the CX-3 is to drive, how comfortable it is for five adults, how good the air-con system is to quickly clear misted up windows and how useful the head-up display is to remind you what speed you are doing in camera-infested roads.
The car on test costs £20,495 before a metallic paint job and half leather/ half suede seats pushed the price up to £21,995.
I reckon that is good value for money when you add in the sat-nav, seven speaker Bose sound system, LED daytime lights, 18-inch alloys, adaptive front lights and a reversing camera.
Also driven was a fourth-generation MX-5.
I first drove one of these iconic sports cars back in 1989 in California a few weeks before it was first launched in the UK.
I loved it then on the sun-drenched freeways around Laguna Beach near Los Angeles and I had as much fun this time despite the mist and traffic-choked roads. I can't wait to try it out again for a longer spell in hopefully better weather.
The manually operated soft top stayed firmly shut but the 2.0-litre 160bhp engine was utter joy = pulling away strongly from rest and cruising effortlessly when able to be let off the leash. The six speed manual gearbox worked smoothly, slipping easily up or down the box as you negotiated the traffic ahead. What was really impressive was how eagerly it accelerated without the need to always change down to a lower cog.
A £23,995 price tag and a Group 29 insurance rating might seem a lot to pay but few other two-seaters offer the sheer pleasure of this Japanese masterpiece at anything close to this price.
For more information, visit www.mazda.co.uk