BMW 220d Convertible road test report and review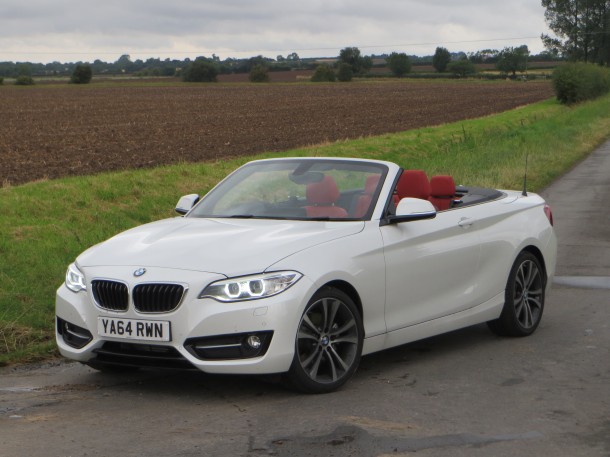 BMW 220d Convertible road test report and review: Good looking, well-equipped and fun, DAVID HOOPER reviews the new BMW 220d Convertible.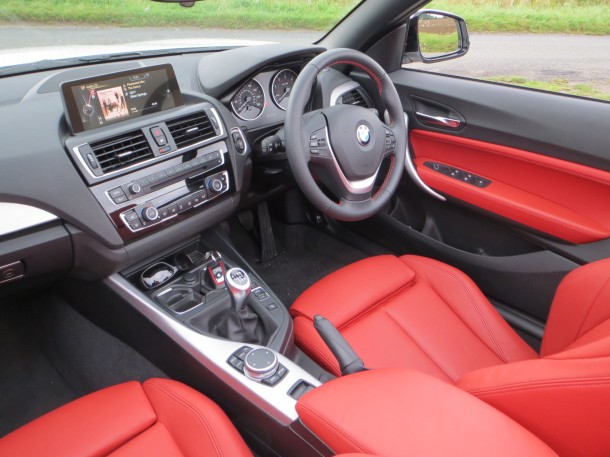 COMPACT is a familiar name to aficionados of the BMW brand and that description fits this fabulous little convertible perfectly.
It feels just right, you almost become part of this car when you slip behind the wheel. It's smaller than the 3 Series/4 Series Convertibles, but it's smaller proportions and lighter weight make it feel that bit more agile and responsive. Its handling characteristics remind me of an MX-5, but with this car, you have the added benefits of an extra pair of usable rear seats, and a much plusher interior, especially with the Coral Red Dakota leather seats our test car was fitted with. It may be a £1,150 option, but worth every penny in my book. The interior contrasts nicely with the Mineral White pearlescant paintwork which adds another £550 to the invoice, but is worth it.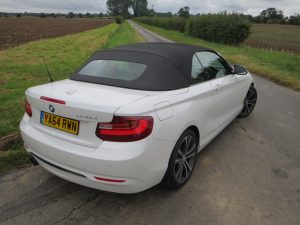 The BMW 2 Series convertible is the third model in the company's 2 Series range and replaced the 1 Series Convertible, but this new model is 72mm longer and 26mm wider than its predecessor and has a 30mm longer wheelbase.
The 220d isn't the fastest car in the extensive BMW range by any means, particularly from a standing start, but with 190bhp and 400Nm torque, it does have plenty of mid-range punch, making overtaking manoeuvres quick and safe and during my test, the car returned 43.8mg over a distance of around 450 miles check.
The benchmark 0-62mph sprint is completed in 7.5 seconds the there's a potential top speed of 140mph available.
I liked the manual gear change, slick, precise and easy to find your way around when quick changes are the order of the day, and there's no need to practice your heel and toeing, as the BMW now does it for you, blipping the throttle on the downshift to blend engine and gearbox speeds and smooth out the gear changes.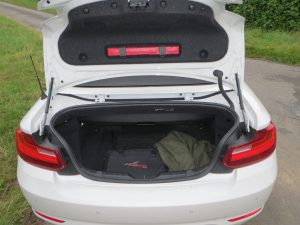 Folding the roof into the boot is done at the touch of a single button and is a constant source of amazement. How these things work are brilliant when you watch closely as all the little covers and flaps manoeuvre themselves to create an almost seamless convertible. And the beauty of this car is that the entire operation can be completed on the move in 20 seconds, so long as you stay below 30mph, which is pretty impressive, and creates a "boat deck" appearance.
The "compact" boot space does take a further hit though when the roof is folded down – my jacket, a bag and a few weekend supplies pretty much filled it, so owners will have to master the art of travelling light, but that's the case with many sports cars, and with the roof up, some of the space where the roof sits can be reclaimed for additional boot space.
With the roof closed, the car is impressively quiet inside and well insulated from the elements, although the canvas roof does limit rear three-quarter vision quite badly at some junctions so care needs to be taken in those situations. I did get my fair share of "weather", good and bad, during my few days with the car. With the roof down and the side windows up, there is a fair bit of wind turbulence inside the car, but the optional wind deflector which fits over the rear seats when they're not needed does do a good job of reducing the effects of the wind, especially at higher speeds where it becomes more noticeable.
Our test car had a generous list of options fitted to it, which totted up to almost £10,000 and took the total on the road price through the £40,000 barrier, but all things considered, it's an excellent little car which was a pleasure to live with and a delight to drive.
One of those cars I just didn't want to hand back!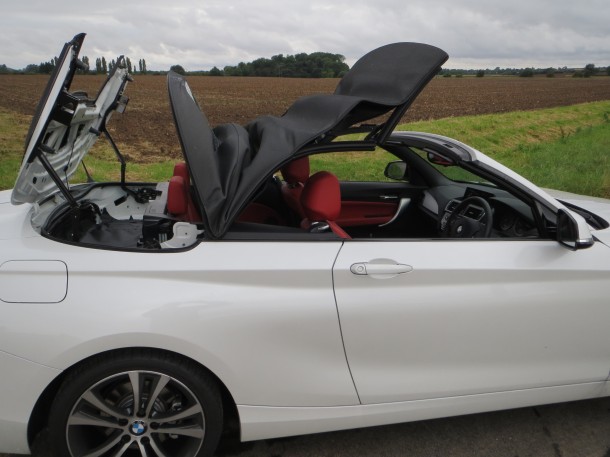 Rating:





If you like this, read our review on the BMW M135i 
THE VITAL STATISTICS
MODEL: BMW 220d Convertible.
ENGINE: 1995cc, 190PS four-cylinder diesel engine, driving rear wheels through 6-speed manual gearbox.
PERFORMANCE: Top speed 140mph. 0-62mph in 7.5 secs.
ECONOMY: City: 49.6mpg.
Country: 70.6mpg.
Combined: 61.4mpg.
Wheel World test average: 43.8mpg
CO2 EMISSIONS: 124g/km.
FUEL TANK: 52 litres.
INSURANCE: Group 27.
PRICE: £30,500 (£40,150 as tested).
WARRANTY: 3 years, 100,000 miles.
WEBSITE: www.bmw.co.uk
• All data correct at time of publication.