BMW M135i road test: Power and poise, but not enough noise!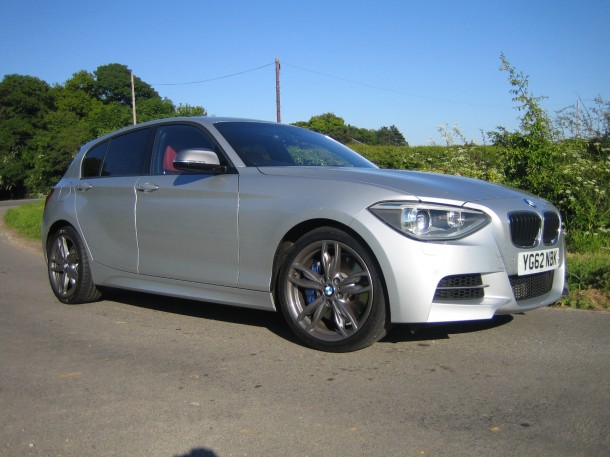 BMW M135i road test report and review: With its blistering performance, BMW's M135i qualifies for membership of an exclusive club. DAVID HOOPER puts one of the latest models through its paces.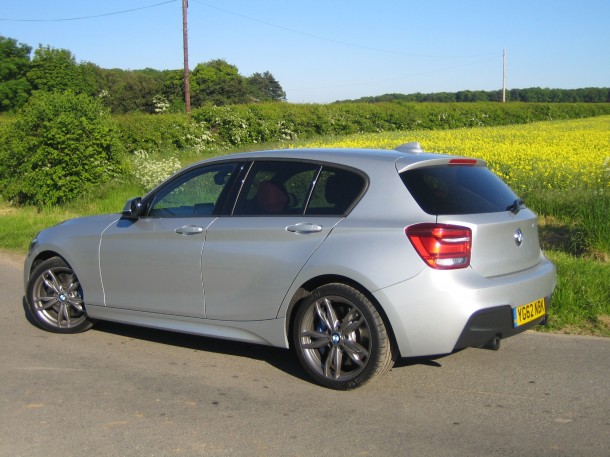 THERE aren't many cars which will hit 62mph from a standing start in under five seconds – but this little hot-shot from BMW is one of the members of that exclusive club.
Unsurprisingly, this is the fastest 1 Series you can buy and is also the most expensive car in the current line-up, but you do get a lot of bang for your buck.
The 1 Series may not be the prettiest hot hatch you can find, but I have to say it is one of the most complete. It does everything well, it's blisteringly quick, g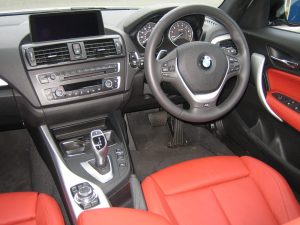 rips like it's on rails, even when you push it very hard, stops like you've hooked a rope around a tree, and yet can still return between 33-35mpg if you drive it sensibly and use the Eco-Pro mode or Comfort setting, but the fun is to be found in the Sport mode, which sharpens the steering and throttle responses instantly. Another press of the button brings in Sport+ which turns down the traction control system – if you're brave – or daft – enough!
Of course, being a BMW, it is also exceptionally well put together, and I loved the red leather interior of my test car, which included smart red panels in the door facings that contrasted with the black and silver trim of the dashboard.
It can also carry up to five people in reasonable comfort, but then why would you want to do that – this car is about the driving experience.
Its chief rivals would be the likes of the Astra VXR, Ford Focus ST or the Audi S3, which has the added benefit of its Quattro system, which would make it more secure on wet and greasy roads, as I found out when I tested it on the launch last year on rain-soaked mountain roads in Germany.
Powered by a straight six engine topped with a turbo-charger, the BMW M135i develops almost as much thrust as a jet fighter, and with an almost seamless 8-speed automatic gearbox shifting up through the gears faster than a blink of the eye, my eyes were definitely wide open as the car headed for the horizon with my foot planted into the carpet!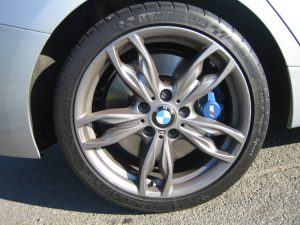 It's unquestionably very fast and great fun, but in some ways it's almost too refined. Walk around the car with the engine running and its exhaust note delights the senses, but once on the move, a muffled boom as the car changes up is about all you can hear.
The driver can change gear by using the steering wheel mounted paddles, so you don't need to take your hands off the wheel when driving quickly, which is always a good thing. The response is instant, but the lovely blipping throttle noise has to be listened for.
As with all of BMW's M models, the styling is discreet, and I like that. It's smoke finished 18in wheels look superb, and I loved the blue brake callipers peeping through the spokes boasting the famous "M" logo. But the M135i doesn't shout "look at me" like some sports cars do, so you don't mind parking it on the street and it doesn't tend to attract the peaked-capped boy racers at the traffic lights – unless they really know their cars.
It may not be cheap, and it may not be pretty, but it's superbly competent and a delightful to drive, but then I'd expect nothing less from an M car.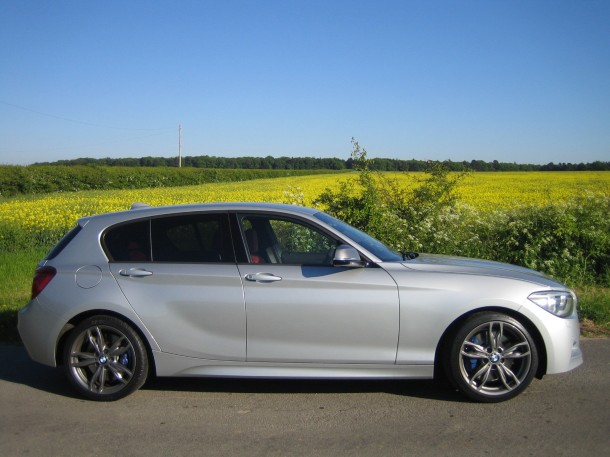 Rating:






THE VITAL STATISTICS
MODEL: BMW 1 Series Sports Hatch M 135i Auto.
BMW 1 SERIES RANGE: From 114i ES 3dr (£17,510) to M135i (£32,700).
ENGINE: 3.0-litre, 320bhp six-cylinder engine, driving rear wheels through 8-speed automatic gearbox.
PERFORMANCE: Top speed 155mph. 0-62mph in 4.9 secs.
ECONOMY: City: 24.1mpg.
Country: 42.2mpg.
Combined: 37.7mpg.
Fuel tank: 52 litres.
CO2 EMISSIONS: 175g/km.
INSURANCE: Group 39.
PRICE: £32,700.
WARRANTY: 3 years/Unlimited miles
WEBSITE: www.bmw.co.uk
• All data correct at time of publication.