Nissan X-Trail road test shows why it's a family favourite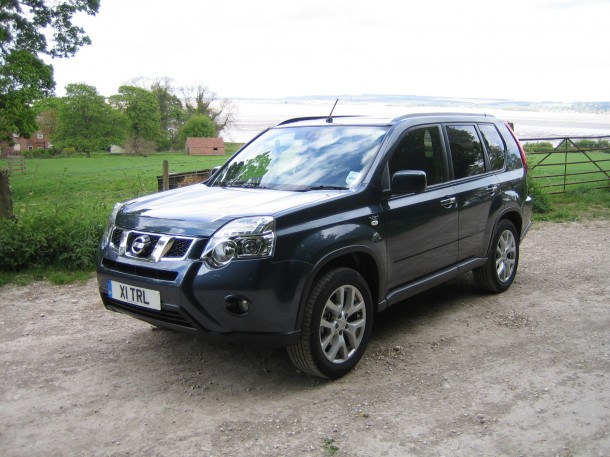 ROAD TEST REPORT AND REVIEW: Nissan X-Trail 2.0 dCi 173 n-tec+ – Impressed with its practicality, DAVID HOOPER says Nissan's X-Trail is an ideal companion for a busy family on the move.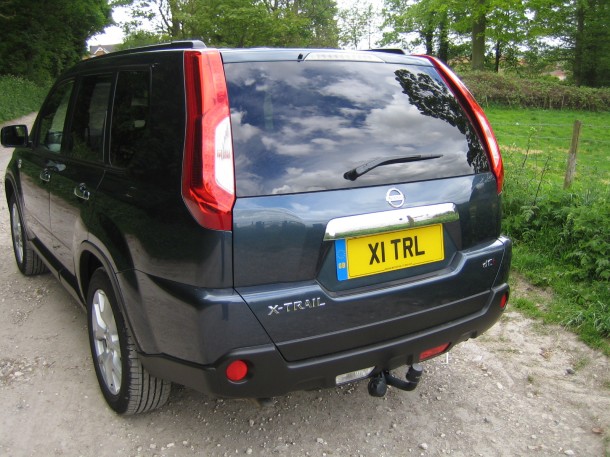 NISSAN'S utilitarian X-Trail is hardly a new model, but this is the latest version of a car which has become a firm favourite with people who enjoy active lifestyles.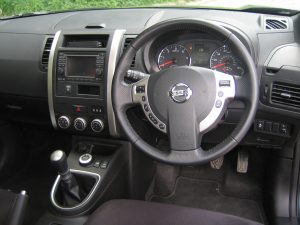 Capable of towing 2,200kg, it can cope with horseboxes and sizeable caravans, and with its switchable four-wheel-drive, can extract itself from everything but a quagmire without breaking into too much of a sweat.
Our Nissan X-Trail road test demonstrates that the X-Trail is still what it always has been, a good all-rounder, but now it's just that little bit more refined and better equipped.
The four-wheel-drive system operates in two-wheel-drive mode as its default setting, but the twist of a dial on the centre console brings all four wheels into play, while a further twist adds a diff lock if the going gets really sticky.
Manoeuvring is also quite easy thanks to the all-round camera view which comes up at the press of a button on the dash, but it can be confusing to look at and I wouldn't recommend relying on it, although the larger rear-view camera was quite accurate.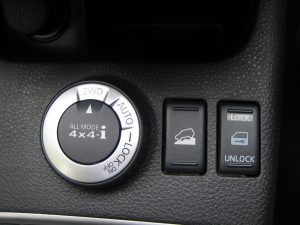 Externally, it boasts redesigned lights and re-profiled trimmings, and the model I've been testing is the mid-range n-tec+, which comes with everything you need, although the easy to use sat-nav system was a welcome addition during a busy week on the road which saw me cover over 600 miles. The car returned an average mpg figure of 38.9 overall, which isn't brilliant, but when you consider that you've got a full four-wheel-drive system at your disposal should you need it, and all the extra weight that entails, it's not too bad and about par for the course with this type of car.
Inside, the seats are soft and comfortable, even after quite a long trip, while the three in the back can fold down to increase the boot space, or recline into various angles if any of your back seat passengers ge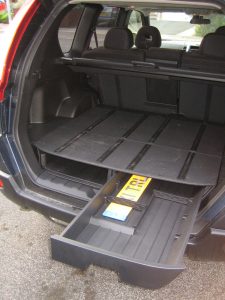 t fed up of telling you how to drive and decide they need a snooze, or want to look at the sky through the panoramic sunroof, which I think is a lovely addition to any family car and really floods the interior with light, something which can be especially welcome in traditionally dull Japanese interiors.
The boot though did impress me with its cleverly thought-out storage solutions. The boot floor was flat, and has a plastic wipe-clean surface, so muddy wellies and the like are taken in its stride without any worries about muddying plush carpet.
Under the boot floor, on the right-hand-side, is a large slide-out drawer, which is great for keeping bits and pieces in without them rolling around in the car, while on the other side, was a deep compartment for other "stuff". It's a simple thing, but it's useful and effective and just improves the car's practicality.
On the road, the X-Trail's raised driving position provides a good vantage point, and the car is easy to drive. I was impressed with how quiet it was at cruising speeds on the motorways. There was very little wind noise, despite its big square mirrors and chunky styling.
There is little to dislike about the X-Trail, it's as practical as anything you can buy, and arguably more reliable than some of its opposition. With lots of cupholders and practical storage solutions scattered around the cabin, the X-Trail is an ideal companion for a busy family on the move.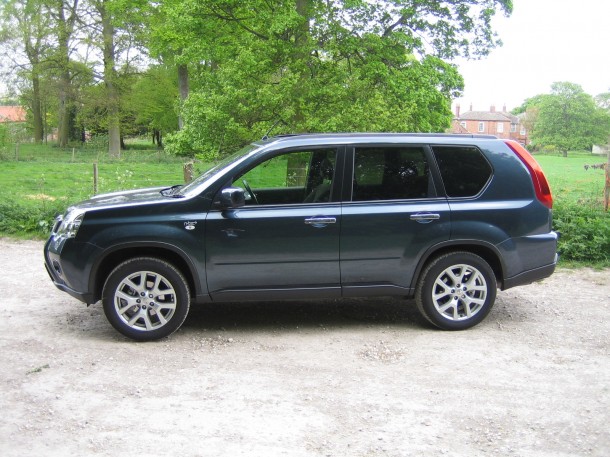 Rating:





THE VITAL STATISTICS
MODEL: Nissan X-Trail 2.0 dCi 173 n-tec+.
NISSAN X-TRAIL RANGE: From 2.0 dCi 173 Acenta 5dr (£26,215) to 2.0 dCi 150 Tekna 5dr (£31,700).
ENGINE: 1995cc, 173PS four-cylinder diesel engine, driving front wheels through 6-speed manual gearbox.
PERFORMANCE: Top speed 124mph. 0-62mph in 10secs.
ECONOMY: City: 36.2mpg.
Country: 51.4mpg.
Combined: 44.1mpg.
Fuel tank: 65 litres.
CO2 EMISSIONS: 168g/km.
PRICE: £28,240.
WARRANTY: 3 years/60,000 miles.
WEBSITE: www.nissan.co.uk
• All data correct at time of publication.