Mitsubishi Outlander 2.2 DI-D GX5 Auto road test: Move upmarket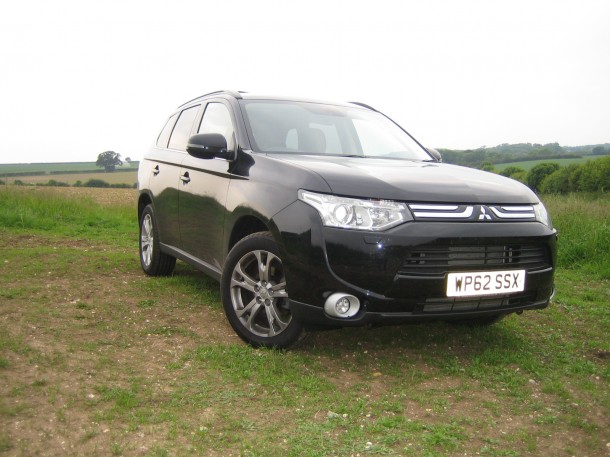 ROAD TEST REPORT AND REVIEW: Mitsubishi Outlander 2.2 DI-D GX5 Auto. This all-new model from Mitsubishi represents a big step forward. DAVID HOOPER drives the new car and looks at the range.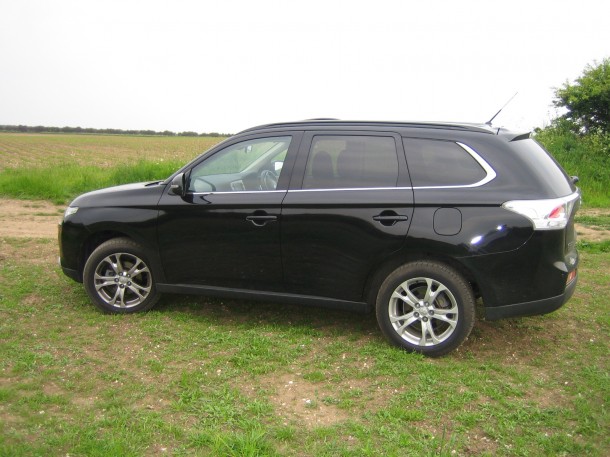 The new Mitsubishi Outlander is a much more refined car to drive and certainly feels more luxurious than its somewhat agricultural predecessor. The top of the range model I've been testing came packed with all the toys I would expect to find on a high-end luxury saloon – but this big 4×4 is very competitively priced.
This new model has been designed to accommodate Plug-in Electric Vehicle technology when it goes on sale later this year, but for the time being, all Outlander models are well equipped and feature automatic lighting  cruise control, air conditioning, City Crash Provision and Hill Start Assist, while the Mitsubishi Outlander I've been road testing comes with Adaptive Cruise Control and a system that warns if you are about to hit something in front of you.
The range starts with the GX2 trim grade, and moves up from GX3, GX4 and GX5.
The keyless entry and start system on my test car was a real boon. I put the key in my jacket pocket and hardly touched it again for the few days I had the car. Pressing a small button on the door handle unlocks the car, while another button on the dash starts it.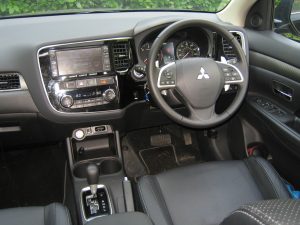 The electrically operated tailgate was another feature which just makes life easier. It opens at the push of a button, and closes the same way, so when you come back to your car laden with shopping, there's no need to go scrabbling for your keys and you don't have to struggle to lift a heavy tailgate.
Inside, there are either two or three rows of seats, depending on model choice. The third row is cleverly disguised as the boot floor when not in use. The extra two seats would not be very comfortable for adults on a long trip, but are fine for short distances, so long as your passengers  don't mind a bit of a squeeze.
Access to the third row is via the rear doors, where some more cleverly thought-out design comes into play. The middle row of seats slide forward and the backrest tilts when you pull a lever to allow access to the very back of the car, but if you want to create a large, flat load area, you have to pull the seat base up and tip it forward. Doing so reveals a locking switch which when released, allows the back rest to fold down flat. All clever stuff!
Air conditioning is standard across the range, with higher grade models featuring climate control. My test car also came with Bluetooth connectivity, hands-free phone operation and a radar cruise control system (which was actually quite irritating because it kept beeping at me every time it detected another car in front). It also had a lane departure warning system, which again beeps if you stray out of your lane.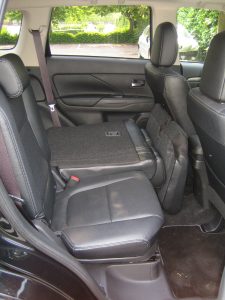 The Outlander is a big car, but it is easy to live with. All models feature the same 2.2-litre diesel engine which can be mated to a six-speed manual or six-speed automatic gearbox, as in my test car. The auto box is very smooth shifting, and I rarely resorted to using the paddles behind the steering wheel to control the gear changes.
The turning circle is impressively tight and would easily put certain much smaller cars I could name to shame. Parking and manoeuvring is simple, thanks to a reversing camera which gives a full colour view of what's happening behind.
On the road, the new Outlander is a competent and comfortable mile-eater and cruises quietly at motorway speeds with little noticeable wind noise.
The suspension set-up is quite soft, so there is a fair bit of body roll if you take a corner at speed, but it is certainly nothing untoward.
The new Outlander features a Multi-Select four-wheel-drive system which is controlled by a push-button switch in the centre console. There are three modes to choose from, the efficient 4WD ECO, which powers the front wheels, but when those wheels lose traction, 4WD engages automatically. The 4WD AUTO mode is the normal mode, giving good off-road performance in various conditions, while the 4WD LOCK mode is for more demanding terrain.
During my few days with the car, which included the full mix of roads and driving conditions, the Outlander returned 44.3mpg, over more than 500 miles, which for such a big car, I thought was perfectly acceptable.
With prices starting from £23,699, the new Outlander is a big improvement over its predecessor and can now carry the fight to some of its more expensive rivals with refreshed confidence.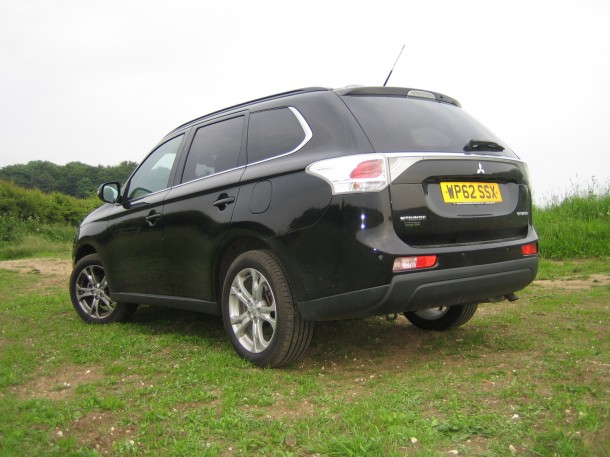 Rating:





THE VITAL STATISTICS
MODEL: New Outlander 2.2 DI-D GX5 Auto.
MITSUBISHI OUTLANDER RANGE: From 2.2 GX2 5dr (£23,699) to 2.2 DI-D GX5 Auto (£33,999).
ENGINE: 2,268cc, 147bhp four-cylinder diesel engine, driving four wheels through 6-speed manual gearbox.
PERFORMANCE: Top speed 118mph. 0-62mph in 11.7 secs.
ECONOMY: City: 39.8mpg.
Country: 55.4mpg.
Combined: 48.7mpg.
Fuel tank: 63 litres.
CO2 EMISSIONS: 153g/km.
INSURANCE: Group 22.
PRICE: £33,999.
WARRANTY: 3 years/Unlimited miles.
WEBSITE: www.mitsubishi.co.uk
• All data correct at time of publication.